They found a tumor on the eardrum of my left ear when I was 4 years old. They sliced open my head behind my ear, folded it over, and removed everything they could and sewed it back up. On a semi-regular basis throughout my childhood my parents would make the hour-and-a-half drive from our house on Long Island into Manhattan to see an inner ear specialist. This is my overly dramatic introduction for my Fwoosh Staff Best of 2013 pick.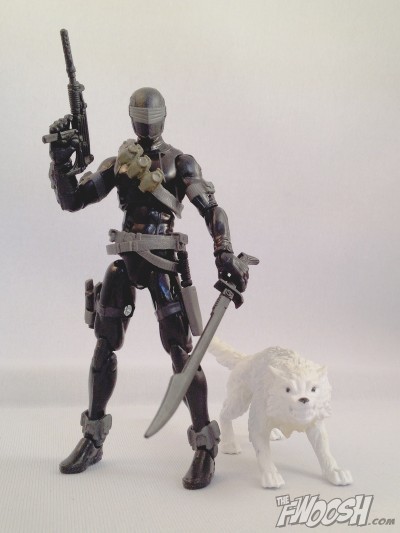 It was either 1985 or '86, I would have been 7 or 8 years old, on one of these trips into NYC to see the doctor that I received the original figure that my pick is an update of. Snake Eyes version 2, the ninja commando clad all in black and packaged with his wolf (pet/partner/sidekick/best friend?) Timber.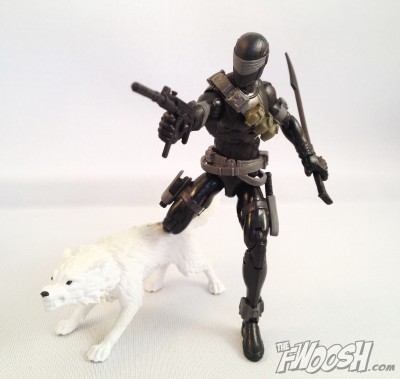 My dad was driving me in that day and my mom typically packed me a brown paper bag with a juice box and a snack for the ride. I remember peering into the bag and seeing that, in addition to the usual contents, there was a carded G.I. Joe figure in there! The car ride was a blur; I was entranced with this awesome ninja soldier armed with his sub-machine gun and a sword that perfectly slid into his backpack for storage. Plus, he even came with a wolf!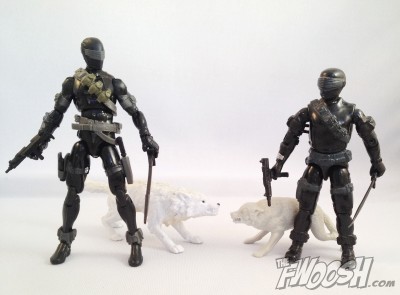 All right, enough reminiscing. I'm wasting words on a 30-year-old toy instead of telling you guys about my favorite figure of 2013. As part of the G.I. Joe Retaliation wave 3 movie line, Hasbro released the perfect update to this childhood favorite of mine. Hasbro has made numerous toys based on this specific look, not to mention a multitude of other Snake Eyes variations. This figure is #67 according to yojoe.com
I remember seeing this Snake Eyes on display at SDCC 2012. While other guys were scrambling about the Marvel Legends and Star Wars Black displays, I was staring at this piece of perfection. Don't get me wrong, I'm as big a Marvel zombie as the next Fwoosher, and there was plenty to drool at over there. My mom still loves telling everyone that I was potty trained with the promise of a new Star Wars action figures every time I went like a big boy, so the 6-inch Black Series was super exciting as well. This Snake Eyes just hit the sweet spot for me, he's a little more superhero-y then your typical G.I. Joe stuff, clad in spandex with the knight-style visor, its just too cool/kooky/iconic all at the same time.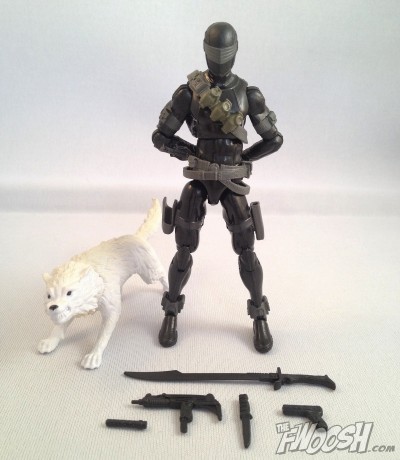 The figure itself is sculpted beautifully, it features the side-to-side ankle articulation that should be commonplace on every action figure for the rest of eternity. Timber even has an awesome ball-jointed neck. He comes with a good assortment of accessories in what has come to be expected from the modern Joes. Despite my two minor nitpicks — he wasn't released with the headsculpt that was shown at SDCC, and he also is missing a backpack to hold his sword like the original release — he is still a remarkably fun action figure. I own three (I have a problem).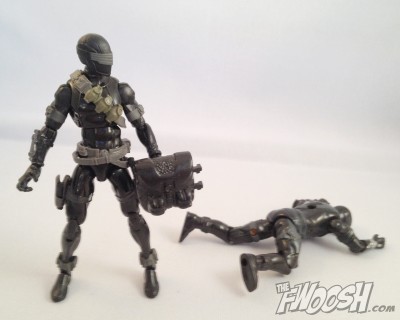 He rightfully claims his title as Ultimate Snake Eyes and is my pick for Fwoosh Staff Best of 2013.