Hope you don't mind a little news about comics and TV shows. Which will probably continue to be par for the course on weekends. Just not a lot going on with toys. It's like those guys take the weekends off or something. Weirdos. It's Happy Hour!
Looks like Marvel has confirmed that Peter Parker is returning in Amazing Spider-Man #1!
Sorry Ramos, I prefer the variant cover. In fact, I hope it becomes a poster one day.
As revealed today in the New York Daily News, Peter Parker will return this April as part of All-New Marvel NOW! in AMAZING SPIDER-MAN #1 by Dan Slott and Humberto Ramos!
Read the full story with quotes from Slott and Marvel Editor-in-Chief Axel Alonso at the New York Daily News, and check back here tomorrow for more details!
---
The first trailer for Game of Thrones Season 4 premiered tonight!
---
And then there's this…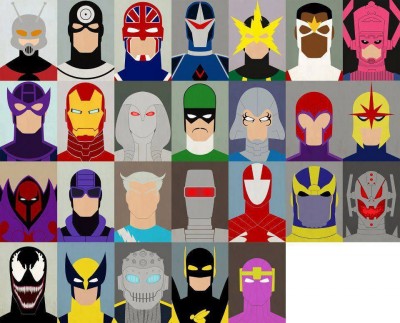 I love this picture for a couple of reasons.
I'm a sucker for headshot yearbook type pics.
It shows a lot of characters I either want made or remade in Marvel Legends.
And finally, it goes a little more obscure for some of the letters that could have easily been big names. Sure, Wolverine is W, but S could have been Spider-Man instead of Stingray.
Happy Hour's over!