Not a lot going on in the world of action figures today, but some interesting movie news popped up. I'm not going to lie: I am easy to please. I don't try to deep think my superhero movies. I like superheroes. I've seen my favorite superheroes change drastically over the years, so when the movies veer off from the comics I don't have much problem with it. To me, it's like when a new artist and writer take over. It's going to change, they're going to put their own twist on it. And if I don't like it I still have years and years of previous material to snuggle up with when I feel like revisiting it. Until old becomes new again, things come back around, and we're right back where we were. So really, not a biggie. But like I said, I'm easy to please. Unless you cancel my Secret Six, then I hold a grudge. It's Happy Hour!
Marvel released new pictures of Captain America: The Winter Soldier today!
More pictures can be seen here.
After the cataclysmic events in New York with The Avengers, Marvel's "Captain America: The Winter Soldier" finds Steve Rogers, aka Captain America, living quietly in Washington, D.C. and trying to adjust to the modern world. But when a S.H.I.E.L.D. colleague comes under attack, Steve becomes embroiled in a web of intrigue that threatens to put the world at risk. Joining forces with the Black Widow, Captain America struggles to expose the ever-widening conspiracy while fighting off professional assassins sent to silence him at every turn. When the full scope of the villainous plot is revealed, Captain America and the Black Widow enlist the help of a new ally, the Falcon. However, they soon find themselves up against an unexpected and formidable enemy–the Winter Soldier.
Based on the ever-popular Marvel comic book series, first published in 1941, Marvel's "Captain America: The Winter Soldier" is produced by Kevin Feige, p.g.a., directed by Anthony and Joe Russo, from a screenplay by Christopher Markus & Stephen McFeely, and stars Chris Evans, Scarlett Johansson, Sebastian Stan, Anthony Mackie, Cobie Smulders, Frank Grillo, Emily VanCamp, and Hayley Atwell, with Robert Redford as Alexander Pierce and Samuel L. Jackson as Nick Fury.
"Captain America: The Winter Soldier" is presented by Marvel Studios. The executive producers are Louis D'Esposito, Victoria Alonso, Michael Grillo, Alan Fine and Stan Lee. The film releases April 4, 2014, and is distributed by Walt Disney Studios Motion Pictures.
In addition to "Captain America: The Winter Soldier," Marvel Studios will release a slate of films based on the Marvel characters including "Guardians of the Galaxy" on August 1, 2014; "Avengers: Age of Ultron" on May 1, 2015; and "Ant-Man" on July 31, 2015.
---
Spider-Man was a big deal in Times Square on New Year's Eve, but there was also a teaser of The Amazing Spider-Man 2 with some new clips we hadn't seen before!
Interesting. At around 55 seconds you can see Rhino buckling down his mech suit. Some better looks at Electro. And a lot of footage we have seen. But that's okay, if I learned anything from the Star Wars prequels it's to not get spoiler happy before going to see a movie, even if you're only slightly looking forward to it.
---
And then there's this…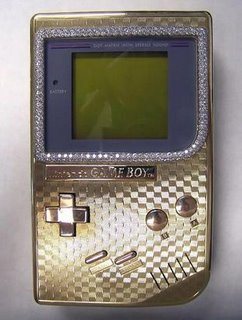 At least my kids didn't ask for a 18K gold, diamond encrusted Gameboy for Christmas. Because Robo doesn't allow any archaic tech in the house! Gold and diamonds are a-okay.
Happy Hour's over!