Though I will confess to being mostly ignorant when it comes to wrestling, I'd have to live in a hole to have not picked up on the basics. But you really don't need any knowledge up front to appreciate a decently made toy, and WWE Stackdown, Bridge Direct's new new Lego-styled block-building line of toys, has captured the world-building fun of those plastic building kits.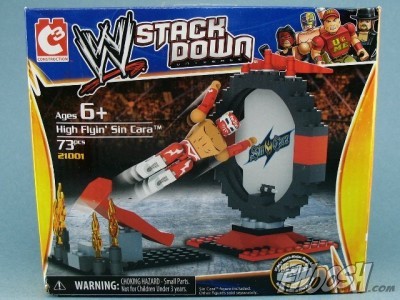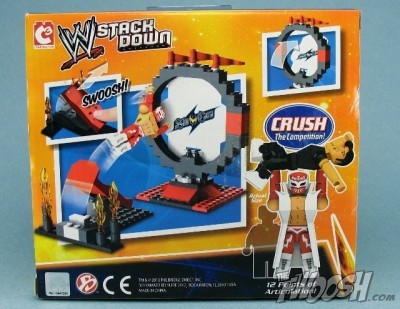 Comparisons are fairly obvious. Legos are a perennially popular toy item that have transcended the kid-oriented toys of my youth to incorporate every type of fan and franchise. Fanchise? Sure. Adding a component like the rabid fanbase that the WWE enjoys seems an optimal way to to burn the torch at both ends.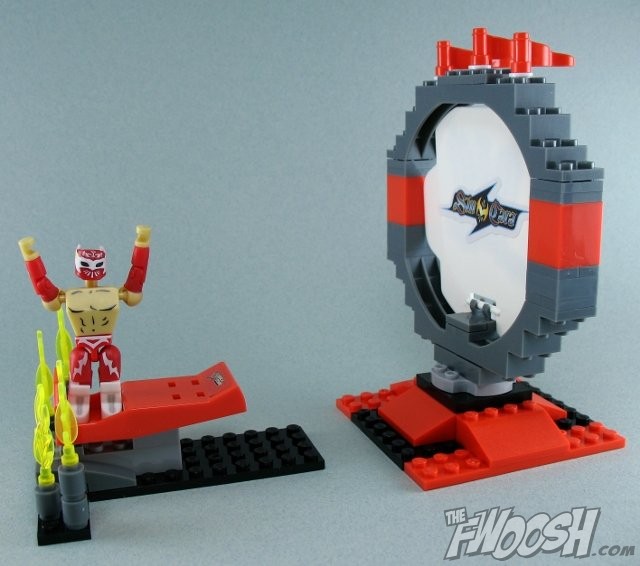 The mini-kits seem to aim for capturing the signature entrances for their respective wrestlers. The High Flyin' Sin Cara set features a launcher and ring for the figure to be launched through.

The figure itself is very articulated, with ball joints at the head, shoulders and hips, single joints at the elbows and knees, and a cut joint at the wrist, which all combine to get into a fair amount of decently dynamic poses for such a small figure, not unlike Minimates. The ball joints are sturdy, but will pop off with some force, allowing for full modularity between figures. Sin Cara comes with a removable white jacket made out of very flexible plastic.
The playset comes disassembled with fully illustrated instructions. Having been a long long time since I last built a Lego-styled set, I made judicious use of the instructions, and was able to put this together in a little more than a half hour. The set comes in two separate pieces so you can position the launcher in the best place to send Sin Cara on his way.
Sending Sin Cara through the ring took a bit of practice, but if you get the angle and the force right, you can have him catapulting through the ring with ease. The launcher is sturdy and very free-moving, and the faux-paper that he "rips" through is easily knocked out by his flight.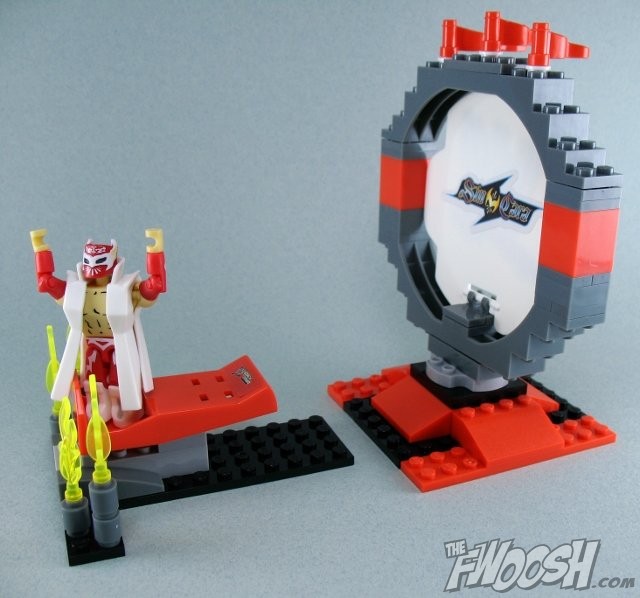 This is a simple, yet sturdy and enjoyable, set that I'd imagine would appeal to wrestling and Lego fans.
Thanks to bridge Direct for providing this sample.