There was always something about the bounty hunters that maximized play value. Usually playing with Star Wars was fairly simple if you wanted to stick to tradition: Darth Vader and his Stormtroopers fought Luke, Ben, Han, Leia, and all the rest. Good was good, bad was bad. But the bounty hunters were free to fight anybody. Everyone was fair game, from cantina aliens to the cast of good guys to the baddest of the bad, or even each other if the price was right.
IG-88 and the rest of the "bounty hunters that weren't Boba Fett" had some of the shortest screen time of the movies. A couple of panning shots while Vader was giving his brief speech and we were done. I wanted more. I still want more.
Gentle Giant's 12-inch replicas of the original vintage figures are an expensive addiction I can't afford to give myself over to. In a perfect world, a world where I collect a hell of a lot less things, I'd have a room dedicated to these figures, and my display would consist of the 12-inchers in the back with their smaller vintage counterparts standing right in front of them. But that's just a dream. After I received Boba (reviewed here) and was impressed with how faithful a reproduction he was to the original, I immediately went to BBTS and preordered all the other bounty hunters at BBTS. Time wore on and I realized I couldn't do it, so I eventually canceled all the preorders. All but one.
I couldn't cancel the robot.
Younger me wouldn't allow it.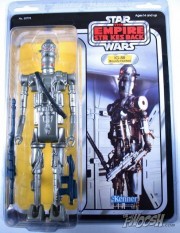 The package is yet another "trash-resistant" figure in that it's resealable so you can have the best of both worlds. it preserves that vintage aesthetic with the actual screenshot-styled picture to represent the figure. The back of the card features a newer version of the old cardbacks, giving you a nice list of the figures that have been released in this large scale.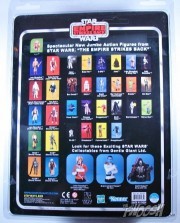 I'm usually an opener and a tosser. I don't keep a MOC collection of anything, but the resealable packaging makes these less a simple toy and more what I like to think of as a 3D art piece. Boba and IG are hanging on a wall together, and to me they're every bit works of art as a Monet print.

Like Boba, IG-88 is an insanely faithful upscaled replication of the original vintage figure, right down to the original manufacturing and date stamps on the back. He's even properly taller than Boba, hitting just a bit over 14 inches. He comes with the same blue Stormtrooper-styled blaster and long blaster rifle that the original had. I remember being extra giddy over the fact that this murderous machine of mayhem came with two guns.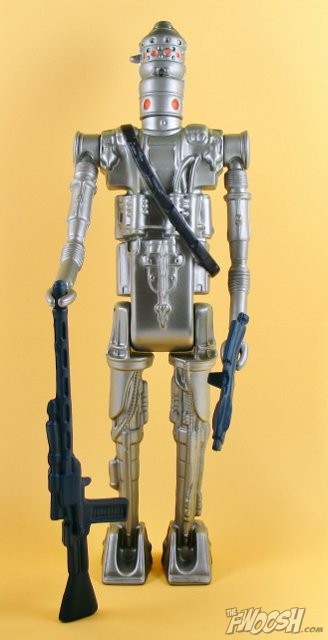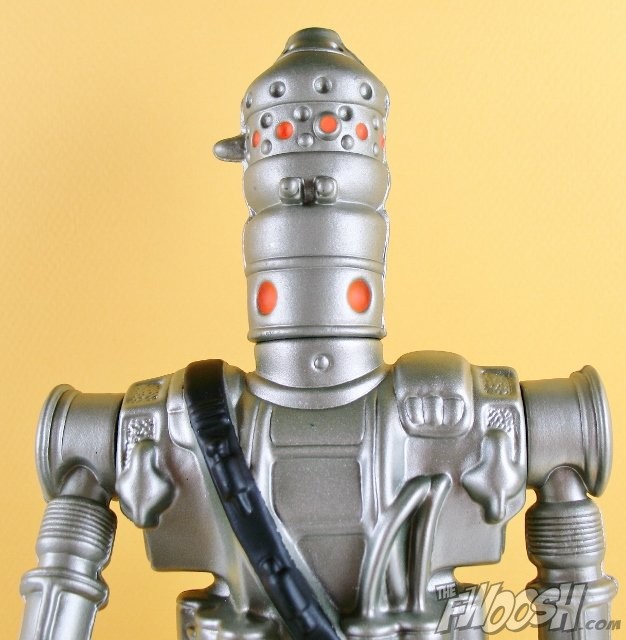 Unfortunately, the longer rifle's handle is too thick to fit into IG-88's hand. The vintage figure's hand were thinner and more pliable because of it,  so there was no risk of stretching or breaking, but the larger the figure, the thicker than hands, and I don't trust the plastic to hold up to me trying to squeeze the rifle's grip into his pincers, so he's going to have to do without. I've seen promo pictures with him holding the rifle without issue, but I don't want to risk it. However, the other blaster fits perfectly, just like the original. That's the only negative that I'm going to give this figure.
Other than that minor technical glitch, the figure lives up to my expectations. Every aspect of that simplified sculpt resonates in larger form. The strangest thing is that you'd think with the increase in size these would suffer due to that simplicity, but they don't. There's something inherent in their flat and honest sculpts that doesn't degrade no matter the scale differential. They don't soften or break up or look "off," they translate perfectly to this larger scale. IG-88 is simple and elegant, hitting just the right note of nostalgia to please the audience it's aiming for.