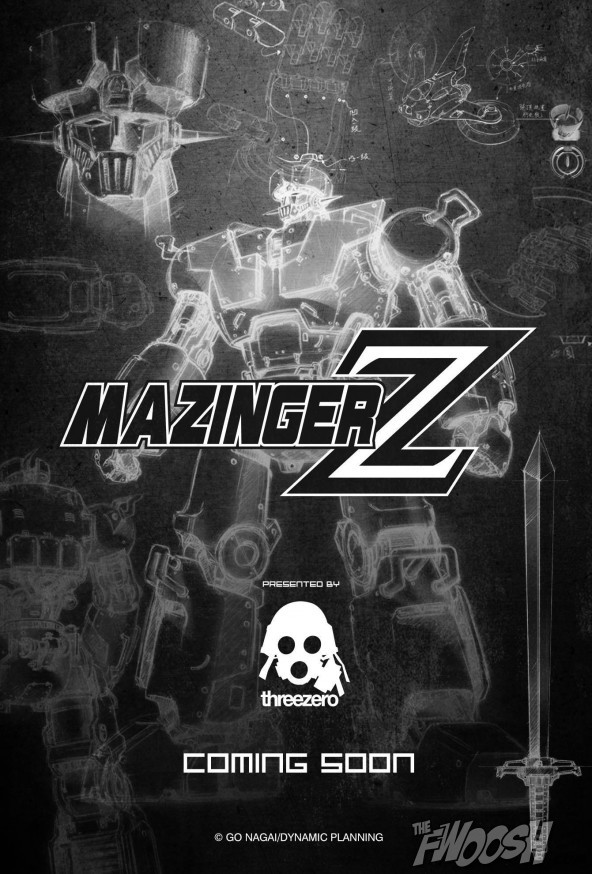 ThreeZero posted this on their Facebook page today:
《鐵甲萬能俠Z》Mazinger Z更多設定圖即將發佈!

threezero與殿堂級大師永井豪合作開發《鐵甲萬能俠Z》Mazinger Z再有新消息了!我們可從設定草案中看到更多機械設定及細節,官方原模即將公開,請拭目以待!

詳細內容及更多《鐵甲萬能俠Z》Mazinger Z開發情報將在threezero Facebook專頁發放。請立即Like我們threezero專頁
Which Google Translate makes into:
"Mazinger Z" Mazinger Z set the figure more upcoming!
threezero with Chanticleer Masters Nagai develop "Mazinger Z" Mazinger Z and then there are news up! We can see more details from the draft mechanical setup and configuration, the official original mold coming open, stay tuned!
For details and more "Mazinger Z" Mazinger Z develop intelligence will be disbursed in threezero Facebook Fan Page. Please Like us immediately threezero PAGE
 Just to wrap up, ThreeZero who is working with famed Gundam designers Kunio Okawara on FullMetal Ghost and now the legendary Nagai Mazinger Z. There is no information on scale or size, but this sounds like it could be really cool! So far ThreeZero's FullMetal Ghost, Robocop ED 209 and Walking Dead works are pieces of art, no reason to think that Mazinger Z won't follow suit.
Read more at ThreeZero's