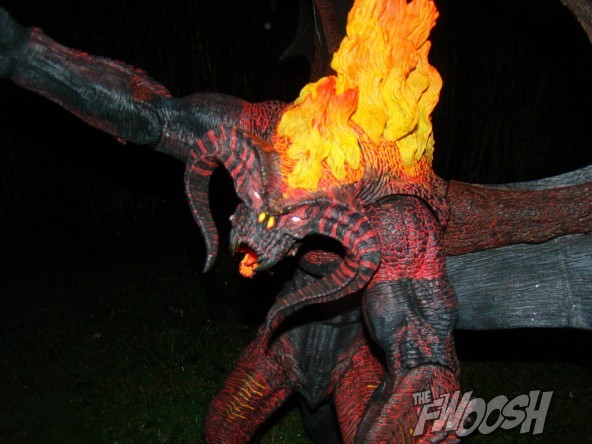 Editor's Note: In celebration of this week's release of The Hobbit: The Desolation of Smaug, we are offering a week of features dedicated to all things Middle-Earth. We have Lord of the Rings and Hobbit merchandise to showcase, so keep it right here all the week to get your Hobbity fix!
Every so often I get a figure where I'm left saying, "How the hell am I going to photograph this?" Sure, the word part of the review is easy, but the pictures? NECA's Balrog from 2004 is a magnificent toy, and it is meant to be "in scale" with Toy Biz's 6-inch Lord of the RIngs figures, but with a 42-inch wingspan and at 24 inches tall, you need a special room just to have room to take pictures of him. At the recommendation of VeeBee, Robokillah, and Industrial, I took Balrog out into the dark winter freezing rain of my backyard and attempted to take pictures.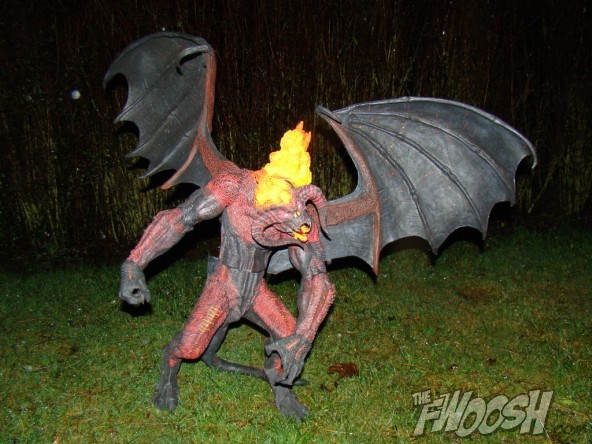 This guy is a beast and an incredibly sculpted action figure. It's a beauty to pull down from the attic a couple of times a year to play with. Yes, you read that correctly. Balrog is so big that I don't have a display area big enough in the house for him. I take apart his wings and store him the attic until the time comes to unleash him. Always for Halloween. In the pic below, Gandalf the White is a 6-inch action figure from Toy Biz's Lord of the Rings line — just to give you an idea of the Balrog's scale.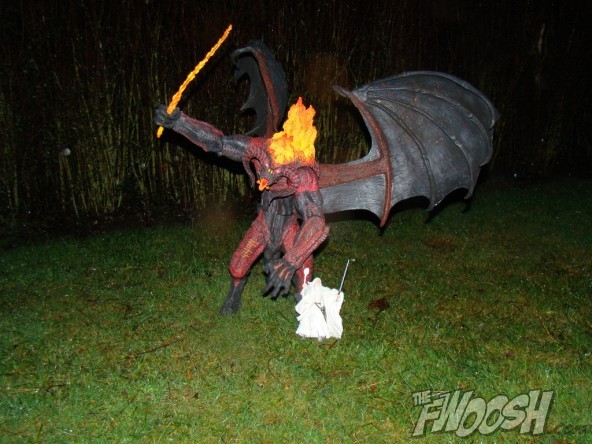 As mentioned, the sculpt is beautiful. There's some amazing scale and flame work on this beast of a figure. And it's got some meat as well — articulation meat. There is a waist swivel and head swivel to give some posing possibilities. The shoulders are ball shoulders and the elbows are hinged, while the wrists are swiveled. It's not a lot of articulation, and considering the weight and stability of this figure, it's easy to accept the limited articulation. The figure can barely stand on its own, and the hollow vinyl that it is made from tends to soften during a hot summer's day; I can only imagine how full articulation would hold up in this format.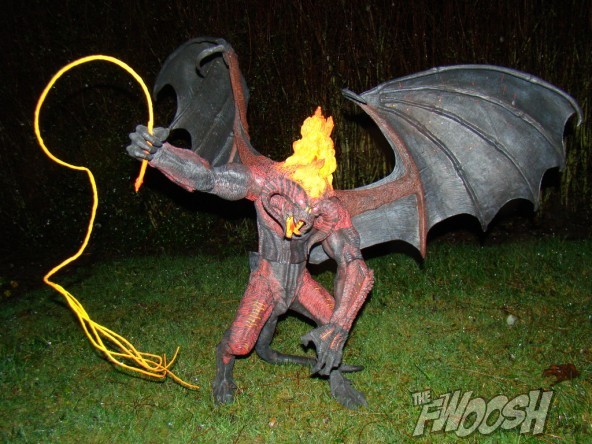 Balrog is a once-in-a-lifetime kind of figure that you have to buy. Not many of these large monsters come out at a "reasonable" price, and when they do, you have buy them. Even though I parted with my Lord of the Rings collection a long time ago, this one remains. It's a beautiful part of my toy collection. He fits with 1/12 and 1/18 scales, so for those of you collecting Bridge Direct's 4-inch The Hobbit figures, Balrog would be a perfect fit.
At the time of this writing there was still one left on Amazon.com.
Otherwise, you'll have to head over to eBay.com.
Discuss this topic further on The Fwoosh Forums!