That's what I'm talking about! News to post! I figure that's going to be par for the course. But even on slow days you can swing by the Fwoosh bar and read the ramblings of a toy collector that thinks way too much about this crazy hobby, even when he has his hand inches from a 50 ton press. Day jobs. Pfft. Means to an end baby! Belly up boys, it's Happy Hour!
To start things with a bang, there are loose figures of Spider-Man Legends Infinite leaking out of Hong Kong! From the same seller that also has the Captain America Legends Infinite figures no less! Like I said about the Captain America line, these are making me itchy. Itchy to have them in my hands. And they look fantastic!
Check out the Ebay auctions for more pics…
Superior Spider-Man
Amazing Spider-Man
Carnage
Electro
Black Cat
Beetle
Ultimate Green Goblin
I've seen some comments about Superior Spider-Man's mask webs being screwy. I think for the most part they are supposed to be this way. Maybe not so off-center, but they do follow the reference. Here's a quick pic I found…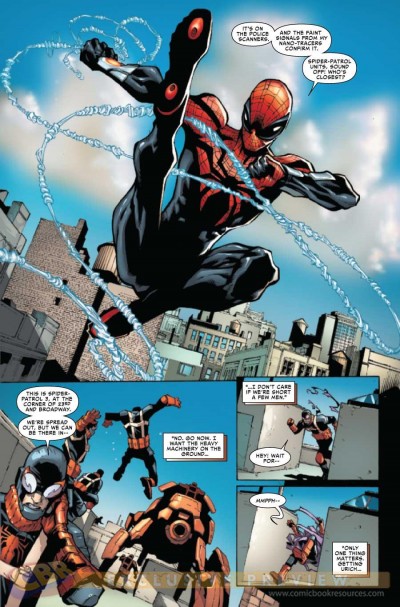 The only thing that sticks out at me is the missing gauntlets/webshooters/whatever those are. I'm behind on the comics. Oh, and the graspy hands with the extended thumbs, although I predict some hilarious pics in the future. Otherwise, I am completely happy with what I see of this figure.
Amazing Spider-Man looks great and I can't wait to see him in crouch poses. Yeah, his hips look a little odd, but who the hell displays Spider-Man in a standing vanilla pose? Even when my whole display looked like a police line-up I still had Spidey crouched as far as he would go, or hanging on the wall, or swinging under the shelf. Nobody puts baby in a corner, and nobody puts Spidey standing in line at the supermarket.
Carnage. Like TFitz said on the forums, "Man, I never realized how much I needed a new Carnage until I saw this one." 'Nuff said.
I am so glad Black Cat came out the other side of the factory looking like she does. She may have the usual Hasbro eye issues but she does look good. Really, I didn't even buy the old Toy Biz or Marvel Select versions, so I feel like I've been waiting on Felicia for a long time.
Then there are some other figures in this wave. Whatever.
Kidding, Robo don't play that! I may not care for the characters but I can always find a use for them somewhere. Beetle, Ultimate Green Goblin, and Electro seem to be on the less popular side according to the forums, but the figures themselves as toys look pretty good. At the very least they make interesting fodder. Ultimate Green Goblin with some head changes and a leather vest gives you an easy S'ym.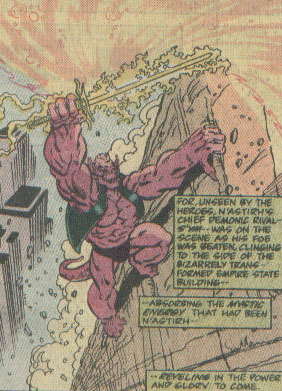 What can I say, I'm a child of 80's comics. I still prefer Psylocke in her British body, armor, and butterfly effect.
You can still preorder Spider-Man Legends Infinite on either Big Bad Toy Store or Entertainment Earth.
---
U.K. Fwooshers! It looks like NECA has made the SDCC Exclusive Jason and Albino Predator available on their Ebay.uk store!
From reading comments on NECA's Facebook page it looks like shipping is way expensive for U.S. customers. But I have to give it up to NECA, getting product previously unavailable out to people who want it. Jason seems to be doing fairly well too, 224 sold at the moment. And one sold within the past hour, according to Ebay's new little blue box that pops in front of the picture you're trying to look at, sharing information that doesn't matter one bit to a casual bidder like me. Shine on, Ebay, you crazy diamond.
---
Fwoosher SCB posted a picture of the bio for Masters of the Universe Classic Modulok.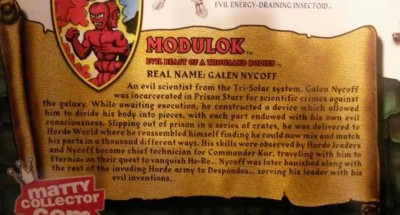 I've followed the comments on the forums about the bios and I know there is a lot of griping out there. Most of it justified really. I mean, we all have our own ideas of how the history of these fictional characters should flow. That's okay. In fact, it's better than okay, it's fantastic. Seeing a group of people so invested in a concept that they take the time and make the effort to mold it into something all their own, while forsaking what they deem unworthy of the universe they've built within their own head. It's beautiful when you think about it.
And in my MOTU world an evil scientist, a guy smart enough to get locked up for "scientific crimes against the galaxy" and all that, would be smarter than to cut himself into pieces and mail himself to Albuquerque. And then make a career out of it. No, I'm good with Modulok being a crazy alien. I picture a world of these same aliens, who can form a huge 10 million headed, 5 million bodied, 20 million legged monster to fight off threats from the stars. Or, ooo, a PLANET MADE OUT OF MODULOK PARTS. And the Modulok we know and love is just a collection of pieces that floated away and landed on Etheria.
Boom.
---
Diamond Select updated their Minimates release schedule. You can find it on Art Asylum's website. Here's what's due this week.
DECEMBER 11, 2013
JAY & SILENT BOB STRIKE BACK MINIMATE 2-PK (SRP $9.99, ITEM #SEP131915)
LOST IN SPACE DR SMITH & B9 MINIMATE 2-PK (SRP $9.99, ITEM #SEP131919)
STAR TREK TNG SILICONE TRAY (SRP $14.99, ITEM #JUL131818)
THUNDERCATS HO MINIMATES BOX SET (SRP $19.99, ITEM #MAY131781)
If I remember the podcast correctly, this is the last set of Thundercats to be released. So if you've been following the line, get out there and get it!
---
And then there's this…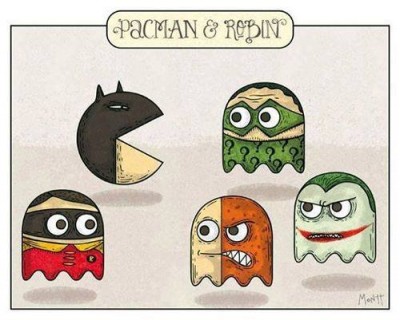 Weird. But, I'd like to have that blown up and put on my wall.
That's it folks. Another day of toys and comics and movies and all the other great things people like us are made of. Or from. We can't help it, we can't explain it. We can't hide it. We can't make it go away. We don't want to make it go away. And every day we look around and see it becoming more mainstream. Embrace it. Enjoy it. It's our time. Look that kid wearing the Captain America t-shirt straight in the eye and say "Let me show you how it's done."
But only if you know the kid. And his parents. Don't just pick a random kid off the street. That's bad! Happy Hour's over!