I'm going to go offroad for an entry tonight with the inclusion of…a 3 and 3/4 inch figure. Eep! The Fwoosh has gone rogue! A dark new era! Just kidding 3 and 3/4 inch fans, while we usually focus on the 6 inch and above there are plenty of us with much love for smaller scales. All inclusive, that's us! In fact, tonight it's a little of all scales; small, medium, and large! It's a melting pot of collecting goodies! Belly up, it's Happy Hour!
I managed to snag a Spider-Man Legends Infinite Carnage online late last week and have since been seeing some requests for a picture of the cardback to get a better look at the Toxin action figure. Well, ask and ye shall receive.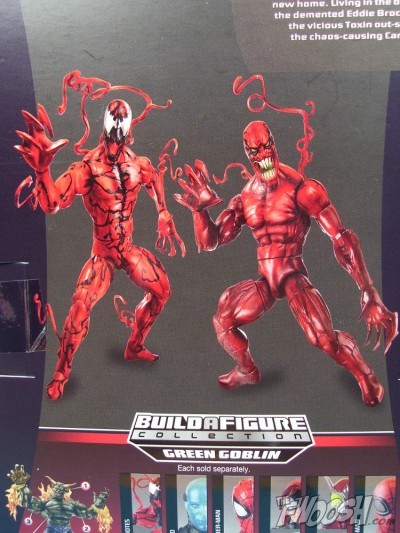 I do believe Toxin is on the Hyperion body. The picture beside Carnage is misleading because the photoshop job hit Toxin's size a little harder than Carnage. But the muscle striations in the torso match up with Hyperion/Sabretooth pretty closely. I tried my best at a comparison shot.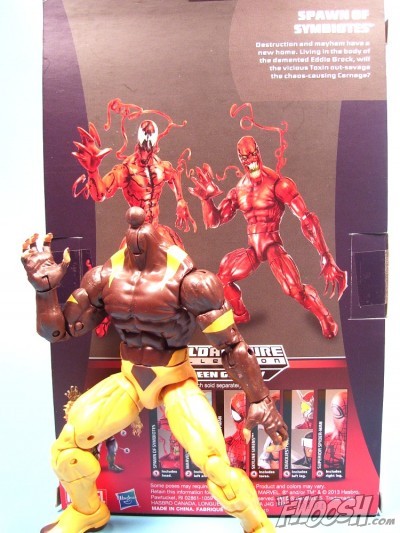 Now quit laughing, I am no MattK. I said shush! Anyway, I think the arms on Toxin may be new or at least from a different source. They don't seem to be as bulky as Sabretooth's, as well as looking a little more elongated. But the torso and legs seem to match up. At least they would if I knew how to pose a figure.
Either way, if recent history has taught us anything, it's that I'm not going to get too excited about him until I see a sightings report. Sorry Hasbro, we love ya but ya gotta get some of the older figures we haven't seen out before you restore our faith in future running changes. I mean variants. I mean swaps.
---
Sideshow Collectibles posted the details and prices on the Hot Toys Batman Armory. And it's a doozy.
Good grief! That's a lot of stuff! Just the Batman alone is listed as coming with:
The 1/6th scale Batman Collectible Figure features:
One (1) Batman head with patented Parallel Eyeball Rolling System (PERS) and four (4) interchangeable lower part of faces capturing his classic facial expressions
One (1) complex Batman body featuring fabric material covered with armor
Costume:
One (1) Batsuit collar
One (1) black cape
One (1) pair of black boots 
Six (6) pieces of interchangeable gloved palms including:
One (1) pair of fists
One (1) pair of relaxed palms
One (1) left open palm
One (1) right palm for holding batarang
Weapons:
One (1) surudoi saw
One (1) nunchuck
One (1) cutter
Two (2) smoke bombs
Three (3) sticky-bomb guns
Three (3) grappling guns
Three (3) Batarangs for attaching to utility belt
Four (4) mini mines
Six (6) ninja spikes
Eight (8) Batarangs
Accessories:
One (1) set of wire
One (1) antidote injector
One (1) drill
One (1) set of drill bits
One (1) big hook
Two (2) holders for Batarangs attachable to utility belt
Three (3) utility belts
Three (3) gun holders
Three (3) holders attachable to utility belt
Four (4) hooks
Five (5) sets of grappling gun clips
Fourteen (14) mini canisters
Fifteen (15) pouches
Twenty seven (27) rounds of ammo
Armory stand with the movie logo
The good thing is that it actually costs less than all of the guesstimates I saw online.
Three Hot Toys figures, an environment, and a ton of extra gadgets and body parts for $625? This may make me break my "only two Hot Toys in my collection" rule. Damn you, payment plans!
---
StarWars.com revealed their first figure from the new series Star Wars Rebels in the form of the villain- The Inquisitor!
The Inquisitor, the Empire's Jedi hunter and a major new villain in the highly anticipated Star Wars Rebels animated series, was unveiled by Lucasfilm at this year's New York Comic Con. Today, StarWars.com is excited to present the official reveal for the character's first ever 3.75-inch action figure from Hasbro.
The figure — the first to be seen from the upcoming Star Wars Rebels Saga Legends line — features five points of articulation, show-accurate accessories, and is sculpted in the art style of the series. Look for the Inquisitor and the Star Wars Rebels Saga Legends line to hit store shelves in fall 2014, and stay tuned for more Star Wars Rebels toy news from Hasbro at international Toy Fairs and here at StarWars.com.
I'm all for new Star Wars but that new lightsaber design looks uncomfortable! Does it spin? How does he holster it? Ah well, we'll find out soon enough.
---
And then there's this…
I'm…I'm not quite sure what I'm thinking right now.
Happy Hour's over!