Or rather "Things I didn't know existed." I usually stay in my toy comfort zone. Six inch scale. Superheroes. Sci-fi. Cartoon characters. Random movies. I may play with larger scales every now and then but not very often. Every now and then though I'll venture out, usually to Ebay, and just hit an "Action Figures" search. See what's out there. Which I usually regret because I find new things I want but can't afford. Here's a few things I ran across today that I think are pretty nifty. Belly up to bar people, it's Happy Hour!
Here's a line that in smaller pics I thought "What the hell? No." Upon closer inspection they actually grew on me. Nendroid Spider-Man and Iron Man. Spidey is styled after The Amazing Spider-Man movie, and Iron Man comes in both Mark 7 and Mark 42.
These are made by the Japanese Good Smile Company. What caught me off guard is how detailed and seemingly articulated they are. And the bases are fantastic, especially Mark 42. The Ebay auctions state they four inches tall, so it's hard for me to get a good sense of scale given the head size. Does the head take up most of that four inches? But you can't tell me these things aren't cute. In fact, look THEM in the face and tell them they aren't cute. Go ahead. Make them cry.
Most of all though, looking at the proportions of Spider-Man I can't help thinking with a new head it would be a passable Spider-Ham. Maybe too much detail for Spider-Ham? Ultimate or movie style Spider-Ham. I just want a Spider-Ham.
I found these on Ebay for pretty reasonable prices, free shipping from China or Japan. Except for Mark 42, he seems to be way higher than the other two.
Spider-Man
Iron Man Mark 7
Iron Man Mark 42
---
Next on my wild ride without a map through Ebay, I ran across a set of Mandarin's Rings made by Heroclix. Now Heroclix has always been something I would stop and look through but never buy. I love the little sculpts and how many characters they pump out, but man some of those things can get expensive! I'm only basing that on what I've seen at conventions though so I may be way off base. Basically what I'm saying is: If I buy a few, I'd buy them all. That's just the kinda guy I am. But I had no idea they were making these…
Wearable rings based on classic Mandarin? Yeah baby! There will be (or is, I can't seem to find a definitive release with a quick search) an awesome tower base to display the rings too. But be honest. If you ended up with these you'd have to try them on at least once. Just like we all did with the freebie Lantern Corps rings. Hell, I still do when I run across them scattered around my toy room.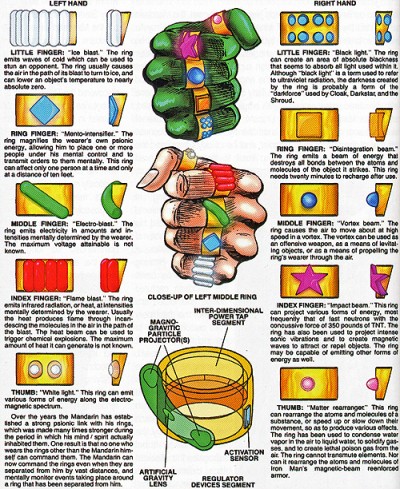 The picture of the Heroclix rings actually being worn further up was posted on Heroclix's Twitter account a while back. Compare it to the Marvel Handbook pic above. Heroclix did their homework, even got the right rings on the right fingers!
These were meant to be add-ons to the Heroclix game. They come with cards and….okay, I'm not going to try to fool you. I have no idea how to play the game. I'm not even going to try, you're too smart for that. What I will say is I'm going to try to hunt these down just to display.
---
This next one isn't from Ebay at all, but from Industrial. Ever wanted to know what it would feel like to wear skin tight superhero clothing? Want to show off your geek pride during sports practice? Under Armour has you covered.
This isn't my cup of tea, but scroll down on their Under Armour Alter Ego page and you'll also find regular t-shirts and socks. Those are more up my alley.
---
Finally, something I knew existed but we rarely talk about here on the Fwoosh: Kids playing with toys. This picture was posted on our Facebook page by Hoss Groove-Alot, who I believe goes by Hossman on the forums. He writes "My castle came in. Here it is with my 8 year old playing with it. I used 200x castle as additional walls."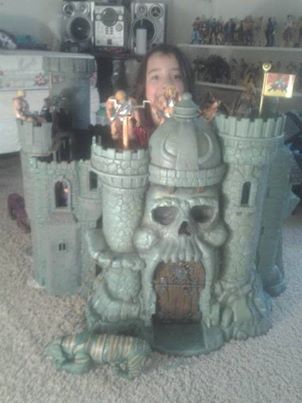 That's awesome.
I'm wrapping it there guys. It's Sunday and the toy world sleeps. Back to work tomorrow. Let's hope the plastic crack dealer toy companies let loose some juicy info this week, give us something to talk about. Or how about some pictures? A picture? Okay, at least a tiny .jpg that we can speculate and argue over! C'mon! Happy Hour's over!