Oh man, what a day. Did you work hard? Same here. Yup. Yup, that too. Oh, isn't that the worst? You know what I like to do after a long day of (insert your daily routine here)? Mess around with action figures. You too? Well hell, what are your feelings on pictures of action figures? I love them too! Grab a seat and your favorite beverage, it's Happy Hour!
It looks like VeeBee received a package from Matty and check out who was in it! Masters of the Universe Classics Two Bad!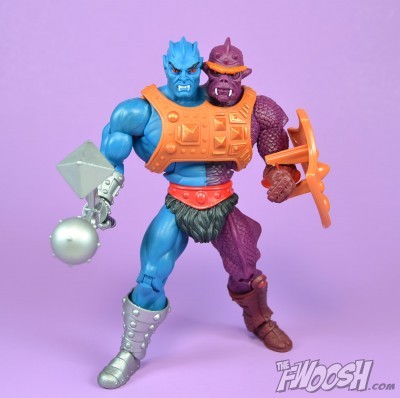 Lucky dog! Two Bad is on my short list of figures I need. In fact, since losing my subscription in July thanks to a snafu this guy is the first I've felt the overwhelming urge to own. After the frustration and the debut of other toys at SDCC I lost interest in a lot of facets of the MOTU universe like New Adventures and PoP, even the Horde, but a figure I had as a kid that brings back a lot of memories? Gotta have it. Remember making the right arm punch the left head and vice-versa? Hours of fun!
VeeBee was kind enough to snap a couple of pics for me to tease you. He'll have his usual awesome First Look up ASAP!
---
I know what you're thinking. You're thinking "Aw c'mon Robo, you've posted enough Spider-Man and Captain America Legends Infinite pictures. Give me a break!" To which I whisper "No."
Oops, wrong property.
But c'mon guys. Look at these. Aren't these so much better than the previous pictures of figures smuggled out of Chinese factories? It's like looking at pictures of treasure taken by pirates, and the pirates Instagraming it. Bank robbers posting their loot on their Facebook page. A kid skipping class, shooting video, and uploading it to YouTube.
Anyway, here's better pictures of the Spider-Man Legends Infinite figures. The cool thing about these is they don't look like they were shot with a fish-eye lens. Makes them look a lot better and amps my excitement even higher than it was.
And here's the links to the new Ebay auctions that contain more pictures.
Superior Spider-Man
Amazing Spider-Man
Black Cat
Carnage
Beetle
Electro
Ultimate Green Goblin
For Captain America Legends Infinite, the new pics make NOW Cap look fantastic! His "A" is slightly off but man, he cuts a nice silhouette.
And the new Ebay auctions with more pics:
NOW Captain America
WWII Captain America
A.I.M. Soldier
Baron Zemo
Red Skull
Hydra Soldier
Buzz around the forums is that the Spider-Man Legends could hit as early as this month. Fwoosher comtrek posted that these are already in the Toys R Us computers and may arrive any day now. K-Mart added them to their site today. And Entertainment Earth gives a delivery date of this month on their pre-order page. If these hit soon it'll be like Christmas in December! Wait…
Captain America Legends are still scheduled for January so it looks like I'll have to wait a little longer for Bob's fishing lure gun.
---
Nicole at WeLoveFine.com sends along this press release: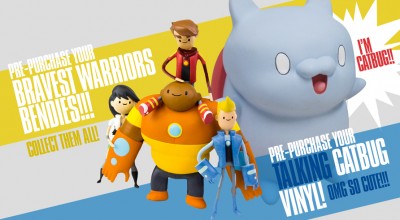 We have got a terrific – intergalactic, even! – scoop for toy collectors and cartoon fans today, which we're very happy to be able to share with fans early. The fine folks at Pop Culture Shock have created an extremely cool line of toys featuring the young heroes from Cartoon Hangover's smash hit web series Bravest Warriors, as well as their cutest (and most wildly popular!) little buddy, Catbug. Fans can now pre-purchase these toys through WeLoveFine.com, in advance of their release in the first quarter of 2014!
Bravest Warriors Collectible Figures by Pop Culture Shock @ WeLoveFine.com:
– The 8″ Catbug Vinyl Figure from Pop Culture Shock is available in two variants: One which is a completely adorable replica of Catbug from the show, and a talking version of the figure featuring the voice of Catbug, little Sam Lavagnino!   
Pre-Purchase the Catbug Vinyl Figure (Talking version, $39.99; without sound, $34.99) now; delivery ETA is late March 2014.
– 5″ Bendie Figure Bravest Warriors are awesome replicas of the team – Chris, Beth, Danny and Wallow – as they appear on the show!  These fully poseable figures are available both individually or as a 4-piece box set.  Sweet!  
Pre-Purchase the Bendie Figure Bravest Warriors (4-piece set, $34.99; sold individually, $10.99 each) now; delivery ETA is February 15, 2014
I have to admit, for bendy figures these look pretty nice. And makes me wonder what Adventure Time figures would look like in this format
---
And then there's this…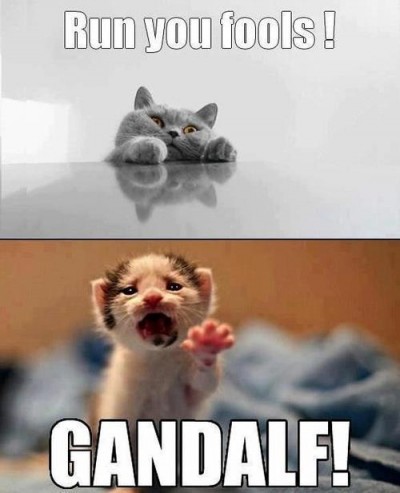 Okay, I don't usually get into the whole internet cat thing but I ran across this on Facebook and cracked up. It works out perfectly.
No, not purr-fectly. Not even I will stoop that low.
Happy Hour's over!