I'm going to have to keep this one short and sweet. It's been a long day and if this were a real Fwoosh bar I'd probably be sulking in a corner, nursing a drink. Yeah, one of those days. It won't happen often. But you didn't come here to listen to me whine, you came here to read about me rambling about toys! Let's go ahead and just jump right into it. Belly up, it's Happy Hour!
DailyDead.com is reporting that Diamond Select is releasing a Godzilla Classic 1989 Vinyl Figure Bank. Now I know what you're saying. It's a bank. Well really, it's a huge, highly detailed bank that looks like a kickass Godzilla. For a nice price too! Here's the details:
"A Diamond Select Release! The This vinyl bank of the city-destroying and alien-fighting lizard called Godzilla is based on his appearance in the 1989 movie "Godzilla vs. Biollante"! Cast in sturdy vinyl, the bank features a coin slot hidden between the fins on his back, as well as an access door hidden inside his removable tail! Stands 12 inches tall and measures 18 inches to the tip of his tail! Sculpted by Gentle Giant Studios!"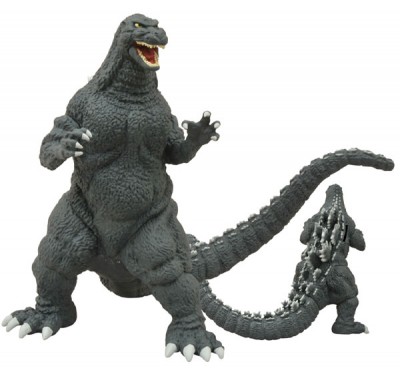 Best of all, it's $34.99! Menace your Marvel Legends! Devastate your DC Universe Classics! Massacre your Masters of the Universe Classics! Destroy your Dutch! You get the idea. Visit DailyDead for all the details.
---
In other Godzilla news, NECA posted this on their Facebook page:
"Check out the first official Godzilla movie trailer that was released yesterday, and keep an eye out for future announcements regarding the new#Godzilla line from NECA!"
And in case you've just been found wandering in the wilderness after having been missing for a week, here's the trailer:
It does a great job of building suspense. I have to admit I haven't seen a lot of Godzilla. I remember the cartoon and some episodes of MST3K. That's about it. But man, am I looking forward to this.
---
New Fwoosher Strangefate has only been a member of the forums for two days but he's already made a big splash with his 3D printed customs. He digitally sculpts the figures and then Shapeways prints them out.
Let me tell you, this is the future of customizing. Sure, we probably won't forsake traditional sculpting and frankensteining for a long while due to cost but look at this. You dream something up, you learn how to use the software, you output an action figure. This is already how a lot of retail toys are produced. But someday, probably sooner or later, we could have affordable, fine detail 3D printers in our homes.
And I'll probably STILL have to ask someone else to do it for me.
You can check out more of Strangefate's work in his custom thread. He also has a thread about 3D printing open for comments, questions, and suggestions. Check him out!
---
Here's something I stole from Augie (Fwoosher, con reporter, collector extraordinaire). It was just too awesome not to post.
---
And then there's this: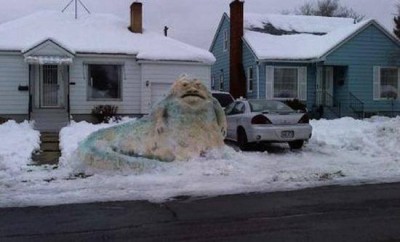 Nay Jabba Snow Badda.
And with that, I release you back into the wild. Go. Be free. Aw shucks, come back here. One more for the road. Okay, now go. Happy Hour's over!