As mentioned in Part One, this third wave of the awesome Titans Doctor Who vinyl mini-figures is currently popping up in stores now, everywhere from comic shops to Barnes & Noble. This time, because I have zero patience, I tried my luck picking them up randomly at Barnes & Noble and Hot Topic, and I was able to pull almost every figure, which was a massive relief. Since they're packed blind-box style, it's very difficult to know what you're getting because the shape of the box is pretty firm and does not betray its contents the way Lego mini-figure packaging does, so it helps a lot if luck is on your side.
50th Anniversary TARDIS (Hot Topic Exclusive)
This TARDIS was a true surprise that I didn't even know existed until Fatsal posted a pic of his on the forums. There's no indication of it on the packaging, so it is a true surprise chase figure. It's silver to commemorate Doctor Who's 50th anniversary, and it's an exclusive to Hot Topic. the catch here is that even though its an exclusive, it's still a one-per-case blind-box offering, so it's a bit on the rare side.  Thankfully, given its shape and weight, it's easy to determine which box its in if you find a full case on the shelves. I got lucky when a Hot Topic associate brought a full case from the back for me, so I was able to successfully heft all the boxes for weight to find it.
It's by no means an "essential" part of the collection, but it's cool enough that it was worth my time tracking it down. And I think it looks pretty awesome when displayed with the 1st Doctor.
The 7th Doctor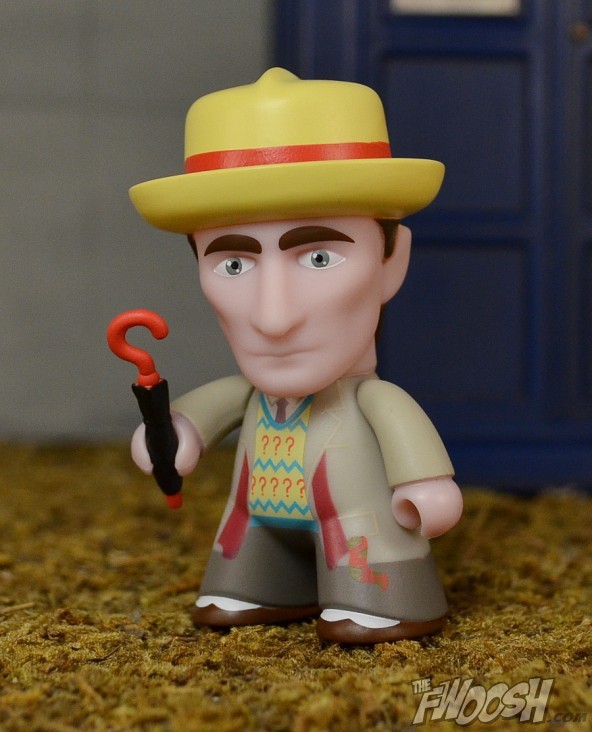 The 7th Doctor is another one that truly benefits from this format. His colors just pop so nicely and he really stands out on the shelf. Like the 6th Doctor, he's not one of my favorites (though my appreciation is growing), but here he absolutely is one of my favorites. Now, I'm not sure how much it resembles Sylvester McCoy because when I look at it, all I see it Tom Hiddleston, who played Loki in the Marvel movies. I swear it looks like Loki dressed up as the 7th Doctor. Or maybe I'm seeing things. Either way, he looks great.
The 8th Doctor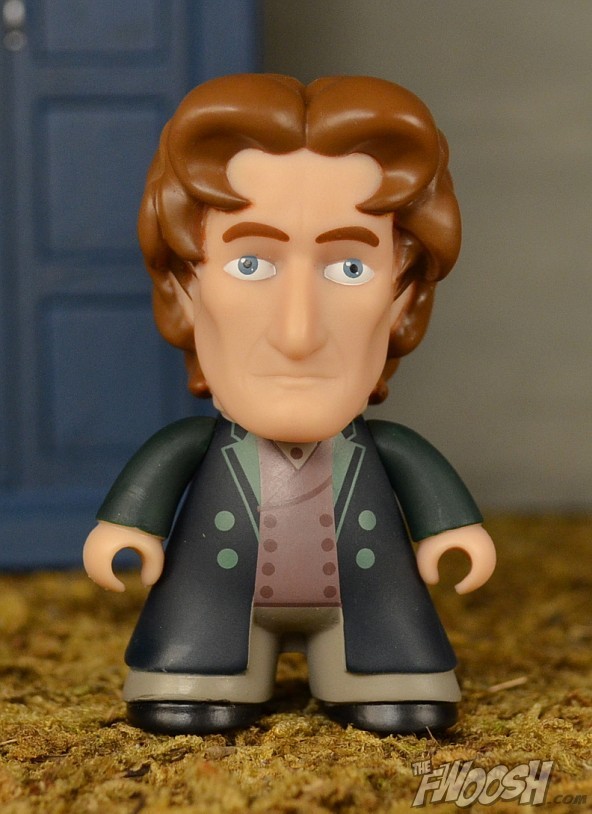 The 8th Doctor is a dapper gent who I am very happy to see in this assortment. He's packed just one-per-case, so he can be a tough one to track down if you're not going the buy-by-the-case route. The dark green color of his coat is gorgeous and the figure does a nice job of capturing the look what I consider to be one of the coolest-looking Doctors of them all. Like the 7th Doctor, I'm not sure how much it looks like Paul McGann, but I think it's mainly the derpy paint job on his eyes that's throwing the likeness off for me. He looks awesome otherwise.
The 9th Doctor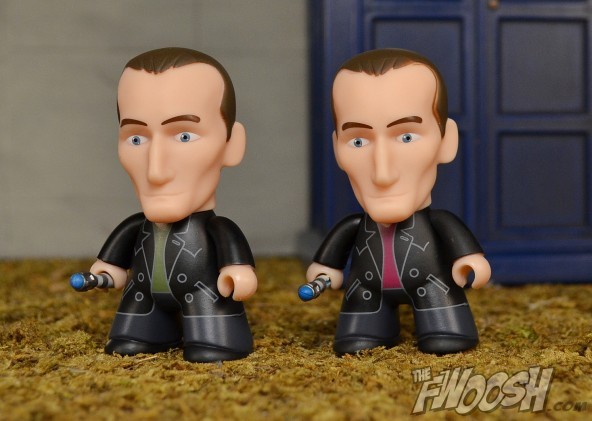 This is a case where luck was on my side because I pulled both versions of the 9th Doctor in my haul from Hot Topic. The green shirt is a 1/40 variant, while the red shirt is packed heavily (meaning there are two) in a case of 20. The difference between the two is so minor that if you only find one, I wouldn't worry too much about tracking down the other unless you must complete the set.
Designer Matt Jones really nailed Christopher Eccleston's likeness here with the intense stare, the razor-sharp cheekbones, and the prominent ears. He's definitely one of my favorites from the wave.
The 10th Doctor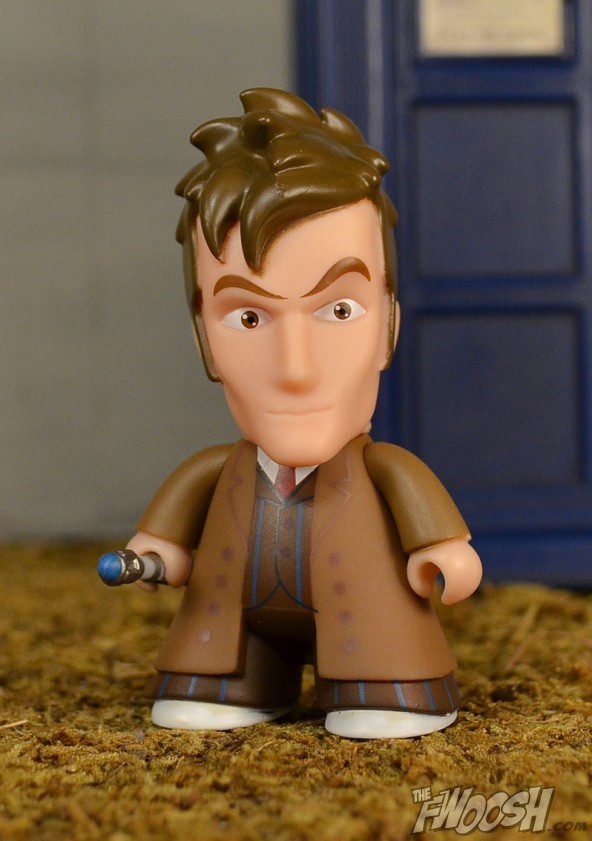 The 10th Doctor in this wave is featured wearing his brown overcoat, which makes this version a must have. There have been several versions of the 10th Doctor released already, but this one is still worth picking up (or tracking down) since he wore the coat so often on the show. I ended up with the brown suit/white shoe variant at Hot Topic, but JonWesley was kind enough to help me out with the standard version, which should be here any day now.
The 11th Doctor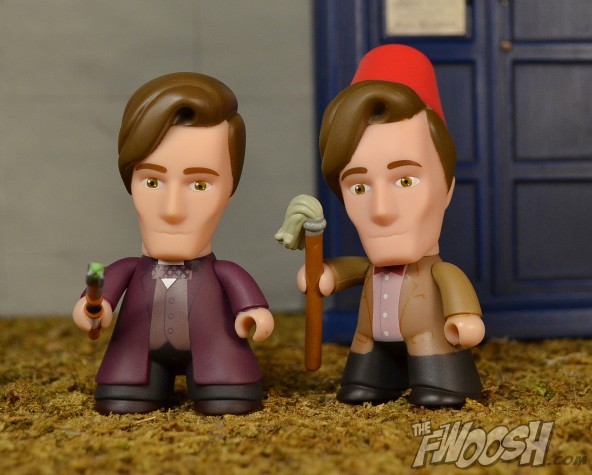 There are three versions of the 11th Doctor in this assortment, and I was fortunate enough to pull two of them from Barnes & Noble. On the left we have 11 in his current purple Victorian outfit he's been wearing since last year's Christmas Special, so that makes him an essential version for the collection. On the right, he's sporting his red fez and comes with a mop rather than a sonic screwdriver. Both versions are nice complements to what we got in the very first wave of Titans mini-figures.
There's one other variant of the 11th Doctor with suspenders and no jacket, but I didn't happen to find one among the boxes I picked up. I'd love to have it just for the sake of completing my set, but that isn't among my favorite looks for 11, and I feel as though I already have enough 11s as it is, so that's one I think I'm just going to let go.
This wave should be available right now just about everywhere that carries these, but they have a tendency to sell through fairly quickly, so if you'd like a set for yourself, I'd recommend acting now to secure yours.
I can't get enough of these and can't wait to see what Titans and Matt Jones have in store for us next.