Star Wars: The Black Series is all the rage right now, and in appropriate fashion, the elusive bounty hunter Boba Fett is proving to be a near-impossible challenge for many collectors to find. Well, worry not, Black Series fan, The Fwoosh has you covered!
Yep, Cyber Monday might be the day to get amazing deals on all of your online shopping, but you cannot beat free, right? We are going to give away a brand new, still-in-the-package Star Wars Black Series 2 Boba Fett to one of our lucky Twitter followers. That's right, we are starting a #fwooshforfett campaign today, and on Cyber Monday (December 2nd, 2013) we will randomly select one of our participating Twitter Followers and send them a free Star Wars Black Series Boba Fett. Sounds pretty good, yeah? Well, read on for the entrance criteria and the rules. Oh, and if you are not currently following us on Twitter, better do so now because you have to follow @thefwoosh in order to win!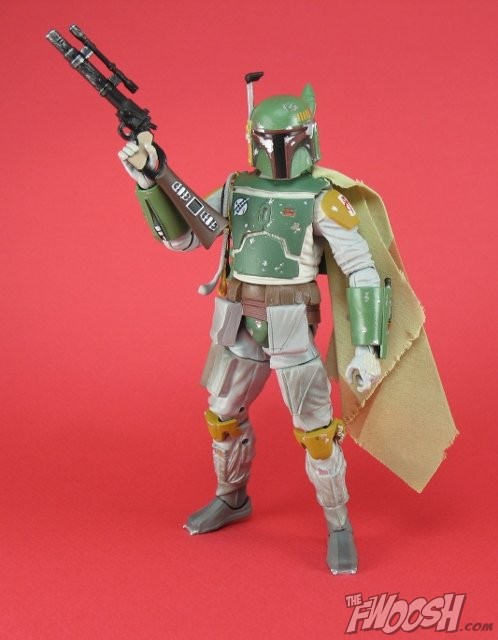 Here is how it is going to work:
All this week we will be sending out Tweets with the hashtag word #fwooshforfett. To enter the drawing, all you have to do is send a Tweet to us @TheFwoosh and use the #fwooshforfett tag. You can tell us why you want a Boba Fett or why you love the Black Series or whatever, just be sure to use that #fwooshforfett tag. Then, on Cyber Monday, we will randomly select a Tweet using the #fwooshforfett tag and that lucky follower will win a free Black Series Boba Fett figure. The cool part is that you can enter as many times as you want, so the more Tweets you send with the #fwooshforfett tag, the better the chances are your Tweet will be the lucky one! Pretty simple, right?
Okay, so, if you are not following @TheFwoosh yet, go do so now, and then start sending us those #fwooshforfett Tweets. We cannot wait to give one away!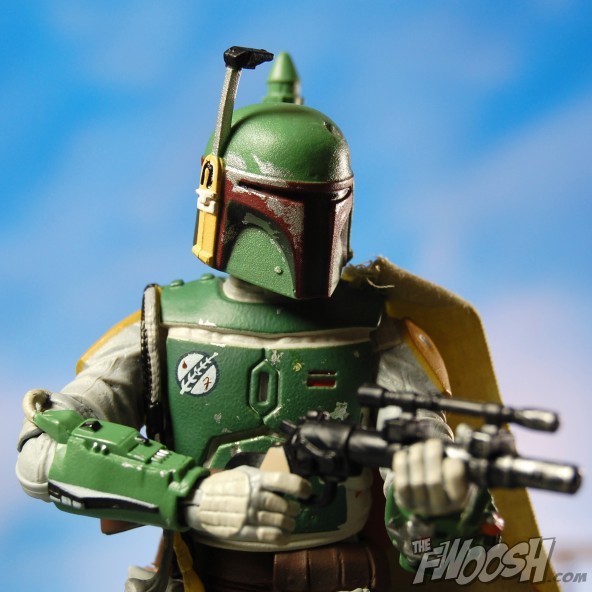 HERE ARE ALL OF THE OFFICIAL RULES, SO PLEASE READ THEM CAREFULLY:
To enter, simply follow us on Twitter @TheFwoosh. Then, send us Tweets using the #fwooshforfett tag during the dates spanning 6:00pm CST 11/25/13 and 12:00pm, CST, 12/2/13. ONE random Tweet to @TheFwoosh using the #fwooshforfett tag will be selected and the Twitter follower that sent the Tweet will win ONE free Star Wars: The Black Series Boba Fett figure.
The drawing will be open to all Twitter users following @TheFwoosh by 12:00pm, CST, 12/2/2013.
To be entered into the random drawing, a qualifying Tweet MUST be made to @TheFwoosh and must contain the #fwooshforfett tag and be sent between 6:00pm CST 11/25/13 and 12:00pm, CST, 12/2/13.
All eligible Twitter Followers of @TheFwoosh are able to enter the drawing an unlimited amount of times by sending separate qualifyingTweets during the entrance period.
Any Tweet sent to @TheFwoosh that does not contain the #fwooshforfett tag will not be entered in the drawing.
You must be over 18 to enter.
Entries thought to be outside of the above criteria may be removed from consideration without the entrant being notified.
Prize Drawing
1 (ONE) winner will be drawn AT RANDOM from the qualifying Tweets using the #fwooshforfett tag and the chosen winner will receive 1 (ONE) copy of the Star Wars: The Black Series Boba Fett figure.
Fine Print
The entry period will end at 12:00pm, CST, on Monday, December 2, 2013. No entries will be accepted after that time.
 Shipping will be free to winner.
 The selected winner will be contacted via a Direct Message on Twitter and he/she will have 48 hours to respond with their shipping information. If you do not respond within 48 hours, you will be disqualified and we will randomly select another winner.
The Fwoosh reserves the right to announce the contest winner via their Twitter handle on thefwoosh.com and all of our associated social media outlets.
 Staff members at TheFwoosh.com are not eligible for this contest (sorry guys!)
 By accepting the prize, the winner agrees to hold TheFwoosh.com and their respective directors, officers, employees and assigns harmless against any and all claims and liability arising out of the use or redemption of the prize.
Any entrant that does not agree and comply with all of the contest rules and fine print will not be eligible to win.
Good luck and happy Tweeting! #fwooshforfett