Man, it feels like forever since we've had a Top 5 around here. And what perfect timing for a new one! Especially with the release of Marvel's new Thor movie (read the review here and here). And with all the Thor figures ever made, it's time for a Top 5.
This was pretty tough since, well, this is pretty much every Thor figure made in the "6-inch" scale. Yeah, I hear some of you already, but Marvel Select Thor's are in 7-inch scale. Uh-Huh, but from a scale point of view, only one of these Thors is accurate, and that is the Walmart Thor. All the rest are ridiculously the same size, starting with the Toy Biz Marvel Legends Series 3 Thor. All of them are 7-inch, and, as such, I am including the Marvel Select figures. I am not including the 4-inch figures. And, yes, this is a another Fwoosh Top 5 article that is completely biased from the author point of view and has no community input. There is plenty of space below where you can input away.
ON TO THE LIST!
5. Marvel Select Ultimates Thor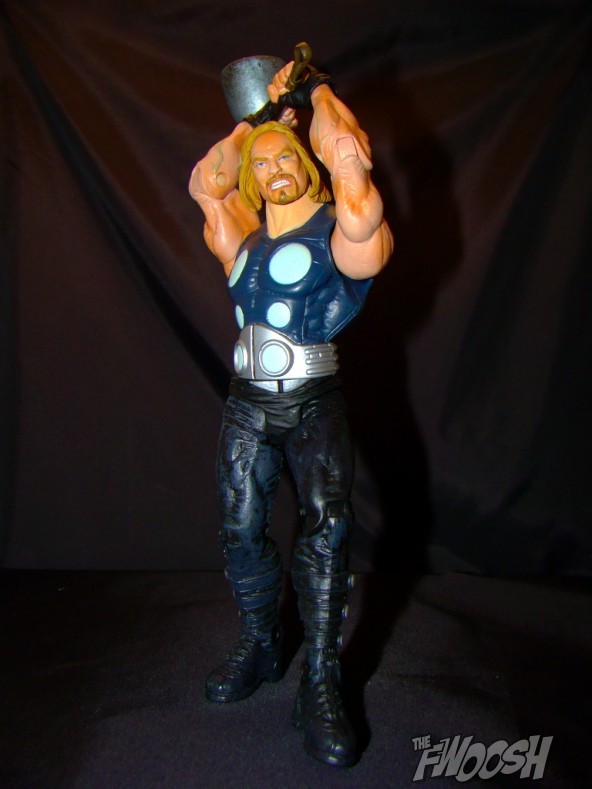 I'm putting this figure in here, well, because I liked it. It was a good figure of a comic Thor. Based on the Ultimate Thor from Marvel's Ultimate Universe The Ultimates, this lovly figure was a perfect fit for an Ultimates version of Thor that might be part of your Marvel Legends collection. With Marvel Legends Ultimates Captain America, Marvel Select Ultimates Iron Man, and Marvel Select Ultimates Hulk, you pretty much had the team. Wasp and Giant-man were missing, but otherwise you were there. It's a good, solid sculpt that could use some ball hips and an ab joint, but otherwise solid.
4. Marvel Legends Lord Thor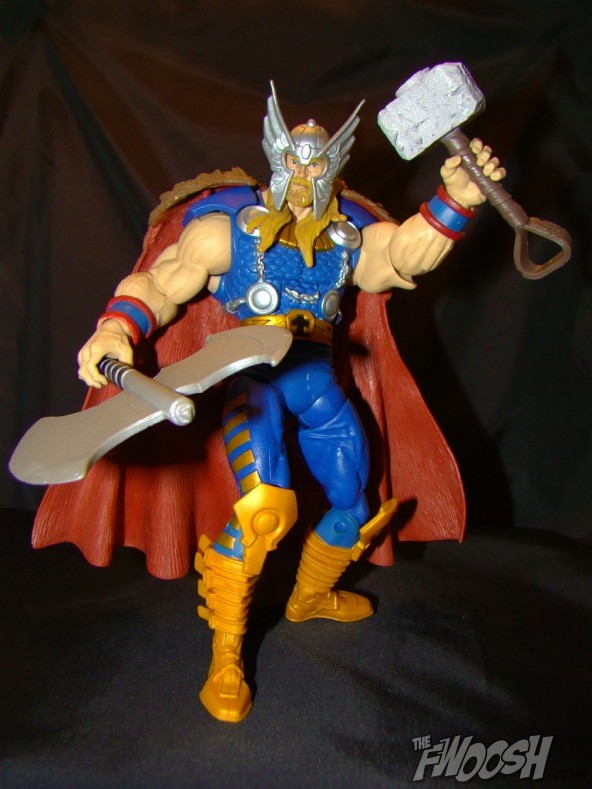 This Thor made the list over Hasbro's Heroic Age Thor. While there was no paint on this figure (oh, the Ed Wires prototype was a thing of beauty), the figure is pretty damn solid. I love the concept of a Lord Thor and this figure fit the bill. It had very few issues other than the limited ball hips and ball elbows. A good, solid figure and definitely deserving of a spot on the list of Top-5 Thors.
3. Toy Biz Marvel Legends Series 3 Thor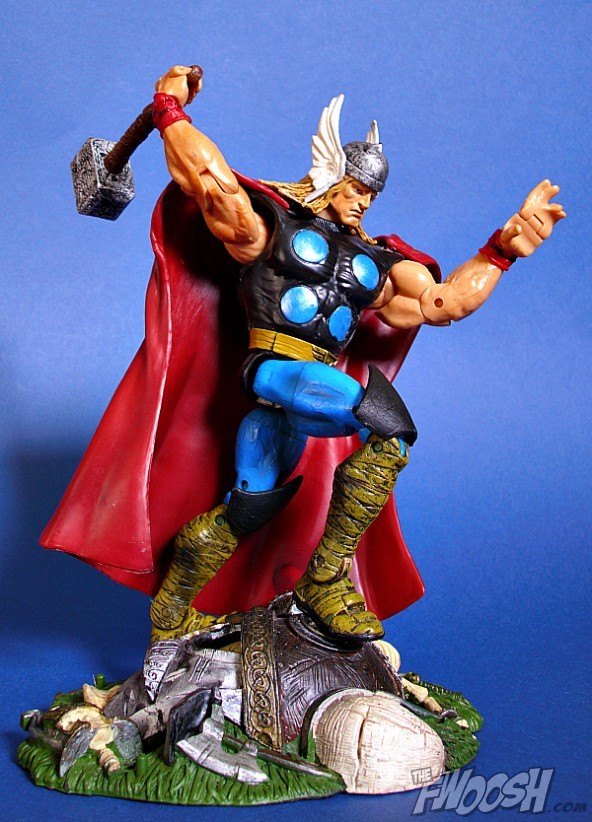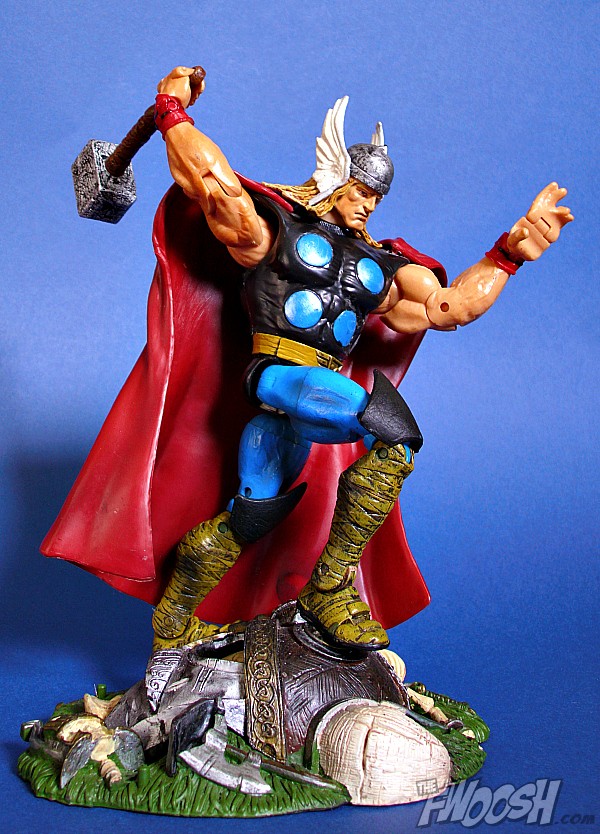 I'll get crucified right off the bat for not including this figure higher on the list. But really? Many a person hates this sculpt, the scale, the hips, and the lack of chest thingies. I don't; I love this figure. My only real complaint is the scale — it is way huge! And the lack of an ab-joint. Despite those issues, this is a fantastic Thor figure. It's iconic in every way that Thor can be iconic, and it was a great large-sized figure. I used this figure multiple times to make Hercules and Conan customs. But I can't bring myself to give it a higher ranking, not when Toy Biz got the scale and sculpt right later on in the Giant Man Build-a-figure wave.
2. Toy Biz Marvel Legends Walmart Giant Man Build-a-Figure Thor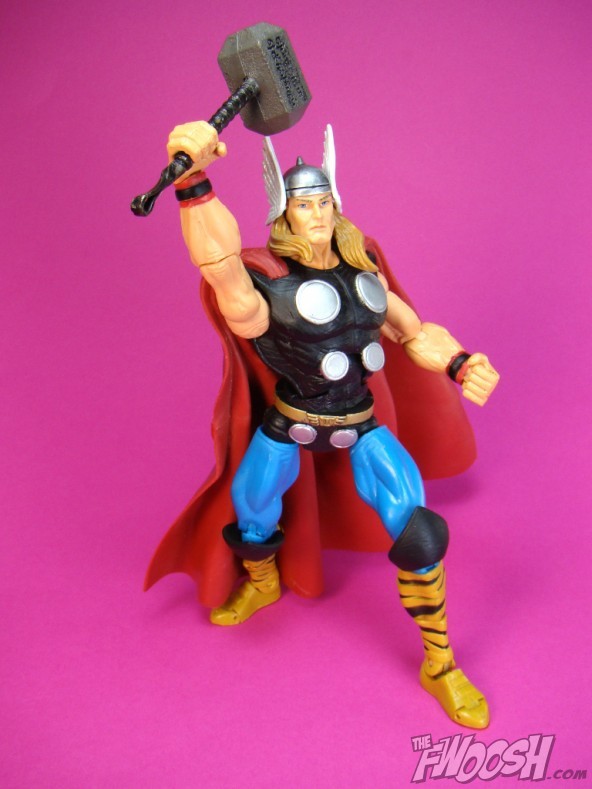 As you know, I already love this figure, and the prototype was definitely spot-on perfect. But the figure came out all kinds of off as mentioned in the review below. Despite the flaws, it is still one of the best classic Thor figures and sits proudly on my classic Avengers display. And with that proclamation, I clearly can announce this figure as number 2 on the list.
1. Marvel Select Heroic Age Thor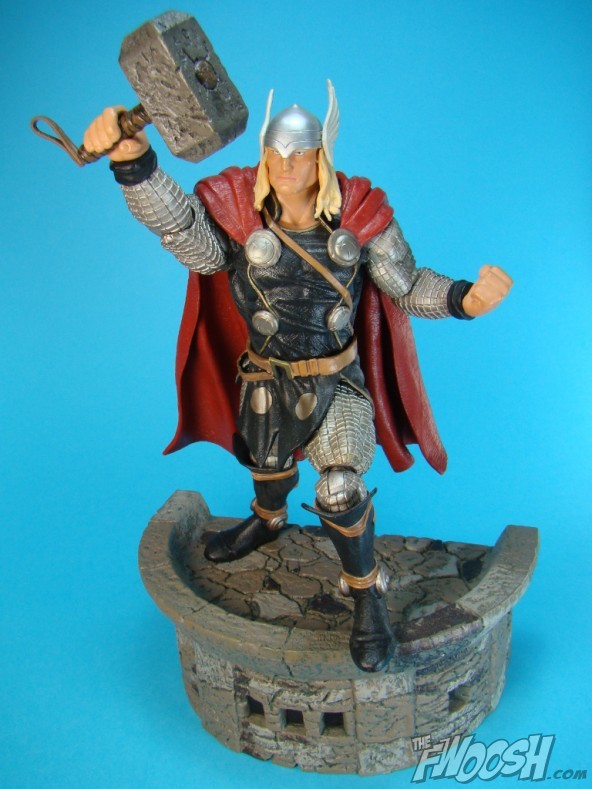 Without a doubt, this is the best Thor figure to date. In an age of oversized Thor action figures, you can't hold the scale against him. And the sculpt is leagues better than the more articulated Hasbro version. All in all, it's tough not to claim this figure as the best Thor figure made. I thought about keeping this a pure Marvel Legends figure list, but the Hasbro Marvel Legends figure just doesn't compare in sculpt to the Select version, and when both figures are the same scale, it makes it difficult not to choose the Marvel Select figure over the Hasbro version. But I've linked both reviews below — you decide for yourselves!
Read the Marvel Select review here!
Read the Marvel Legends review here!
You can discuss this further below or on