Aww! The disgusting denizen of Tatooine gets all cute on us!
via DIAMOND:
The Green Gangster of Star Wars Returns as a PREVIEWS Exclusive
(BALTIMORE, MD) – (October 31, 2013)-Jabba the Hutt from Star Wars is making his debut as a PREVIEWS exclusive pick in plush form! Talking Jabba from Underground Toys is scheduled to release in stores in late December, 2013.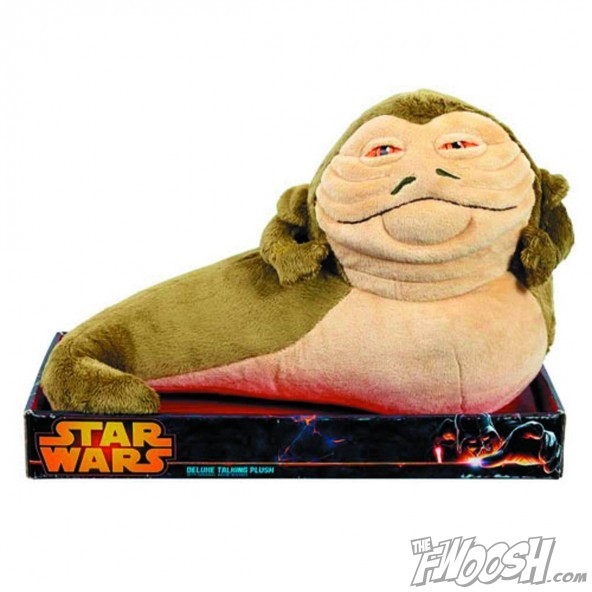 The Jabba the Hutt 12-inch Talking Plush (Item Code: NOV132088, SRP $34.99, page 455) embodies the personality and characteristics of the green gangster in all his greed, lust and gluttony from the Star Wars movies.  The 12" plush matches true to the look of the character without the slobber and smell. Jabba mumbles in his native Huttesse language, only known by true Star Wars fans as the language of the Hutts.
"Jabba the Hutt is another great addition to the Star Wars talking plush range," said licensing director Robyn Cowling of Underground Toys.  "He's less slimey and terrifying when immortalised by Underground Toys in plush form, making him the perfect gift for your favourite Star Wars fan."
The deluxe talking Jabba is featured in the November PREVIEWS catalog on page 455 and can be pre-ordered at your local comic book shop. Talking Jabba is scheduled to hit stores late December, 2013.   To ensure you get your favorite Star Wars gangter, pre-order it at your local comic book specialty shop. Find a local comic shop at www.comicshoplocator.com.
****
ABOUT DIAMOND COMIC DISTRIBUTORS (DCD)—Diamond is at the nexus of comics and pop culture. Based in Baltimore, MD, DCD is the world's largest distributor of English-language comic books, graphic novels, and related pop-culture merchandise, serving thousands of retailers worldwide. For more information, visit Diamond on the web at www.diamondcomics.com.
© 2013 Diamond Comic Distributors, Inc. All rights reserved. Diamond, the Diamond logo, and PREVIEWS are either registered trademarks or trademarks of Diamond Comic Distributors in the United States and/or other countries. All other trademarks are the property of their respective copyright owners.