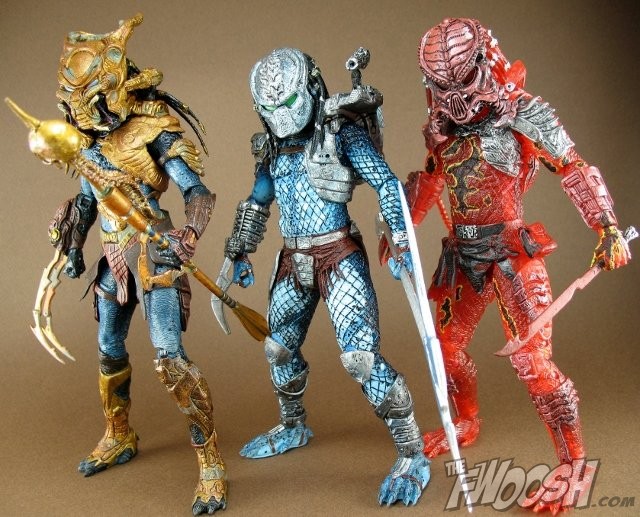 The Predator franchise has been pumping out tons of variations on the familiar Predator design in the past few years, but they just got a whole lot more colorful with the debut of the 10th wave of this ongoing franchise. While most movie-based Predator figures stick to a very similar color scheme with a few minor alterations, there's a brand-new aesthetic debuting with this wave: the Kenner aesthetic.
Way back in the mid-'90s, Kenner pumped out a handful of original Predator designs. These were colorful, kid-friendly, and very odd, considering both Predator 1 and 2 were R-rated movies. I can only imagine the look on a kid's face when they saw brightly colored Predators in the toy aisle.
Well, jump forward a couple decades, and NECA has decided to bring out updated versions of those old Kenner figures, and they're the probably the snazziest-looking Predators yet.
I'm sure there's a group of people that think there should be only one Predator, and that a bluish Predator is the worst abomination known to man, but I'm not that guy, because I love variety. I mean, I'm thinking why wouldn't there be a bluish Predator? There's no reason there wouldn't be. The flipside of that argument is "why would there be?"
Because awesome, that's why.
I've been anticipating these figures ever since pictures of them debuted on the Internet. Let's take a closer look at these NECA/Kenner hybrids and see what's what.
First off I have to do something I rarely give an ounce about, and that's to point out the packaging.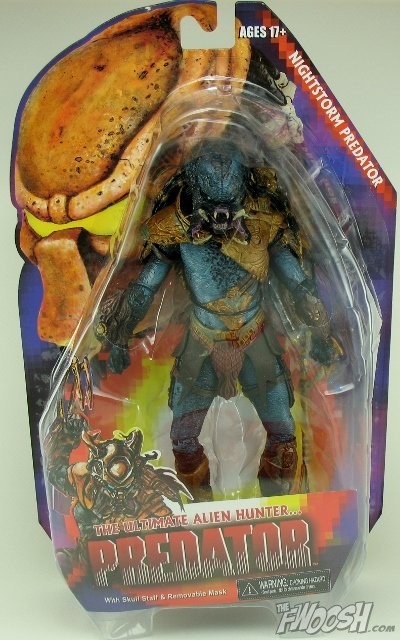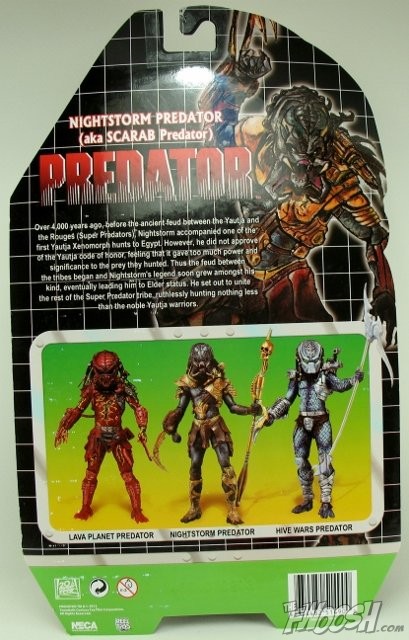 NECA has gone all retro on us with the packaging. The backs of each figure has a nicely detailed micro-history of each  Predator.
First up, we have Nightstorm Predator, also known as Scarab Predator.  Now, this figure, out of all of them, has sent me on a rollercoaster of emotions. On first sight, I was thinking he was pretty frickin' awesome, but then I learned that he'd be on the old-style Predator body without hip balls. I never owned a Predator with the older articulation, so I was worried that the fun value of the figure would be completely sucked away. As it turns out, it's not that bad. Yes, I feel the lack of hip balls, and he's really only able to get into a wide-legged stance due to the loss of that articulation point, but he does seem to have  a lot of swivels in different places.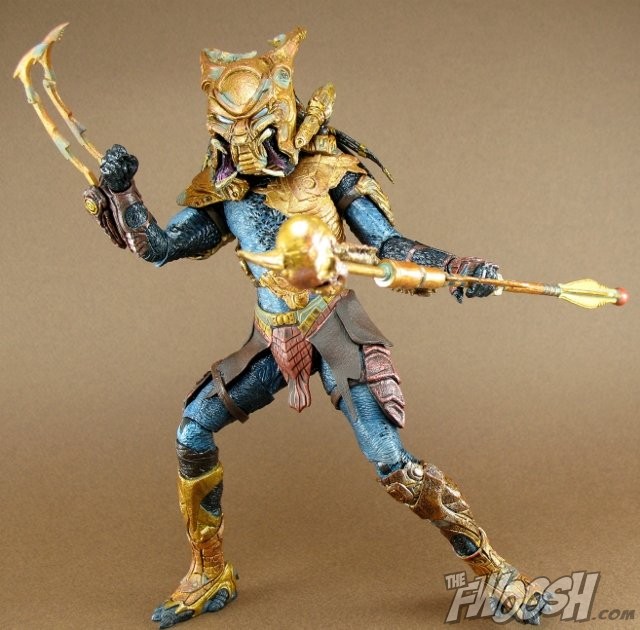 He's got a thigh swivel similar to DCUC figures, and calf-swivels, along with the Hasbro-styled knee joint, so his legs do move a lot, but they don't quite move as perfectly as they would if he had the traditional marriage of hip balls with knee joints. But he's not the stunted statue I was expecting from the older articulation, and the gangly, thinner body makes him stand out from the other two.
He's the only Predator figure I have so far that features a removable mask. While ordinarily it's a feature that wouldn't work well, the fact that it slides between his angry jutting teeth and snugly fits onto his face adds to the overall menace. He's an ugly dude with the mask on or off.
Nightstorm comes with a humongous set of wristblades that really add to the overall sense of menace. His staff is topped with a skull as if he didn't look mean enough. Despite the limitations of his older articulation format, Nightstorm won me over with his overall bad-ass appeal and removable helmet.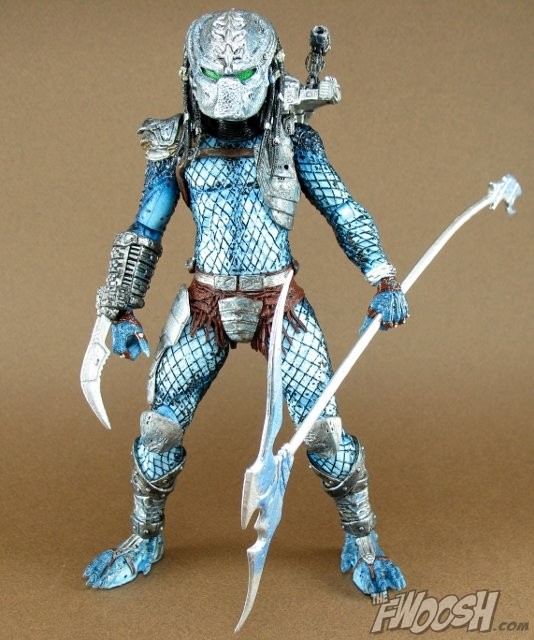 Next up is Hive Wars Predator. This is not a Predator that easily blends into the jungle. Or, at least, not our jungle. But that's OK because according to his bio he's a nonstop angry Alien-killing machine.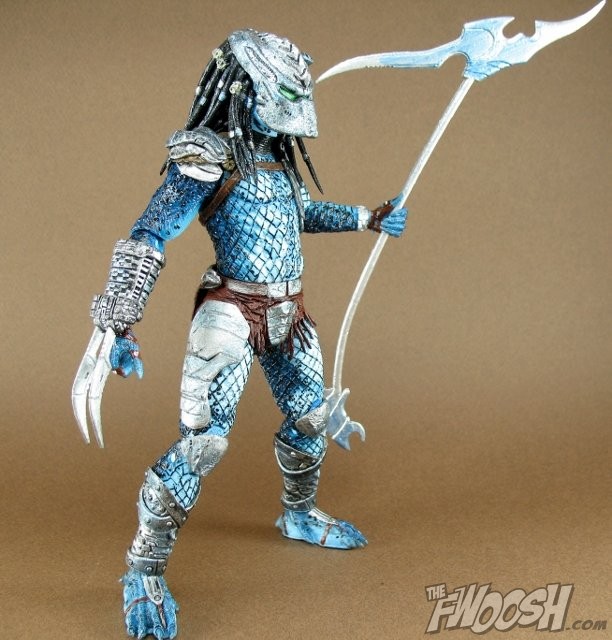 HWP comes on the fully articulated body with ball hips so he doesn't suffer the slight articulation impedance that Nightstorm fell victim to. Like the rest of this wave, he comes with his own distinctive wrist blade design, which is slightly more traditional, yet with a bit of an added curve to them. You need the extra slicing power to carve the Xenomorphs up.
His paint scheme is very cool. While getting the black paint onto the sculpted netting can be a hit or miss prospect for most Predator figures — one of the only missteps of the line — this one hits more than it misses. I've had a couple that veer wildly off the lines, so to get somewhere in the ballpark is a noted improvement. His skin is mostly a bright, silvery blue that really catches the light and pops. He's extremely unique among the rest of the members of his species. He comes with a deadly-looking staff that could probably slice the nose off an elephant if that was what he was intending to do. Who knows.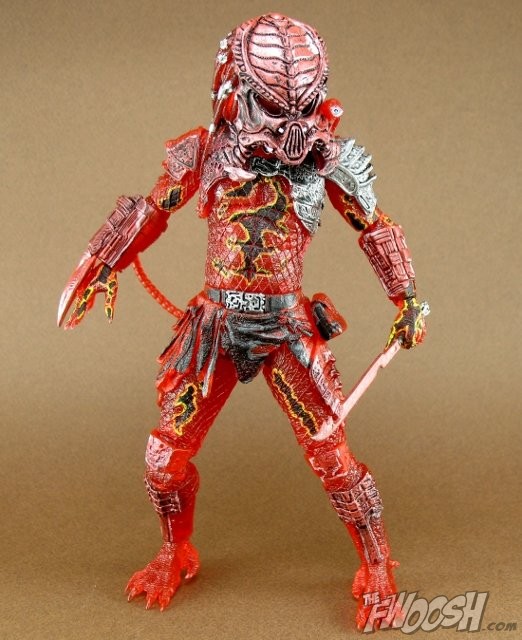 Finally, the figure that, even more than Hive Wars, stands apart from every Predator that came before: the bold, red, translucent Lava Wars Predator.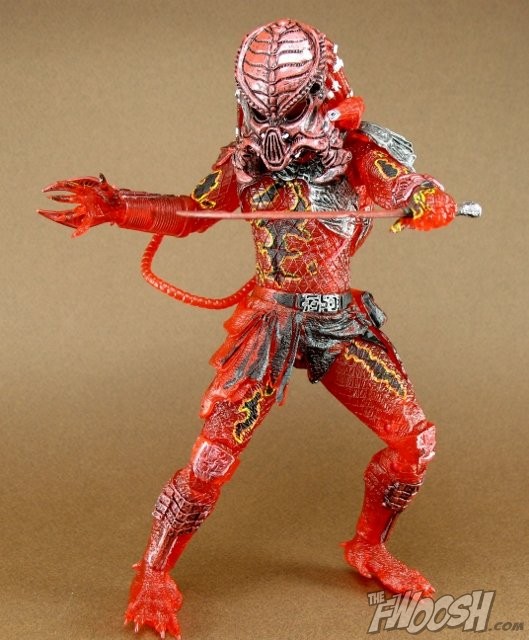 Utilizing the clear plastic of previous stealth versions of Predators, and adding in a bold color red (explained in the bio as a stealth feature that is always on due to their lava environment), this is a toy you notice from across the room.
It pretty much had me at "all-red Predator." The previous "Big Red" grabbed me instantly due to the red armor that differentiated it from all the other versions of Predators out there, but this one is all red. That's about a billion times the red. I counted.
Again on the fully articulated body, Lava Wars Predator suffers no ill effects from its all-clear construction. His armor and dreadlocks are as flexible as any of the regular variations, and there's no feeling of fragility when I move him around. He's sturdy, strong, and looks like he'd taste good. I know, I know — don't lick it.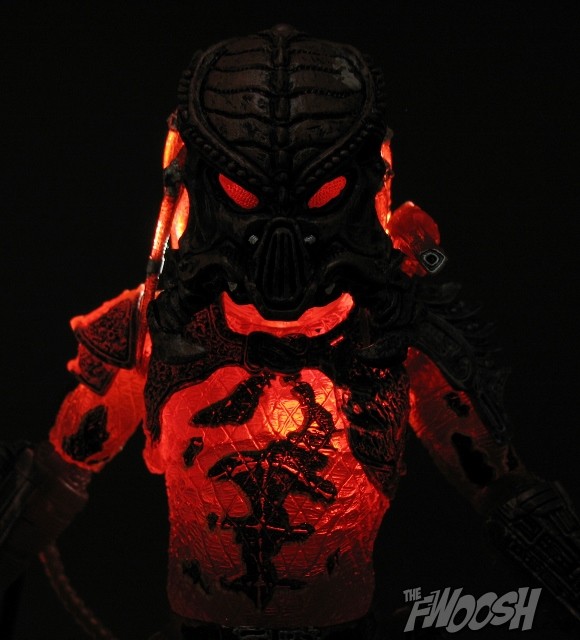 Like the others, he comes with his own individualized wrist blades that look a bit like pincers. He's a great update to the original toy and translates well into this new line. There are just enough silver and black accents to make him interesting without taking away from the nature of his red translucence.
The Kenner updates proved to be immediately popular in online buzz, and they don't disappoint in hand. These are some of the funnest (hey, it can be a word if it wants to be) Predator figures yet, and the good news is apparently more Kenner updates are in the pipeline due to how well these were received. I hope this line continues to pump out Pred after Pred because even though it all seems like the same toy over and over, there's a freshness to them that a simple paint job and a few stylistic touches can bring that makes each one feel brand new.