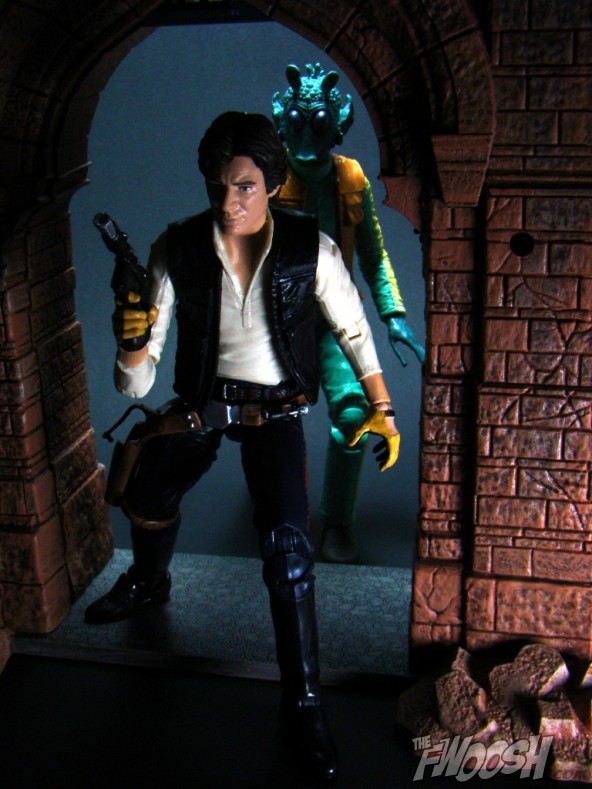 As far I am concerned, Greedo got the short end of the stick. Some bastard smuggler shoots him for no reason at a table, probably killing him at the worst or leaving him handicapped and unable to provide for his family. Look, things got bleak after the rise of the Empire, and this simple mushroom farmer was only looking for a way to make a buck after the Empire confiscated his crops for the year. So he goes looking for easy work, Jabba offers him an easy job, and what happens? He gets shot in cold blood.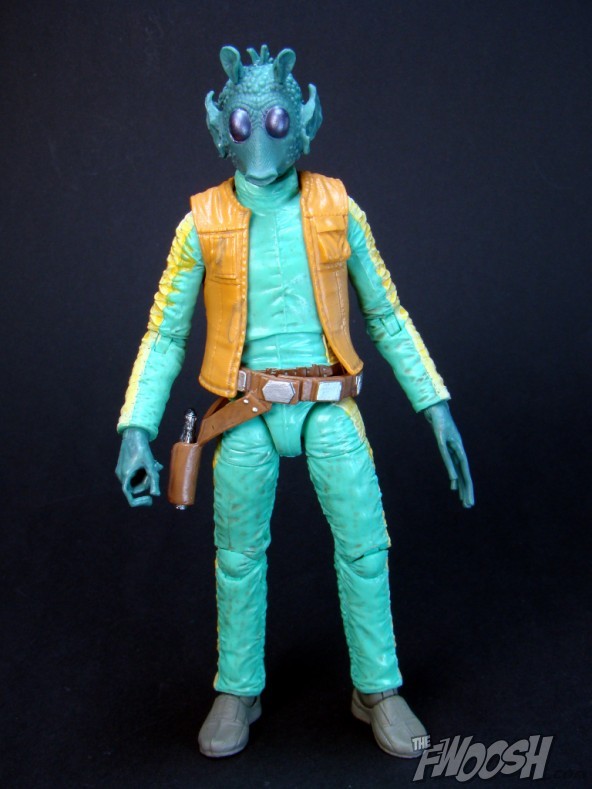 That's my take on the whole thing, or, in other words, I have no context for how it should be since I never read the comics or the books or anything else. I only saw the movie. The real movie. And Han shot first. In cold blood. Poor Greedo's wife and kids.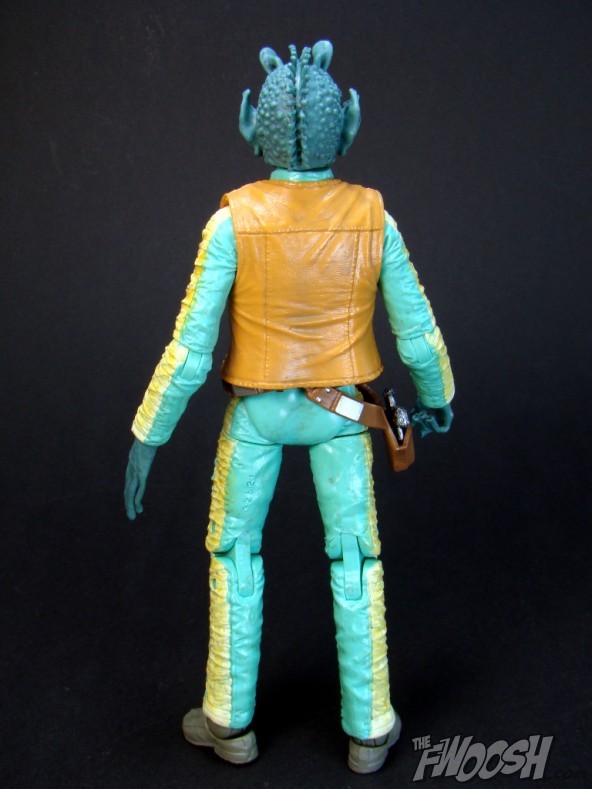 I said I wasn't going to collect this line. I said I would avoid it. I said I'll leave it to the rest of the Fwoosh staff to cover. And just like a crackhead, I weakened, succumbed, and ordered a case of these figures. Then R2, then Luke (BENTY'S FAULT), and now, like a addict, I'm forever stuck until Hasbro stops making the product and and I have to find something else to fill the void.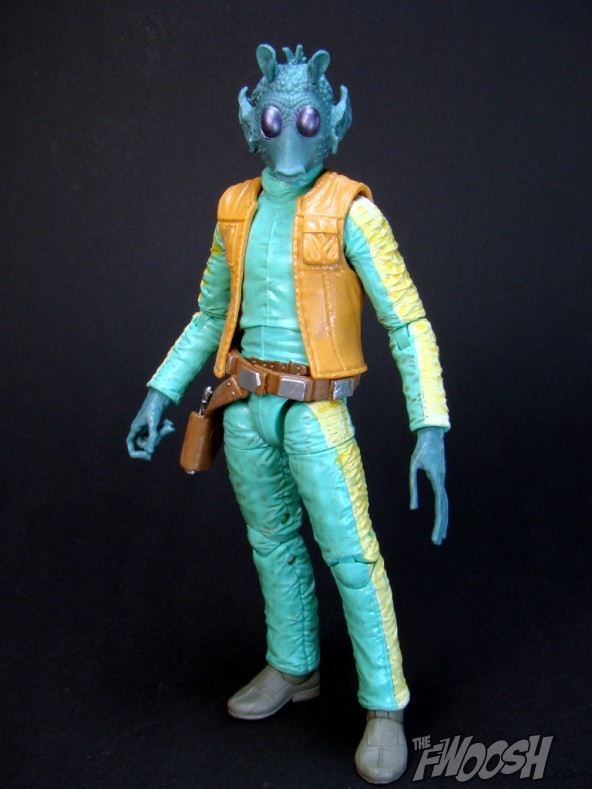 These figures are fantastic. Greedo was a big gateway figure for me since he was one of the first figures that I had as a kid. I loved the concept, the look, the outfit. He was a rock star. And in my youth I made certain that he lived on and became part of the intergalactic corps of bounty hunters. Or a rebel fighter. Or something that made him live on. I loved his head and squid-like hands; he was just cool.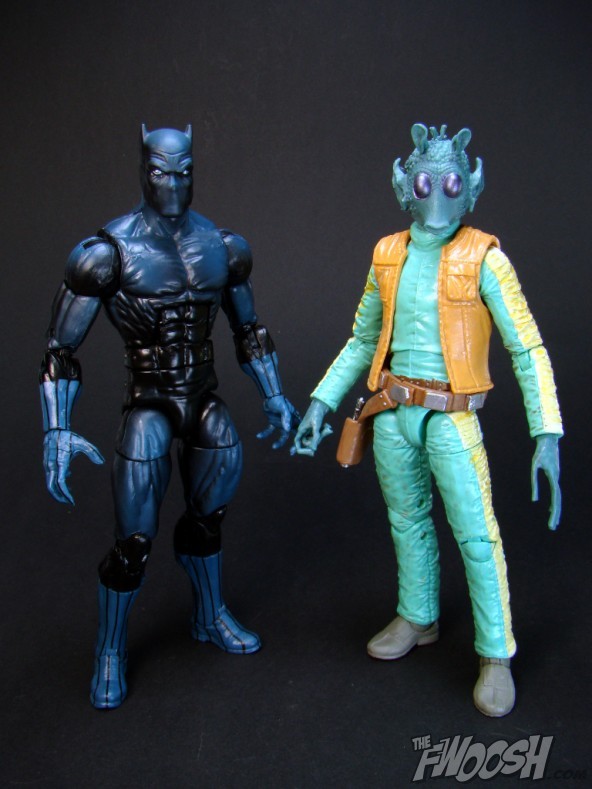 And Hasbro and Gentle Giant Studios have outdone themselves. They perfectly captured the essence of Greedo. The head sculpt is excellent, perfect in every detail. Mind you, I'm not an anal Star Wars dude, so as long as it seems to be right, then I'm golden. And I am golden! This figure is excellent.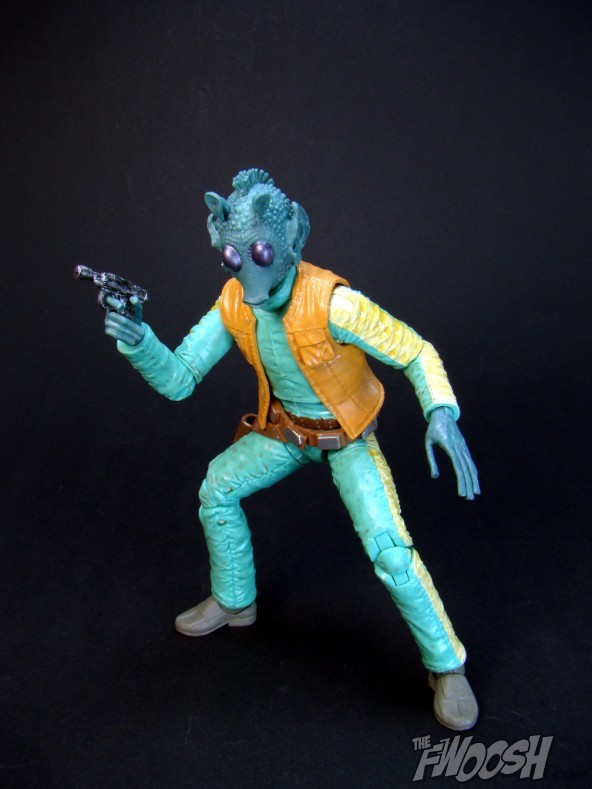 The sculpt, the articulation, the scale — all are great. I Love the scale. I have no idea how movie accurate he is, but it's perfect for me. And the articulation is perfect as well. I simply love it all. I would like to see improved ratchets in the hinged ankles, and double elbows should be on every figure, but I can excuse those minor flaws. The rest of the figure is perfect. Here is the articulation breakdown:
rocker ankles
hinged ankles
double knees
swivel thighs
ball hips
ball abs
ball shoulders
ball elbows
ball wrists
ball head
What you don't realize is how much articulation is packed in this figure until you start posing the little rascal!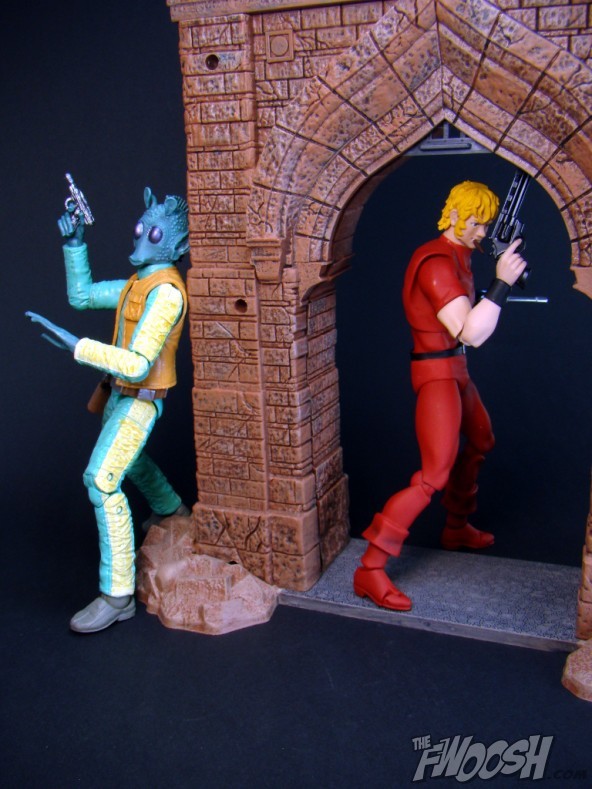 I think one of the things that I love with these figures is the belts. The holsters and belts are really cool. Growing up at the end of the pop-culture cowboy era, the transition from cowboy to space cowboy (ninja samurais) was a really big selling point for Star Wars. Han had a cool belt, but X-Wing Luke doesn't — where does he holster his gun? Greedo has a cool belt.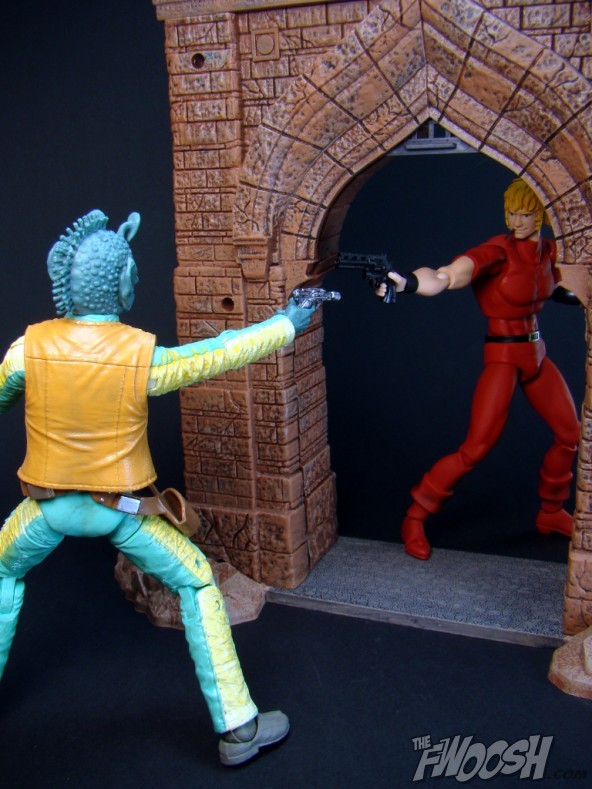 I'm not certain how much painting Hasbro is putting into these figures. There is clearly a wash, but beyond that, I have no idea. But I do know that the colors on this figure pop and that makes me very happy! I like figures that pop in my displays.
If you haven't jumped on these beautiful 6-inch figures, then go — do it! They are worth every single penny out there. I cannot recommend them enough, and this is coming from the guy that resisted the Masters of the Universe Classics revival!
For those of you still wanting this figure, he is readily available at the following retailers:
Discuss this topic further on The Fwoosh Forums!
Packaged pics by Benty!