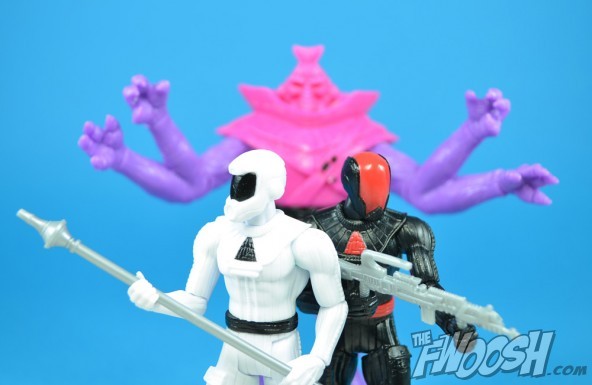 The 1980s were, by far and away, the absolute golden age of kid's action figures. Before video games came along to steal imagination at every turn, most boys wanted to own a piece of the Justice League, He-Man, the Ghostbusters, G.I. Joe, Transformers, and countless others in plastic form. Well, in this golden age of adult action figures, companies great and small are riding the wave of what worked so well on us in the 1980s to bring us back in (or keep those of us that never really left) to figure-collecting ways. It has worked like a charm too – my toy room is dominated by the aforementioned properties, and things like Star Wars and Teenage Mutant Ninja Turtles are starting to get into the action as well.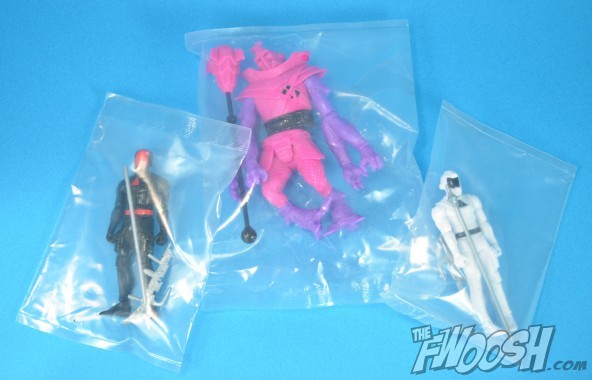 However, there are a few of the more intriguing and obscure '80s properties that are starting to come to the fore, and the ever-awesome dudes (and dudette) of The Four Horsemen Studios have planted their flag alongside a legend. Yep, they are bringing back the Wayne Barlow-created POWER LORDS, and looking at what they have done so far, it doesn't take much time to realize why this property was (and still is) enjoyed by action figure connoisseurs. Though the new line has not had its "official" launch yet, the 4H have produced a few preview figures, and we have a look at three of them today. So come check out the POWER SOLDIER, ELITE POWER SOLDIER, and GGRAPPTIKK Grunt!
In the interest of being honest, prior to this relaunch, my only exposure to the Power Lords was the occasional 1980s comic book ad. Pablolobo wrote a brief retrospective of the line a couple years ago that jogged my memory, but when the Horsemen announced that they would be bringing the property back better than ever, I was still a little surprised. I mean, the concept and the designs have certainly always been there, and, like the restaurant or album that is a finely kept secret, the Power Lords have long been revered, but the property never saw the popularity of many of the others from the 1980s. However, cool toys are cool toys, and since the community knows that the Horsemen always deliver, anticipation for this line is already running high.
Like I said, the line has not even really officially launched yet. Well, I guess it kind of has, since, you know, we are getting figures, but the figures of actual characters that were released in the original line have not been made available yet. We have seen Adam Power, GGRAPPTIKK, and a few others in prototype form, but the 4H kicked things off with some colorway and slight variants at Power Con, NYCC, and their website. Think of them as appetizers that turned out to be really, really cool. I am officially excited for this line, and I got to see the prototypes up close and in person when I visited the Horsemen's studio last spring, so I can assure you that these are right in league with the quality and detail you have come to expect from all their offerings.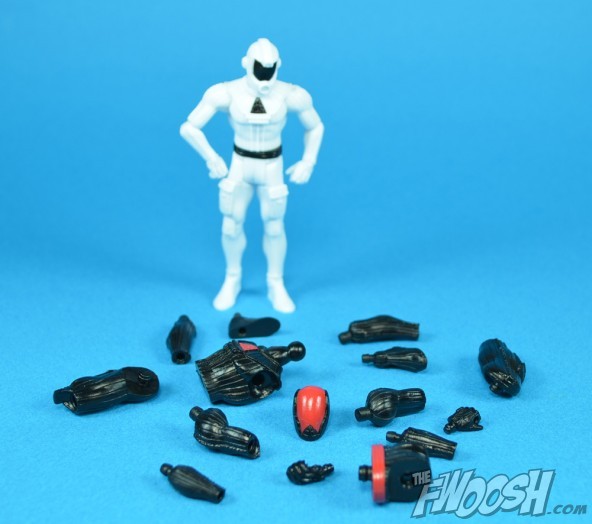 The line is built at the 1:18 scale and is configured on the Gylos system of snapping and swappable part/joint system. I really like that they are doing this with a lot of their in-house lines because the customization and changeability options are pretty endless. Just within the two soldiers included here you can swap every single part for one of the other and the figure and form will still flow perfectly. This makes the customizing potential of this line exciting, and while you are getting three potential army builders here, with a few figures you can make all kinds of iterations and have dozens of figures made of the same basic parts, but configured in very different ways.
The Elite Soldier is probably my favorite of the three. Yes, I usually skew towards the more monstrous characters in situations like this, but the sleek color scheme and design of this figure puts it over the top. The black and white are very striking and when I say white, I mean WHITE. As in bright white. This is not some light grey color; this is clean and eye-catching, which is perfect for the Elite soldier. Plus, while the regular Power Soldier's helmet is more streamlined, I like the shape of the Elite helmet better. I think it has a more classic "trooper" feeling to it instead of the more modern regular Power Soldier. I personally think this figure looks better with the staff, so that is what he is getting on my shelf.
That is not to say that the regular Power Soldier is anything to sneeze at, and while I prefer the black and white of the other figure, you really cannot go wrong with black and red, especially for a stormtrooper-type character. The Horsemen have completed a prototype of this figure with a paint master to match the classic Adam Power, so I am willing to bet that we see lots of different colorways of this figure so we can build up lots and lots of different factions to fight against each other. While you use less plastic making 1:18 figures, the amount of cash you might save seems minimal compared to how many of these troop builders you can sell a this scale. Plus, there are several other 1:18 lines out there that can certainly make use of a futuristic military army builder. I like this guy with the gun; there is just something very "video game" soldier about it to me — is that crazy?
While I was certainly not expecting any of these variants, I have to say that the GGRAPPTIKK grunt took me by surprise the most. I don't really have a reason for that; I just did not think of the character lending itself to being an army builder. Well, the 4H never cease to out-creative all of us, and here we are. There is a lot of purple and pink to this figure (and there is a variant where the pinks and purples are reversed), so while that color combo might seem weird at first, especially considering the character, it has been growing on me. But then again, I have a soft spot for hot pink figures.
So, if the colors are not too garish for you, you will quickly find that the sculpt on this figure is just fantastic. I mean, I saw all of the details on the up-sized prototype, but I am happy to say that this smaller figure retains all of it. The character is big, much larger than the Power Soldiers, so that helps with the detail, but let's face it, Eric Treadaway knows how to sculpt monsters like no other; it is just in the dude's blood. And talented hands. All of the crags in the torso and folds in the skin of the arms are accounted for, and since this figure does not have a lot of paint applications, I cannot wait to see the standard GGRAPPTIKK with lots of cool paint applications to bring out the details even more.
The new Power Lords line is already shaping up to be a lot of fun, and in the hands of the 4H, it is certainly going to be done the justice the original designs warrant. There are a lot of shapes and sizes in this line, so since it will require a lot of tooling, I am betting we get several colorways of each figure, so even though the line is still in its infancy, your shelves are going to be colorful in no time. That said, I ready for the line to really kick off so we can all get our Adam Power figures for the first time since the 1980s. The Horsemen have shown what they can do with the Outer Space Men, so the Power Lords are going to ratchet up all there strengths to another level.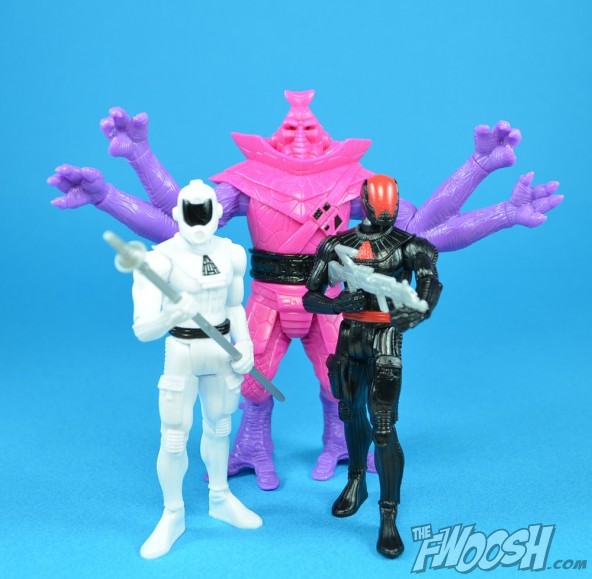 Keep your eyes on the Fwoosh Front Page and SourceHorsemen for all the latest news on the Power Lords line — it is going to be quite the ride.
Additional Links