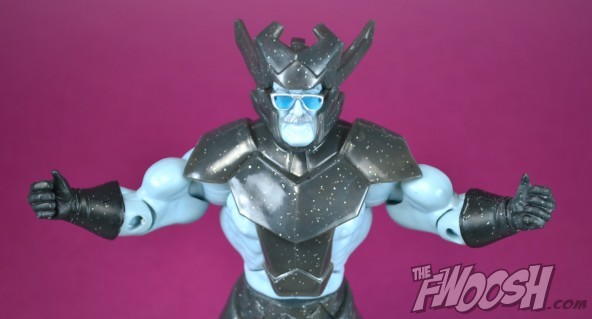 So, what happens when "Excelsior!" meets "I have the Power!"? Well, you get a healthy dose of partnership between Stan "The Man" Lee's POW! Entertainment and Mattel for an ongoing business partnership to develop all kinds of creative and playful things. The official announcement of this powerful partnership was made at the Mattypalooza panel back at SDCC (with a surprise visit from Stan himself), but the first bit of reality happened this past weekend at Stan Lee's Comikaze pop-culture expo. On sale for the first time was a Masters of the Universe Classics figure celebrating the new agreement. Yes, True Believers, Stan has gotten himself written into the Masters of the Universe mythos with his very own figure – STANDOR! Creator of Cosmic Power! A crazy concept? You better believe it, but this is Masters of the Universe after all, and Swingin' Stan has just made the mighty Masters mythos more memorable in a myriad of magnificent manners!
I honestly considered writing this entire article in the style of Mr. Lee, but I decided that I would forgo that since it would drive me batty to make every alliterative innuendo pitch perfect, and I am already running behind. Yes, this preview is late because the team at Mattel sent this sample over last week, but in my slacking, I was on vacation, so it had the chance to sit for more than a week. Apologies for that as I would have liked to have had this completed prior to the actual Comikaze event, but we are still ahead of the curve of when this figure will actually go up for sale on Matty Collector. Speaking of Comikaze, did you check out all of our coverage from the event? Intergalactic Skeletor, Flutterina, and Broom are all going to be joining MOTU Classics in 2014, so we are trucking on and running strong!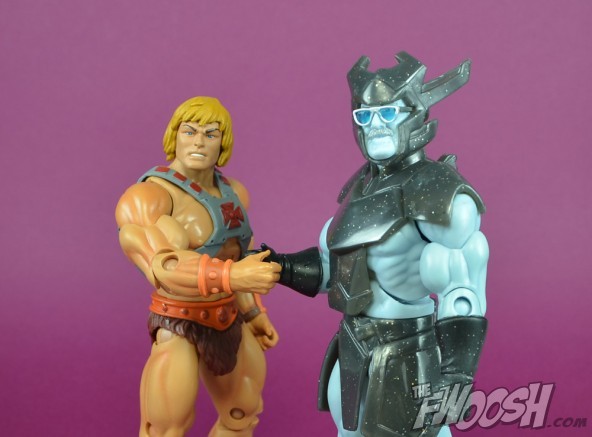 Prior to that, though, Stan the Man is getting his second action figure. Yep, Hasbro produced a Stan Lee Marvel Legends figure as a San Diego Comic Con exclusive a few years ago, but since Stan shared an action figure body with Spider-Man, he has never ever been this buff before. Okay, to be fair, this is not really a figure of Stan Lee, this is STANDOR, so he is what Stan Lee might look like if he were suddenly birthed right into the world of MOTU, and everyone knows that when you come into the Masters Universe, you instantly put on, like, 100 pounds of solid muscle. He is pretty jacked for a guy a in his 80s!
I know that there is some outrage about this figure in the serious business of online toy discussions, but this figure is really more about celebrating the partnership between Pow! and Mattel. Toy Guru explained that MOTUC was the best fit to give ol' Stan a toy, so if you are currently holding out for a Stan Lee Ken doll, Monster High facsimile, or DCUC (snort) figure, you might be waiting a while. We have seen something similar to this with the Mo-Larr figure from back in 2009, but despite the likeness to the Generalissimo himself, Toy Guru and team have actually integrated the character into the proper Masters mythos.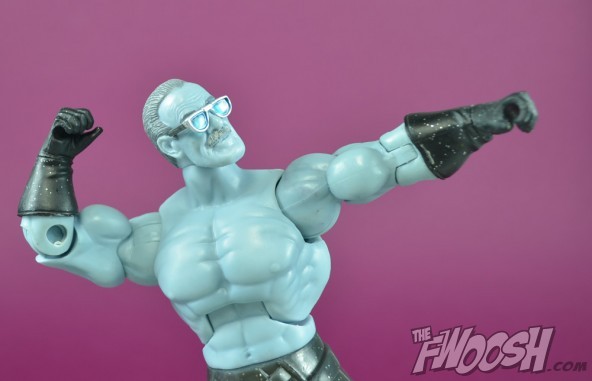 Yep, Standor is the "Cosmic Creator of Power" in the MOTU world now, and much the same way as he was the architect of the Marvel Universe (by way of Jack Kirby), Standor now has his hands on the origins of all things MOTU as well, retconned though it may be. Indeed, Standor was essential in creating "all that is and all that will be," so perhaps the fate of Masters was predetermined and He-Man and Skeletor were meant to duke it out to achieve supreme mastery of the universe. At any rate, since he is being introduced as a historical and (pretty much) omniscient being, it is easy to bring him into your personal MOTU canon, or leave him out entirely. I know figures like this are generally polarizing, so it is good that he is not being used as such. One thing that is mildly interesting to note is that, while figures on the cardbacks are generally named in red or blue depending on their affiliation, Standor's name appears in purple — a first. So I am not sure if that signifies that he is neutral or if there is something more complicated involved, but I am sure if we "keep reading the bios" we will find out sooner or later.
So if you want to dismiss the character, that is always your prerogative, but I have to say the figure itself is actually really cool, especially since MOTUC is a very modular line. I know, the Four Horsemen did a great job capturing Stan's likeness in the figure, so it is unmistakably him, but if you don't want him in your collection, you can just pop his head right off and make an all-new character with a very unique color and armor design. Remember when that helmet was teased at NYTF last year? The reaction to the design was very positive and I think that it has carried over well into the rest of the figure.
Yep, that is Stan Lee's head on the body, complete with his trademark glasses. I will keep mine as is, but any head from Scareglow to the Faceless One to Cy-Chop would look cool on this body. I am really interested to see all the configurations that people come up with because, Stan or not, the cosmic armor is really neat. Aside from the boots and gloves, all of the "clothing" pieces on this figure are new, so it will automatically add diversity to your shelf and puts another armor in the tooling bank for the line. It is a smoky black in color and you cannot be cosmic without a star field in your clothes, so glitter has actually been added to the plastic to achieve the look. Since he does not come with a weapon, give Standor a staff or sword and he instantly cuts a pretty imposing form. That smile is not cheese, it is knowing he is stronger than you.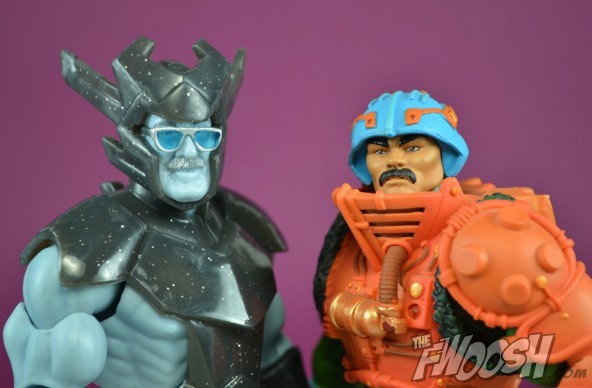 The aforementioned glasses are actually really well done too, and they fit on the head perfectly. Usually 1:12 scale glasses are clunky and ill-fitting due to their small size, but these actually work well, so if you were planning on making some of your Masters characters a bit more hip, you now have the eye accessories to make it so. Plus, Standor can now hang with Man-at-Arms, Bow, and Keldor as a keeper of the MOTU Mustache Membership. Facial hair has a long and storied tradition on Eternia, and we now know why!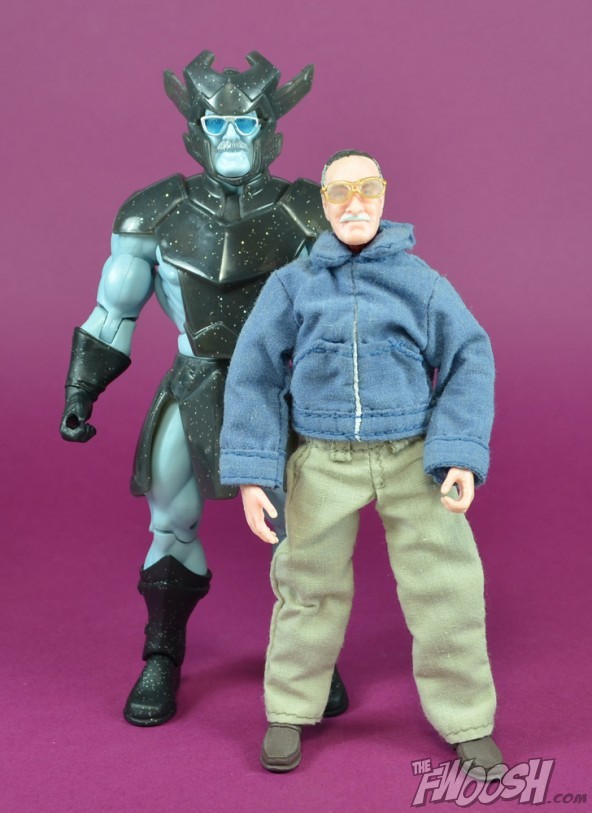 Oh, and finally — it is broken record time again — Standor is a great quality figure with no paint or plastic issues to speak of, and so the 2013 run continues. I really hope that whatever factory vendor Mattel is now using for MOTUC remains their partner throughout the life of the line. This year has been a vast improvement for the most part.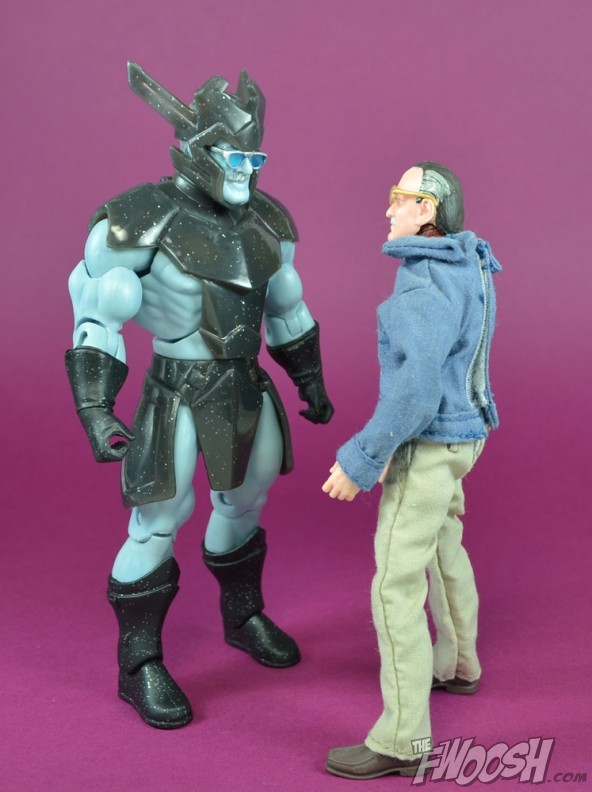 Believe it, True Believers, Stan Lee and Mattel are now in partnership, and Standor is forever a Masters of the Universe character. Sure, he might not be a traditional MOTU guy, but since the figure is outside the subscription as he is being used to mark the start of the team-up, Standor is a fun figure. Like I said, the armor is pretty awesome and very unique, so that is a win, and if you like Stan the Man, the likeness is spot on too. Sure, this figure will not be for everyone, but none of them are (did you know there is some dude out there that doesn't consider Teela a real MOTU character? TEELA!?!), so if you did not make it to Comikaze, you will be able to get him on Matty Collector during the December sale, or in early access that month if you are a subber. Excelsior!
*Thanks to Toy Guru and his Creative Cosmic Contingent for sending this figure along for preview.
Additional Links