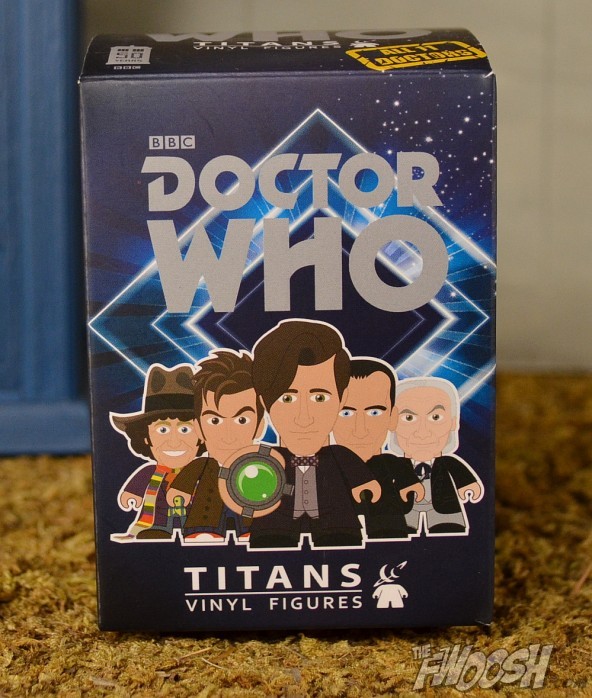 Titans Entertainment and designer Matt Jones are back with another wave of Doctor Who blind-boxed mini-figures, and the timing could not be more perfect. Doctor Who just celebrated its 50th anniversary last weekend in grand style, and to coincide with this momentous occasion, all 11 Doctors were released in mini-figure form.The results are awesome and every single one is a must-have for the collection. Once again, Jones and Titans knocked the ball way out of the park with these.
They hit the shelves of Barnes & Noble and Hot Topic first, so even though I do prefer buying these online by the case, I could not wait to get them, especially once Fwoosher Fatsal started posting his hauls, so I attacked this wave in true blind-boxed fashion, meaning I bought a ton and hoped for the best with each purchase. As it turned out, I did pretty well and pulled almost every one blindly at retail. Collecting these little guys is pure joy, and what's featured here now are Doctors 1-6, with 7-11 on the docket for next week.
The boxes are designed similarly to what we've seen in the previous two waves. A few of the Doctors are featured on the front, while the rest of the packaging gives us a pretty good idea of what to expect from the wave as a whole, in terms of both design and availability. Most of the variants are hinted at, but you've got to actually find them in order to know what they truly are (unless you read an article like this that will completely spoil the surprise for you). The distribution ratios that are stated beneath each figure give a pretty good idea as to which are the rare, hard-to-find ones and which are the more common and more heavily packed ones. Having that information seems to make choosing a box at retail more stressful, though.
The 1st Doctor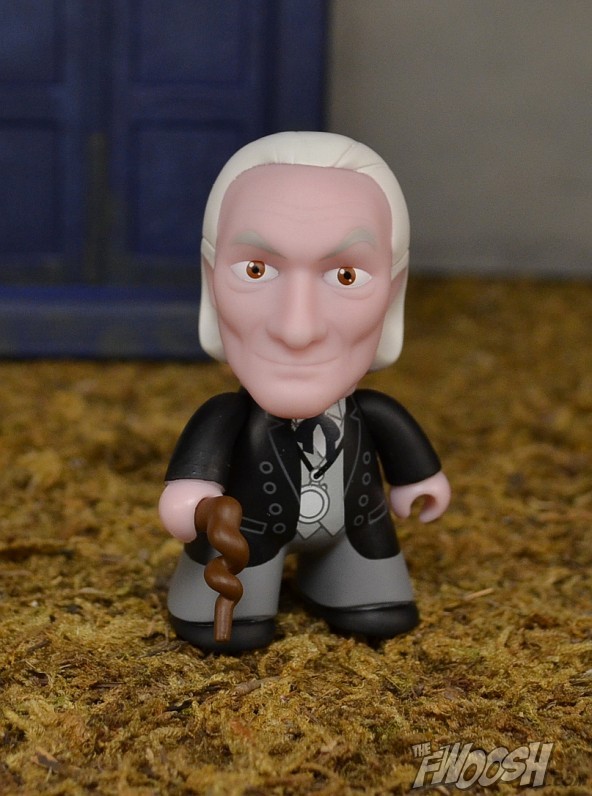 The 1st Doctor is in contention for my favorite in the wave. Everything about him is perfect, and it's a great likeness to William Hartnell in vinyl, super-deformed form. He even comes with his cane, which fits snugly in either hand. His facial expression captures Hartnell at his "I'm smarter than you" best, and the raised eyebrow is just perfect.
The 2nd Doctor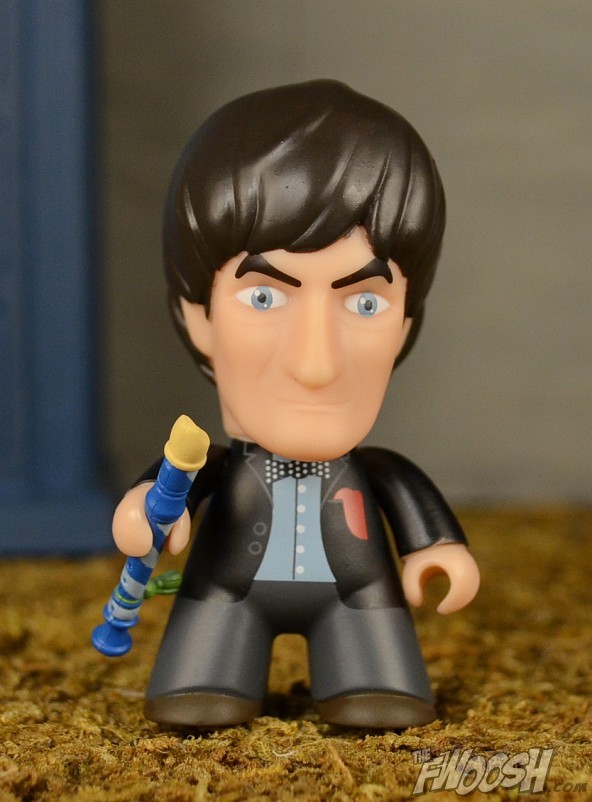 The 2nd Doctor is a little charmer and looks very much like a member of the Beatles. I actually had to resort to eBay to get this guy because of all the blind-boxes I purchased, I just never got lucky enough to find him. He's packed in a 1/20 ratio, so he is among the rarer non-variant figures in the wave.
His expression captures the intensity Patrick Troughton often brought to the character (in terms of facial expression), and his signature recorder is included to balance the intensity with a healthy dose of frivolity.
The 3rd Doctor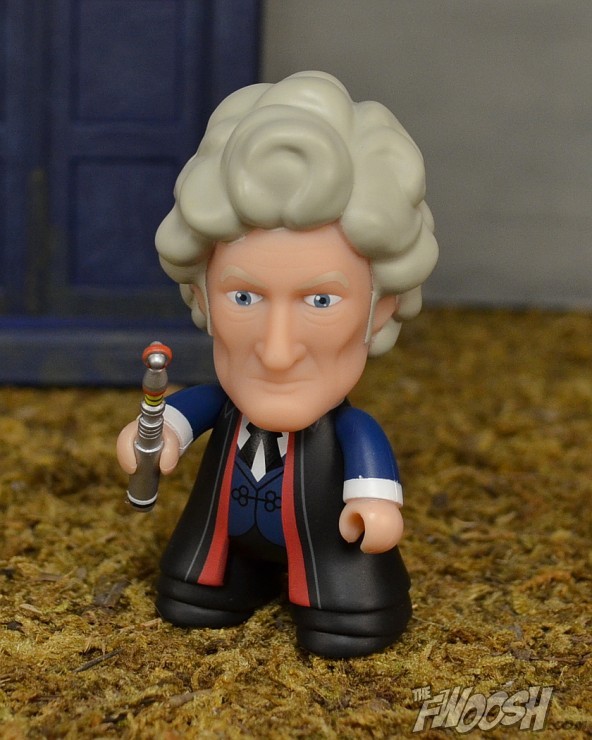 The 3rd Doctor's features are exaggerated to comedic extremes here, with his curly silver locks puffed-out into quite the Afro.  Looking at the design, it doesn't quite capture Jon Pertwee's dapper flair, but I guess that would be difficult to do with just paint. There are no ruffles n his shirt! That's really my only criticism of this guy, but it's not even a criticism, really, because I do believe Matt Jones did everything possible to capture Pertwee's look. The head sculpt captures the perfect balance between intensity and kindness that punctuated the 3rd Doctor's tenure.
The 4th Doctor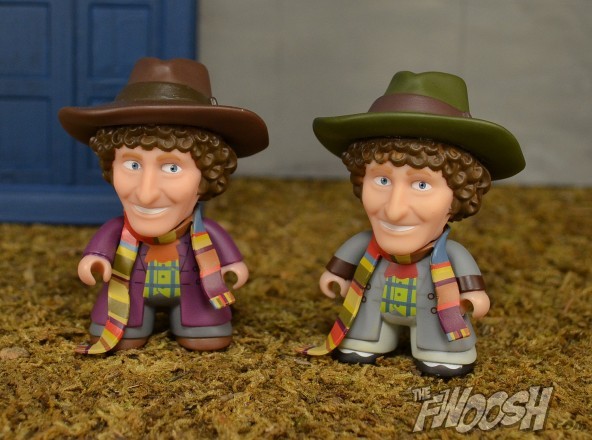 The 4th Doctor was the one I was most excited to get since he's my favorite Doctor, and I was lucky enough to pull both the standard and the variant figures out in the wild. I love the huge grin, and I am so thankful Tom Baker's signature, character-defining scarf is a separate piece and not just painted on. His huge hat adds a lot of mass to the figure, so the box he comes in is noticeably heavier than the other figures, so it is kinda easy to find him. He does not come with an accessory, but I guess his scarf could be considered an accessory even though it's attached, and I am totally fine with that.
 The 5th Doctor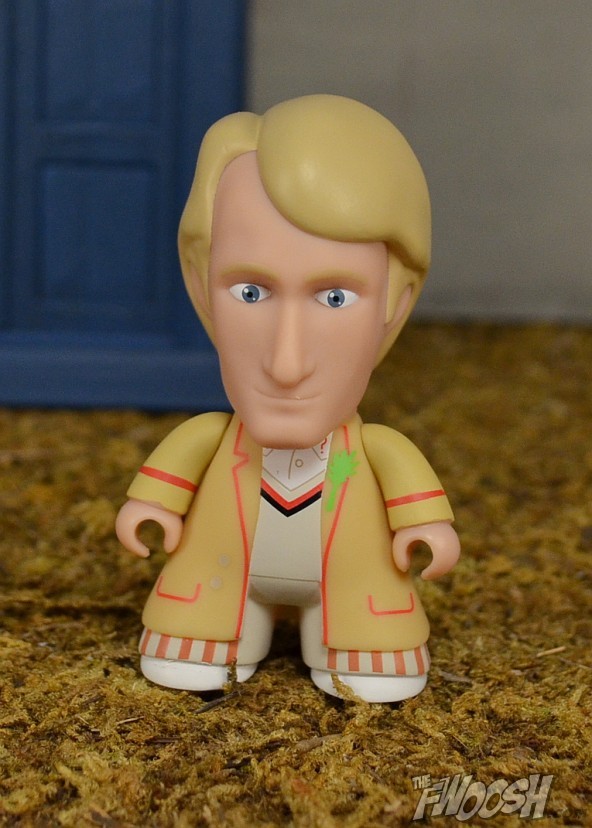 The 5th Doctor certainly features a whole lot of yellow, but that is an aspect of the figure that is perfectly character-accurate. Like Peter Davison's Doctor on the show, this figure is the least visually interesting of the bunch, but the figure does nicely capture Davison's haircut and expression. And including the celery stalk on his lapel is a very nice touch of show-accurate detail. I do wish he came with the his hat from the series, but I'm cool with what we got.
This is another figure I had a hard time finding in the wild, even though he's not a short-packed figure, so I'm grateful for the help Fatsal gave me in trading me him for one of my extra 9th Doctors.
 The 6th Doctor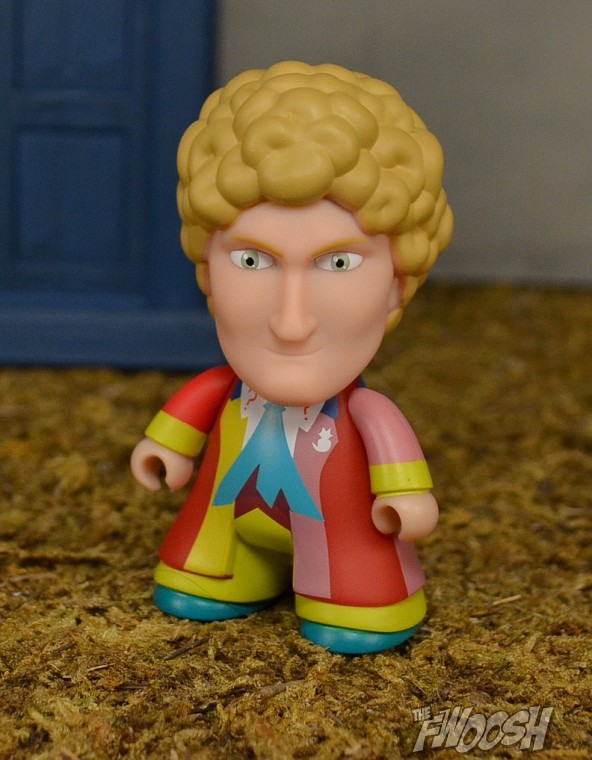 The 6th Doctor absolutely shines in this format. His absurd costume looks awesome here, and he's definitely one of my favorites of the wave despite his not being among my favorite Doctors in general. All the colors pop beautifully, and his Afro looks so adorable. Even the little kitty on his lapel was included, which is such a great nod to the character. It's ironic and cool how much I generally dislike this version of the Doctor, but then am absolutely in love with this figure. He was the first of the "classic" Doctors I found at retail, and I was initially bummed about that, but once I got a good look at him, I definitely changed my tune. Well done here, Matt Jones!
These guys are currently available at Hot Topic and Barnes & Noble, and it seems the usual online retailers like WhoNA and Entertainment Earth now have them in stock as well. I love this wave and am fully stoked to be able to add all the Doctors to my Titans vinyl collection.
Word of warning: Barnes & Noble is getting these in very odd, very collector-UNfriendly ratios. If you buy four boxes there, it's possible you may pull four of the same Doctor. They don't appear to be getting true cases of 20 that include every Doctor, but a much more random assortment that you may not like if you buy multiples. Hot Topic has been getting traditional cases of 20 with all the Doctors, so you may have better luck buying from them.
Check back next week for part two, featuring Doctors 7-11!