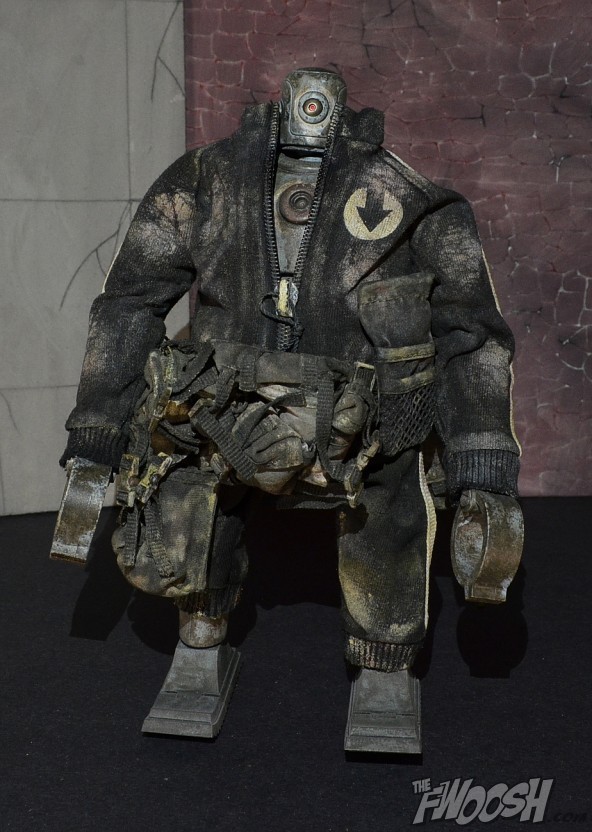 Not much is known about the Ankou-Ex known as "Fat Drown," the tracksuit-wearing big 'bot of the Adventure Kartel family. But since he does come decked-out in a tracksuit, the official uniform of the Adventure Kartel gang, one can assume he's an integral member of JC's core group of Zomb-hunting adventurers. His design is based on the original Drown, the super-limited 1/6 Ankou release whose character details are also shrouded in mystery. The Ankou-Ex is a much bigger 'bot than the standard Ankou in terms of both height and girth, and this makes for a very prominent figure in an Adventure Kartel collection.
This is the first Action Portable (1/12 scale) 3A release in months that I've actually felt excited about, so adding him to the collection has been a rather refreshing experience. I had no idea he was even shipping, so when he showed up at my door it was a total surprise.
The packaging design is consistent with most 1/12 Action Portable releases these days in that there is no artwork by Ashley Wood anywhere on the box, but while 1/12 releases usually feature a photograph of the figure on the packaging, this time we're treated to a much more elaborate design, and I have to say I really like this particular design. It's clean, sharp, and I love the varying gray tones used.
The figure itself is one of the largest Action Portable figures 3A has released yet. It stands at about 8 inches in height and towers over all the other 1/12 Adventure Kartel figures. He almost feels like a different scale, but as long as you keep in mind that he's supposed to be this big, he totally works.
I did own his 1/6 counterpart at one time and was very fond of him, but at well over 12 inches tall (I think he was around 14 inches tall, if I recall correctly), space restrictions made me part with him. This guy's size is much, much more manageable, so it's awesome to have him in the collection again in a scale that is more shelf-friendly.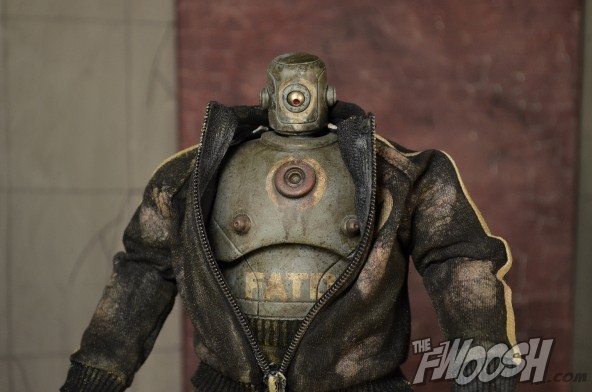 His track jacket unzips to reveal a nicely weathered 'bot body that features his namesake printed on his stomach, sort of like a tattoo. He's got two nipples for some reason, and something that resembles Tony Stark's arc reactor in the center of his chest. The paint detail, wash, and weathering on the actual 'bot body work well and it all looks convincing. The weathering on the tracksuit, however, is not as successful. It looks as though it's just had some mud smeared on it in random places rather than achieving the desired "lived in" look it should. It's not bad, but there is room for improvement.
The Ankou-Ex head sculpt is probably my favorite part of the figure. It's somehow cold and expressive at the same time. It's the eye, I think. It can be moved so as to make him look like he's looking in different directions, so that simple point of articulation can actually do a lot in adding personality to the figure. The red of his "pupil" adds an awesome splash of color to a palette that is mostly shades of blue and gray. It just looks cool.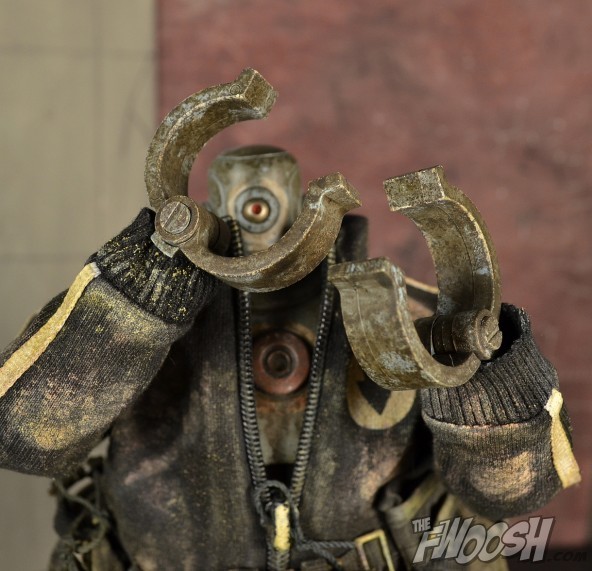 Instead of traditional hands, he features two huge clamps that he evidently uses to crush Zomb heads. They open and close with ease and are attached to his arm with a ball joint, which then makes them even more poseable. Mine are very stiff at the ball joint, however, and moving them makes me nervous because I do not want to break him, so I doubt I'll be moving him much at that joint. Better safe than sorry with this stuff, right?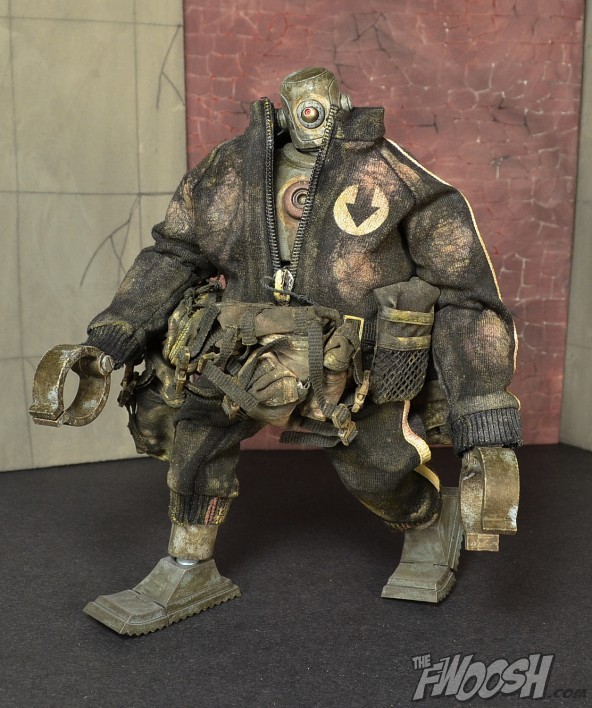 He has a good amount of articulation for a 'bot of his stature, but he's not the most pose-friendly figure I've ever owned; he's no JC or Yellow Hornets, but he can be posed fairly well. It's mainly his heavy-set sculpt that holds him back, but cool action poses are not impossible. His articulation breakdown is as follows:
Ball head
Ball shoulders
Ball ab joint
Double elbows
Ball hips
Single knees
Ball ankles
Hinged toes
Hinged clamps
Ball wrists
Rolling eye
The Ankou-Ex is a good 2 inches taller than the average 6-inch figure. He towers over JC and Hasbro's Black Panther in the above pics. But what's cool about him is that he can easily hold a figure in each clamp without fear of his falling over. That's a great feature and something that allows him to "throw his weight around" in the collection, not to mention extremely useful when slaughtering Zombs.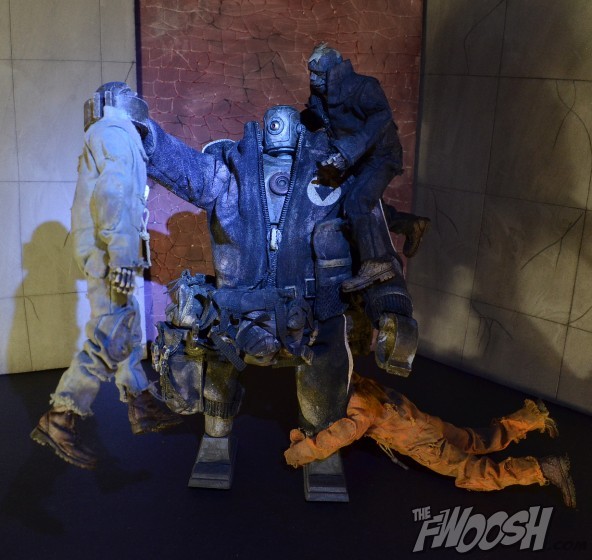 He's definitely a formidable Zomb destroyer and a figure that's just plain fun to play around with. I didn't expect to like him as much as I do because he's just a smaller version of a figure I previously owned, so that is always a nice surprise. I really can't stop playing around with him.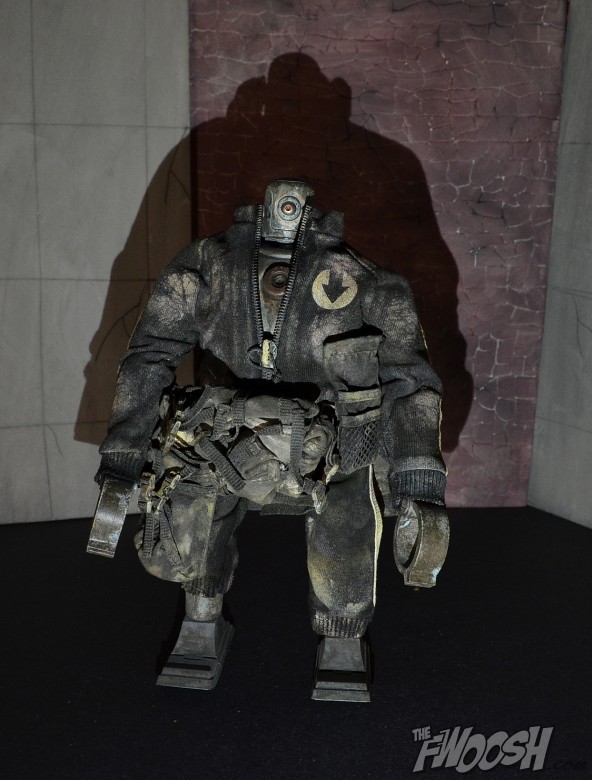 This guy was available for preorder on 3A's Bambaland store months ago, so if you're interested in grabbing one now, eBay or the various 3A buy-sell-trade boards are pretty much the only way to get him now. He's worth tracking down, in my opinion, and he's definitely made me want more 1/12 Adventure Kartel figures, like the long-teased Little Shadow and Tommy Mission figures. Hopefully we'll see those soon so they can join JC and Fat Drown for some Zomb-stompin' fun!