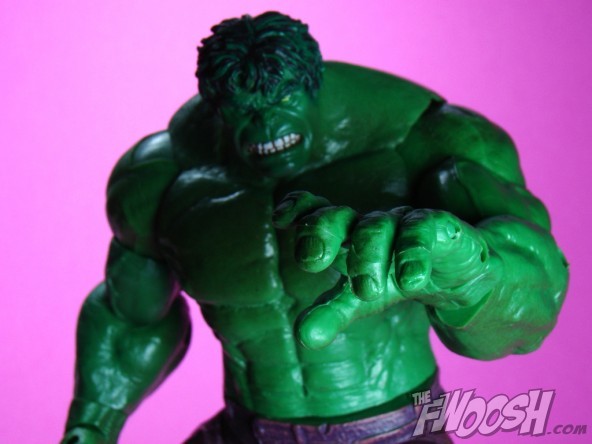 The iconic Hulk that everyone always seems to relate to is Sal Buscema's 1970;s interpretation of the classic monster created by Jack Kirby and Stan Lee in 1962. That's a few years for you youngsters and for those of you like me, it was yesterday. I don't know what my first issue of Hulk was but I know it was sometime in 1978-9 when I was reading them at the Handy Andy waiting for my mom, or at Mr. M's during the summers in Whispering Oaks. Whenever it was, it left an impression. It was the Trimpe or Mignola version that sat with me, but Buscema. As a result every Hulk must in some way pay tribute to this classic version.
In 2006, Toy Biz delivered. Sam Greenwell sculpted an amazing figure of this iconic version that was released in the Face Off 2-packs with Leader.
I'm a huge admirer of Greenwell's sculpts; the guy is truly amazing at what he does. He mixes comic characteristics with excellent anatomy bringing the two-dimensional Hulk from paper to plastic. The figure is huge, maybe too huge, but it has the imposing look and feel that makes Hulk the green beast he is. And the head sculpts are amazing. Yes, there is a variant Hulk — one with a regular non-screaming head and one with a screaming head. I don't remember which one was the true variant and it doesn't matter. Both of them are fantastic sculpts.
The pants feature texturing in order to give them a fabric look. It brings more pop to the figure, gives it that lifelike organic feel.
The one thing that bothers me about this figure is the lack of a fist. While the left hand is articulated and looks like it could make a fist, it's a bit of a weak attempt. I'd rather have a sculpted fist.
The articulation, sadly, ruins the figure as a toy for me. While it is loaded with articulation, this figure can pose to a degree, but not a great degree, limiting what you can do with him. Compare him to the current two-pack version (reviewed here) and you can see that the range of movement is far better on the newer Hulk. The reduction in the range of movement kills the figure as anything but a nice, solid display piece on my shelf, and make no mistake — this is the figure displayed. The articulation breakdown is as follows:
hinged toes
rocker ankles
hinged ankles
swivel ankles
hinged knees
thigh swivels
ball hips
swivel waist
ball shoulders
swivel biceps
hinged elbows
swivel wrists
hinged wrists
hinged hands
hinged neck
swivel head
Look at that list! Amazing! And yet the sculpt of the hinged ankle barely allows for forward motion, the hips can't get above 60 degrees, there is no ab joint, and the arms can't hit 90 degrees. There is some good, though. The rocker ankles are fantastic, as are the bicep swivel and shoulders — they work well. And I can't tell you how disappointing the lack of the hinged ab is. And the sculpt even looks like it could handle it.
For many collectors articulation is a moot point, but for me it is important, I like to pose the figures and play with them. And when they don't work as expected, it is disappointing.
But as a vanilla posed figure for display on my vanilla shelf? Perfection. And that is where this figure works best. As part of my display of '70s and '80s Avengers heroes. And for anyone that feels the needs to have a Buscema Hulk, this is the one for you.
You can still find these on
And don't forget to check out these other Hulk based reviews:
Hasbro – Marvel Legends Two-Packs Hulk (2010)
Hasbro Marvel Legends Red Hulk Wave Review
Hasbro – Marvel Legends Red She-Hulk
Top 5 Marvel Legends / Hulk Classics Hulk Figures