Our pals The Four Horsemen have sent along information about their presence and Power Lords exclusives at NYCC 2013. Check it out!
via The Four Horsemen:
2013 New York Comic Con! Onell Design's booth – #102! Saturday, October 12th 1pm to 4pm! Power Lords: Ggrapptikk Grunts figures! Two versions! Extremely limited supplies! Poly-bagged, stickered and numbered! $13 each or both versions for $25!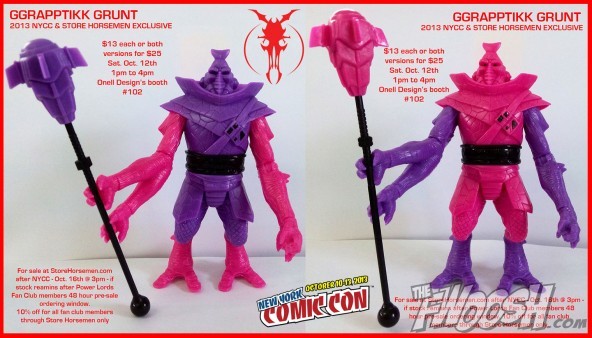 The first variant figures to be released of the Power Lord's fan favorite character, Ggripptogg, these two Ggrapptikk Grunts feature multiple points of articulation as well as modular playability via the amazing Onell Design's Glyos "pop & play" system! Each comes with his massiveMega-Mace also featuring Glyos compatible modularity. If you remember the Power Lords: Power Solder & Elite Solder that were shared exclusives for the 2013 Power Con and Store Horsemen from a few weeks back, then you know that you need to get to the Onell Design booth early or you'll miss out!
The Ggrapptikk Grunts will be available for purchase at Store Horsemen.com a couple days after the end of the 2013 New York Comic Con on October 13th at 3pm, but ONLY if there's remaining stock left after the Power Lords Fan Club members 48 hour pre-sale window. Power Lords Fan Club members also get 10% off the purchase of these figures (throughStoreHorsemen.com ONLY). To join the Power Lords Fan Club, just go to http://www.StoreHorsemen.com.
Additional Links