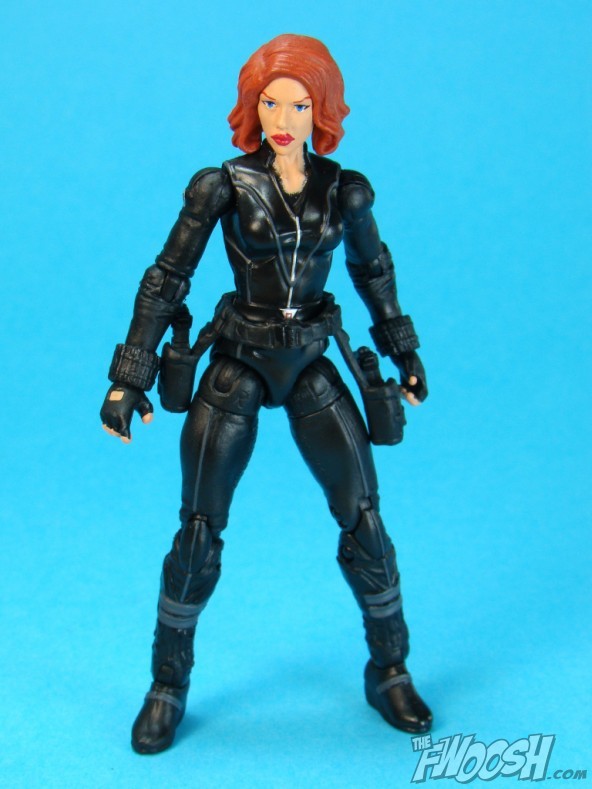 Black Widow was part of Hasbro's 4-inch line for the Avengers Movie action figures. This is a new female sculpt and quite the figure. From the overall sculpt to specifically the face sculpt, this is a fantastic figure. Small, but good. The head sculpt, despite the messy paint, is a good representation of Scarlett Johansson in toy form. Yeah that sounds all creepy and weird, but a toy collecting site needs to sound creepy and weird sometimes.
Scarlett first appeared as Black Widow in Iron Man 2 as a SHIELD plant to keep tabs on Tony Stark, her role expanded to helping old Tony out in defeating Hammer and Whiplash. Then she got her big break in Avengers when Black Widow joined the super-team as one of the non-supers. She gets her ass handed to her by the Hulk and nearly eaten or seriously abused — no idea what. Thor comes to the rescue and all is good, but not really, and the Avengers sort of have some issues to resolve, but they pull it together.
From her opening cue to the last shawarma scene, Scarlett lights up the screen and gives the nerdy kid in all of us some much needed eye candy — something other than stereotyped jocks running around in tights and armor. Her skin tight cleavage suit, luscious lips, and big green… eyes. Ah yes, a distraction even a 40-year-old male nerd can lose himself in.
What does this have to do with the toy? Nothing. It's just that for once I don't have an opinion about this figure. It's a good female 4-inch figure, but it's unremarkable. Yes, the head sculpt is solid, but there is nothing that jumps out at me and screams "amazing," "fantastic," "best figure ever made." Its a good, solid figure; it has loads of articulation and there's some good posing to be had. But the missing ab-joint is a killer and really impedes getting good "Widow" poses from the figure. The breakdown is:
rocker ankles
hinged ankles
double knees
swivel thighs
ball hips
ball shoulders
ball elbows
swivel wrists
ball head
There are good holsters for the guns, and the right hand holds the gun really well. The left hand doesn't hold the gun — that kinda killed the "wow" factor. But, as the key figure for the Avengers movie, this is a must have, if not the only, figure to have in your collection. You can still pick the figure up at: