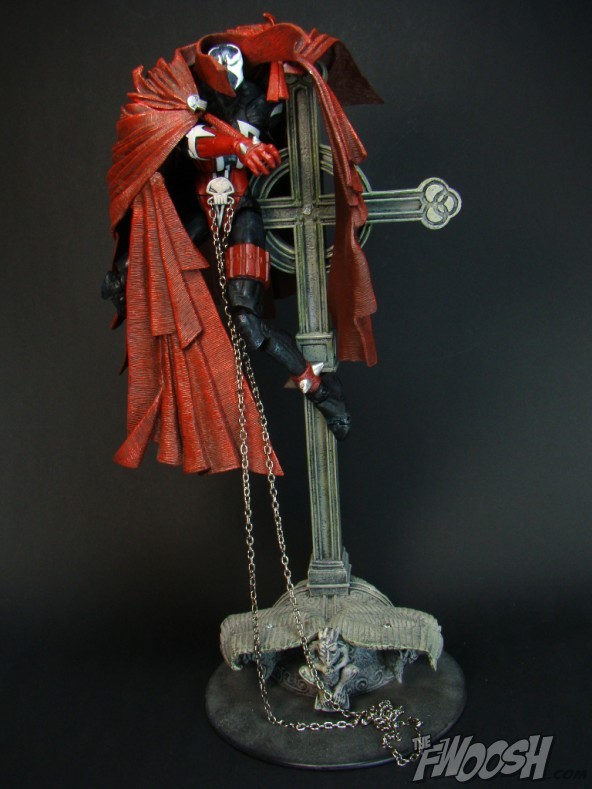 SPOON! Wait, wrong comic.
SPAWN!
This is the 10th Anniversary Spawn figure from Spawn Toys or McFarlane Toys or whatever they are called. Known for incredible sculpts and the place where the Four Horsemen, NECA, and many others got their early licks in, McToys was home for some amazing action statues. There was a time when they focused on the basic articulation of hinged knees, t-crotches, swivel shoulders, hinged elbows, swivel wrists, and swivel necks, along with some fantastic sculpting. But as the sculpting evolved, the articulation fell off. That is, until this figure. And then it was never seen again in McToys 6-inch figures.
OK, that's a bit of drama on my part, but really? There hasn't been much from McToys in the 6-inch sculpts since their focus is now on 4- to 5-inch action figures. But this figure had it all. 10th Spawn had articulation, sculpt, accessories, and a bitching cape; so bitching it was articulated. Yeah, you heard me — the cape was articulated! This figure was simply amazing. Is amazing!
The figure features a ton of articulation! I don't know where to start. Ah, yes. I do. As amazing as this figure is, there are two major flaws in an otherwise perfect articulation scheme. The first is the lack of ball-jointed shoulders; instead, we have standard shoulder swivels. Some people might say that I am being overly anal, but I really feel that this figure would benefit from ball shoulders; it would be that extra pop that I'm missing. The other is the ankles. Everything about the swivel, hinged, rocker ankles is… perfect, except the rocker joint is set to a 90-degree vertical instead of a 45-degree angle. That change would make a world of difference in posing this figure, but as it stands the joint has to be worked to get the right swivel and to rock correctly. Here's the breakdown:
hinged toes
rocker ankles
hinged ankles
swivel ankles
double knees
swivel thighs
ball hips
swivel waist (I think mine is stuck)
hinged abs
ball chest
rocker shoulders
swivel shoulders
swivel biceps
hinged elbows
swivel wrists
hinged wrists
hinged neck
swivel head
I have a confession to make. The head on this figure is a cast. I painted it to the best of my abilities. You see, many years ago carl or craarl (I think it was him) twisted my arm about giving him the head. He really wanted it and was all cry baby about not being able to get this figure. I wasn't certain what I would do with mine at the time, so I offered it to him. In return he made a casting. And the head that sits proudly on this figure is a fake, making the value of this figure… zilch, except for the value that it gives me, which is priceless.
For the fan of beautifully sculpted and articulated action figures, this is a must have for your collection. You can still find this figure here and there, and I looked it up on Amazon and found two for quite the price. You can find it here: Amazon.com.
As always you can discuss this topic further on The Fwoosh Forums.