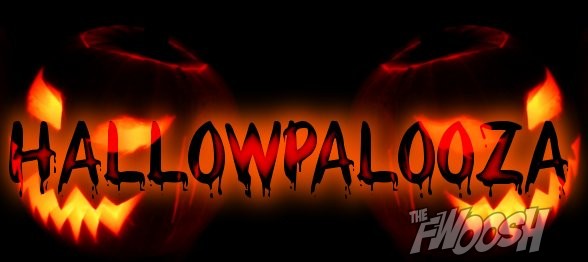 Hellboy may not necessarily be a "Halloween"-themed property in the strictest sense, but it's a universe built around monsters, Hell, and all things that go "bump" in the night. Mike Mignola truly tapped into something special when he created this big lug, and Hellboy has managed to remain one of Dark Horse's key characters and key brands for two decades now. Yes, two decades — let that sink in for a second or two. Hellboy is 20 years old as of this past August. What freaks me out is I still think of him as the new kid on the block, and he kind of is compared to many of Marvel and DC's best-known characters, but 20 years is certainly long enough to count Hellboy among the most seasoned characters in the business, with legions of fans, a best-selling comic (not to mention successful spin-offs), two feature films, and a couple animated features and video games all under his belt. So in honor of both Halloween and Hellboy's 20th anniversary, let's take a look at a few of the more interesting figures from the stellar Mezco Hellboy movie series.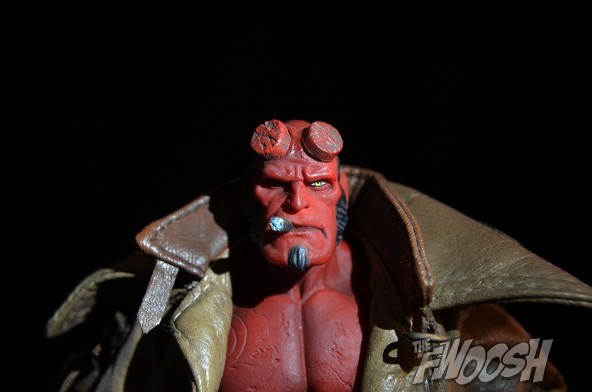 Would ya look at that mug? When Hellboy's very own feature film came out in 2003, Mezco released a series of 7-inch action figures based on the characters in the movie, and there is no way in (forgive this) Hell that they could have knocked this ball any farther out of the park. If you'll pardon my lapse into the land of hyperbole, these are easily some of the best action figures based on any movie property ever. Even the new Star Wars Black Series 6-inch figures can't go toe-to-toe with these guys — and there's a full decade between them.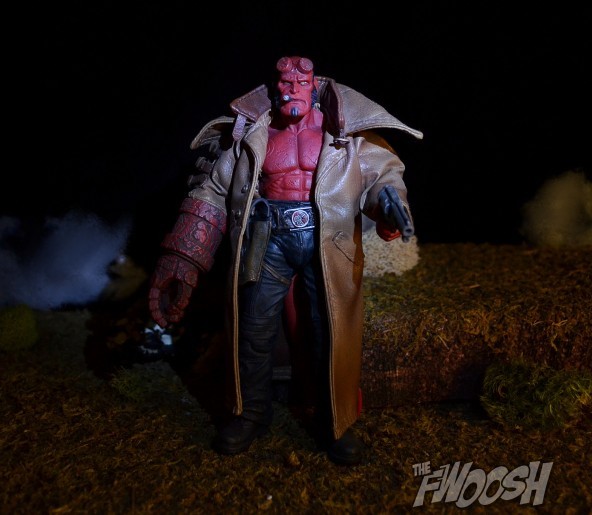 There were several different versions of Hellboy released in the line, but this is the version that I believe captures the essence of the character best. The head sculpt is such a dead-on likeness to Ron Pearlman that it is positively freaky. And the cigar protruding from his lips does so much to establish the crux of his character and attitude. With that cigar, he joins the likes of Ben Grimm and Logan in that sort of working-class-hero persona they all seem to share. And, like Ben Grimm, Hellboy is emotionally tormented by his own appearance and the way people react to him, to the point of sanding down his own horns in an effort to "fit in." Insecurity may be a major aspect of his character, but this figure's expression perfectly captures the "what are you looking at?" type of bravado that helps him cope.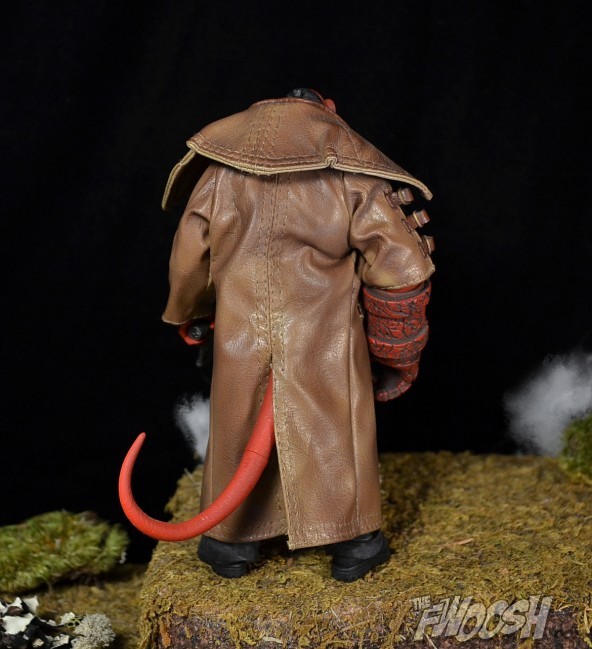 His overcoat is an example of soft goods done right. It's made of what feels and looks like a pleather-like material, and it fits him perfectly. It doesn't restrict any articulation in his arms or legs… or tail… and it really does complement the figure nicely. The stitching isn't too obnoxious either. And I love that Mezco went the extra mile in producing his BPRD (Bureau for Paranormal Research and Defense) patch in perfect detail considering just how tiny that piece of fabric is. It's attention to detail like this that really ups the ante in the realism department.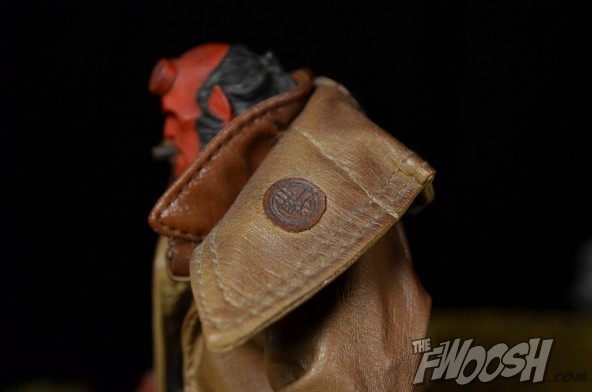 He comes with just one weapon: a big ol' pistol he calls "The Samaritan." It features a rotating barrel and is painted with lots of metallic dry brushing to give it a very realistic look. It even has the BPRD logo emblazoned on the handle. A big pistol really is the perfect weapon for Hellboy — it gives him an old-time "gunslinger" feel, and it's about as basic and classic as it gets, sorta like his attitude.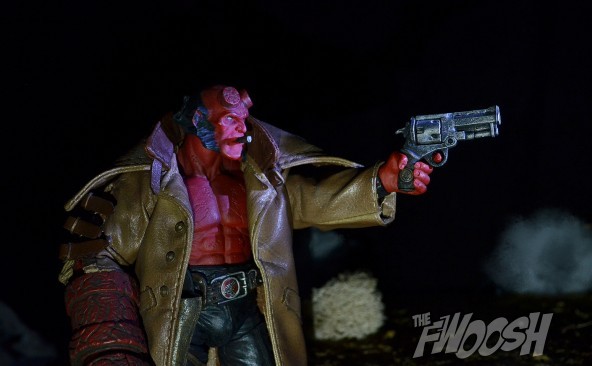 He comes packed with Marvel Legends levels of articulation and can be put in just about any action pose you can come up with.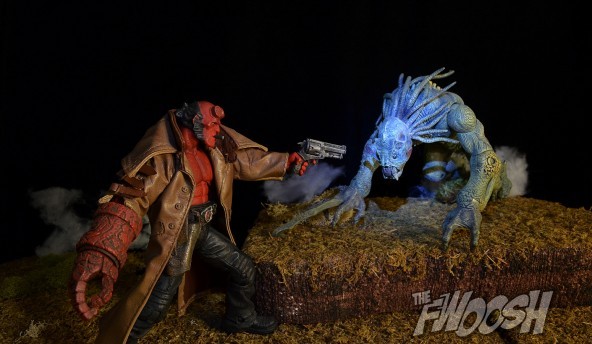 One of Hellboy's key foes in the movie was a big, mean alien-looking beast called Sammael. He comes crammed with awesome sculpting and paint detail, and he was probably the toughest figure to get out of the entire movie line. He was something of an army builder, so that may have been why. I know I had to pay a premium on the secondary market to get him, and I can't imagine he's gotten any easier to track down with time.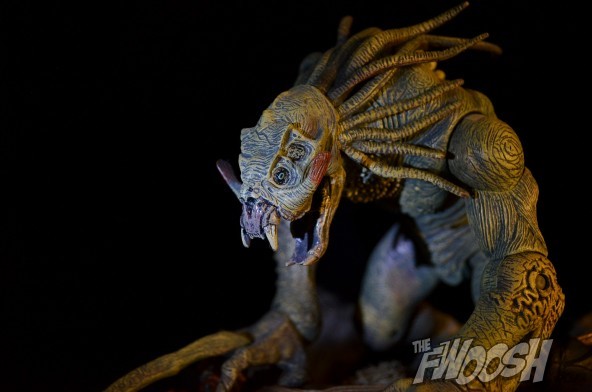 Sammael is one ugly SOB and, like Hellboy, he comes packed with lots of articulation. One of his cooler features is his jaw; the simple open-and-close feature does so much to enhance his expressiveness. Speaking of which, the gloss coating they used for his eyes and mouth — I swear it almost makes him look alive in certain lighting. It's totally gross and awesome.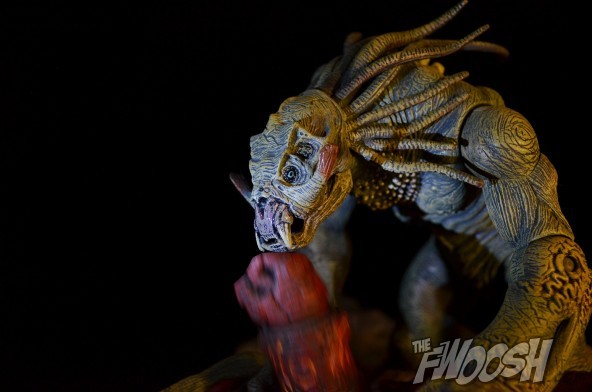 He doesn't come with any accessories, but he has a whip-like appendage that extends from his right knuckles, in case his jaws and giant fangs aren't enough to give Hellboy a hard time.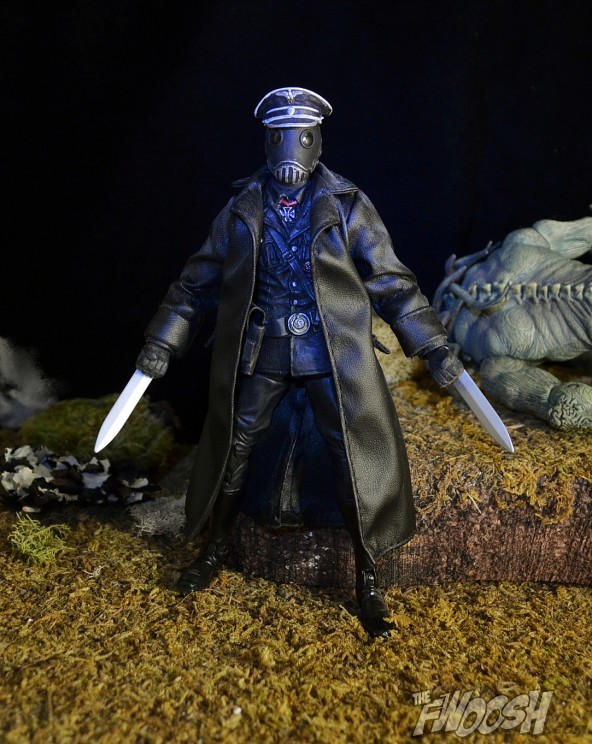 Sammael is an awesome figure, but Officer Kroenen is where my heart truly lies when it comes to Hellboy's villains from the movie. This Nazi officer thoroughly looks the part, and, like Hellboy, his soft-good jacket looks completely awesome on him. The only thing missing here to make him a 100 percent authentic-looking Nazi is the swastika, but I suppose that was left out because, well, you can probably guess.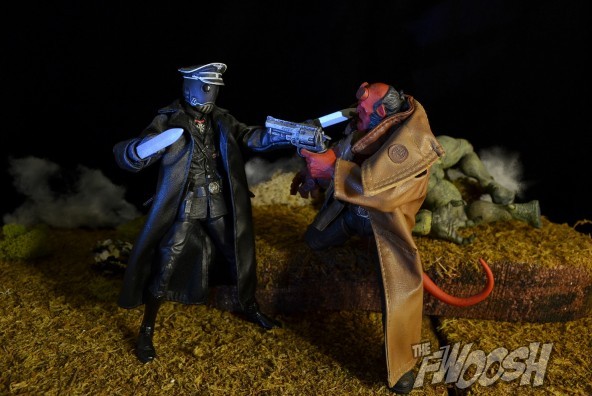 There is another version of Kroenen without the Nazi uniform that was a little easier to get at the time. He comes dressed in what is basically his "assault" gear, but given the nature of the character, no matter what he wears ends up being his assault gear. He comes with a couple of fancy bladed weapons and all the same great levels of articulation as the Nazi version.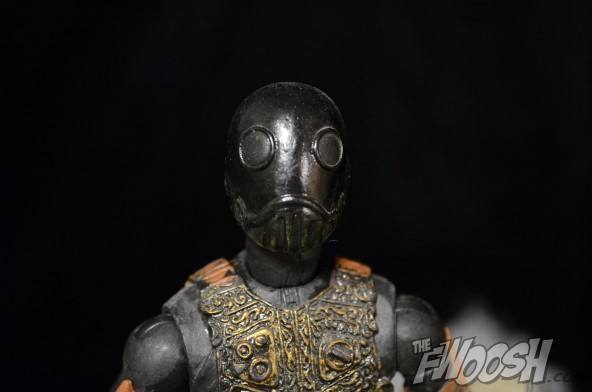 This version may not be as cool in appearance, but what makes it worth the bother is his removable mask. The front half of his helmet comes off to reveal the true Kroenen beneath, and he really is something else. Seriously, Freddy Kruegar and Jason Voorhees, eat your hearts out. This sucker is gross. And genuinely scary. As the story goes, he was very into self-mutilation, and evidently he took it to pure horror-show levels of gruesome. But, hey, whatever he's into is cool. We're not here to judge.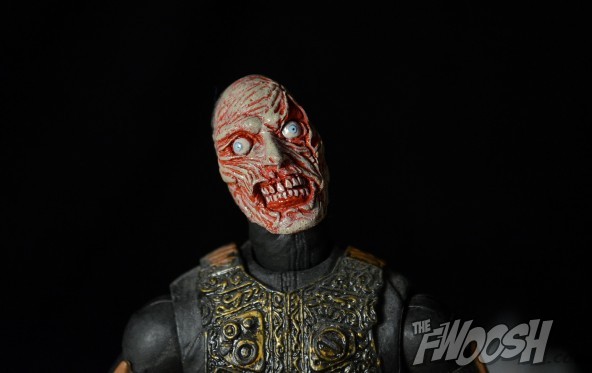 In addition to several standard variants of Hellboy as he appears throughout the film, we were also lucky enough to get a figure based on the way he looked when we were first introduced to him in the movie: as a wee little tyke. Hellboy earned the name "Hellboy" because he was perceived as a "boy from Hell" by the US military officers who ended up caring for him when he crossed over to our world.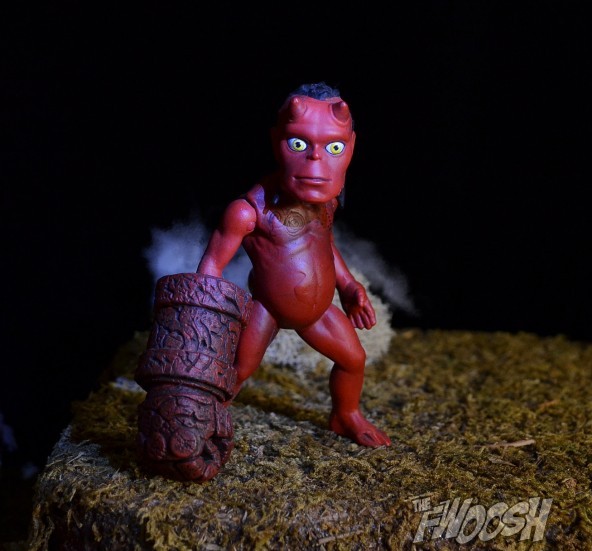 What I love about little Hellboy is how his "Right Hand of Doom" does not change size no matter his age or size. He just sort of grows into it as he gets older until it becomes another weapon for him to use in addition to his Samaritan. It just makes him look really cute — like a puppy with huge paws. You know what I'm talking about. The articulation on this guy is really limited. His arms move at the shoulders and his head swivels — that's about it. He's more of an articulated statue than anything else.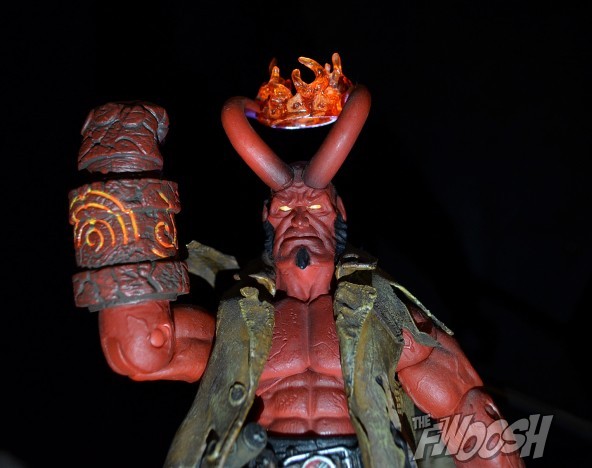 One of the more interesting Hellboy variants in the line portrays him in full-on demon mode with his horns grown out, his eyes and the Right Hand of Doom glowing, and a crown of flames floating over his head. We also learn his true name: Anung Un Rama, which translates to "and upon his brow is set a crown of flame." This figure is awesome because it reminds us that, despite all his good deeds and his noble nature, he is still a demon with the weight of Hell on his shoulders, and he ultimately exists to fulfill a purpose that is not, well, is not in the best interests of the people of Earth. He is definitely one of the more complicated heroes ever.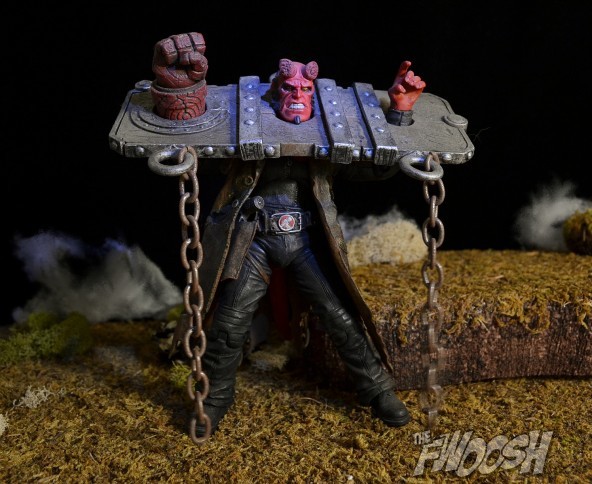 Mezco also gave us a version of Hellboy based on his appearance just before his transformation to Anung Un Rama was complete. Rasputin had him shackled in a set of heavy chains and a stockade built specifically for him in order to effectively contain his Right Hand of Doom. The stockade actually looks like real wood, and the chains have a gritty feel to them that could almost be rust (or else my chains are actually rusting), and there's a lot of heft to this set. It is positively heavy.
His head sculpt is superb and really succeeds in conveying the pain and torment he felt in this moment.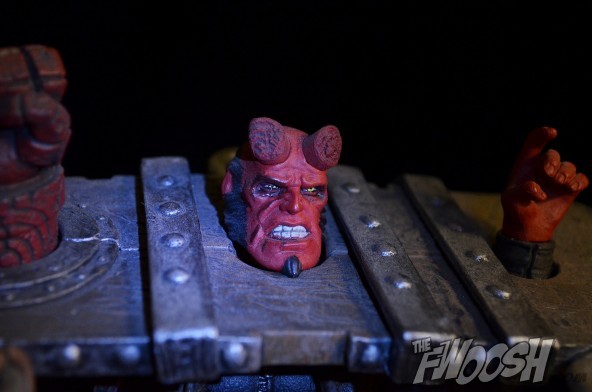 If 7-inch figures aren't really your thing, Gentle Giant also released a movie Hellboy in a 6-inch scale, and it's a damn good figure in its own right. He fits in nicely with your Marvel Legends and DC Universe Classics collections, so you can recreate the Batman-Hellboy-Starman team-up from the comics, which was the main reason I wanted this guy. Unfortunately, Gentle Giant's Hellboy does not come with a coat, but if you have a Marvel Legends Gambit that's willing to give up his coat, it's pretty much a perfect fit. The coat I'm using for mine came from the Gambit that was part of the ToyBiz X-Men box set, but I imagine either version would do.
There's also a variant that features his horns fully grown out, so keep that in mind if you're planning on purchasing one. When they came out, it truly was a "variant," so you didn't know which you were going to get. I got the one with horns at first, and it took a bit of work to track down one with the horns sanded down, but I was finally able to negotiate a trade for it.
These three are permanently displayed together in my collection: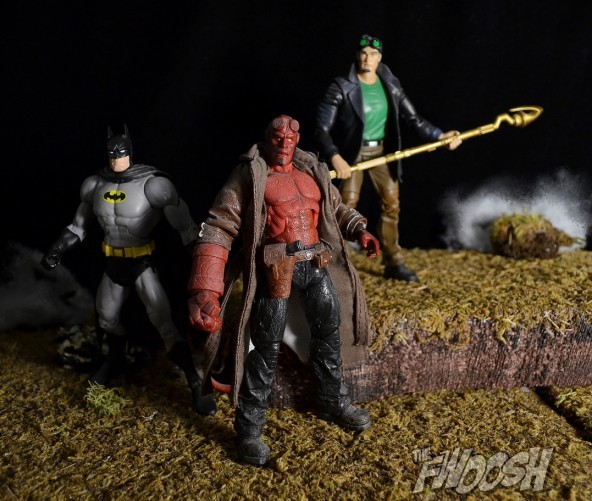 Since all of these figures were released several years ago, the secondary market is pretty much your only bet for getting any of them now, unless some shops still have some sitting around for some reason. They are excellent figures and are totally worth the effort it will take to track them down. If you're a Hellboy fan, chances are you have many of them already, but if you don't, they are very worth it.