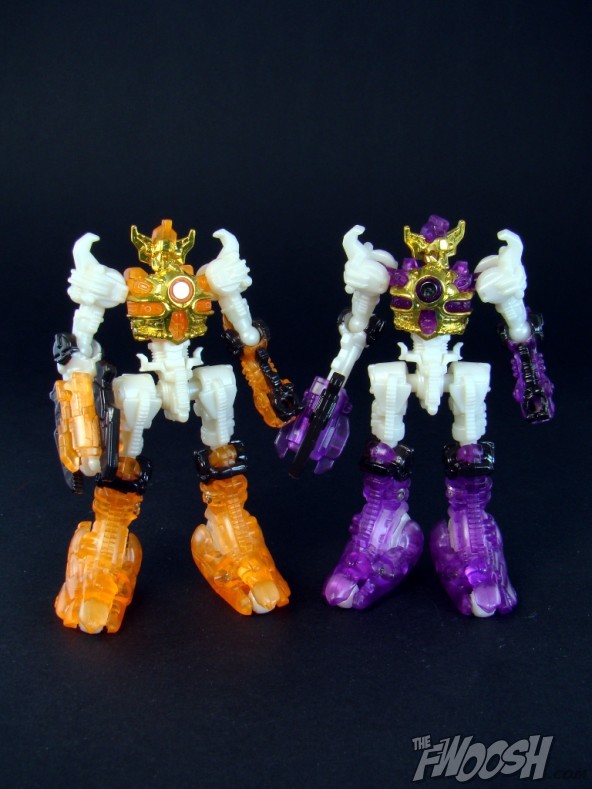 Aaargh! THEY ARE TOO DAMN SMALL!
And I knew they were too small before I bought them. They are really small. Really really. I'm into Microman, have been since the Micronauts back in the '70s, and it is my greatest hope that Marvel Legends, or whatever they want to rebrand themselves into in the future, will see the release of the classic Micronaut character Bug from Marvel Comics. If this happens, I will be a glad kid. If they can figure out how to make the rest of the crew, I'll be even happier.
In 1999, I held back on buying Takara's relaunch of the Microman series. It wasn't until the past few years that I decided I needed to pick up various odds and ends. Recently I decided that it was time to add Arden to my collection. There were three versions (actually more as there some exclusives) released: purple, orange, and black. With help from the fwooshcast, I was able to secure orange and purple, but black continues to elude me. In fact, all these are very rare figures and tend to pop up on eBay and quickly disappear, black being the most sought after and it seems the least produced.
Arden is the version of the same Microman from back in the day. Most of us would know him as Acroyear from the Marvel comic (you know, the big armored guy with the red big finned helmet). He had an evil brother called Shaitan who also looked like another Acroyear from Microman. Acroyear was a Prince/King of the Acroyear homeworld (OK, Mantlo and Golden, you could have done a little better there), a homeworld and race that chose neutrality against Karza even though Acroyear chose to fight with the rebels against the tyrant.
As I was building a Micron crew that would represent the comic, I needed an "Acroyear" to fill out the team. I was so excited when I finally came across these on Yahoo Japan that I immediately made use of the global network to procure them. Yes, these were expensive little buggers. Dark/black Arden was not available, so I took what I could get.
I was incredibly excited to get these figures. Giddy like a "Piffy" excited. I knew, I knew they would be too small compared to my post-2003 Microman figures. I'd been warned. I'd been informed. Yet my disappointment upon opening them has no… no explanation. These weren't just small, they were tiny. I can't even call them 4-inch figures, let alone 3 3/4-inch figures. Scale-wise, I've been trained to think of these figures as larger than the regular Micromans. Hell, even the Micronaut figures were larger back in the day. But these, these are itty biddy. Complete let down.
So much of a letdown that I really don't know what to do. I can't use them in any collection that I have. I thought about getting some top-notch molder and caster to hyrdospan these bad boys up. These use a very ball-and-socket joint system, like Transformers, and molding and casting them should be pretty straight forward. First to the size I think they should be, and then, well, hell, 7 inches so they fit with 6-inch action figures. But that will be an investment and take some time.
Other than the scale, these are great figures. The sculpt and design are a fantastic upgrade of a really old design, and it looks fantastic. They also transform! Into motorcycles. OK, that's not necessary for me, but it's a really cool feature. "My" Acroyear will never transform; he is a warrior with a spinning disk jetpack, but I like the concept. The articulation is very simple. As mentioned above, it is just a number of ball-and-socket joints that can easily pop in and out. And while this isn't a fancy joint system, for robotic characters this system works well and allows for good poses. The breakdown is as follows:
Knees
Hips
Shoulders
Elbows
Head
The paint is really simple. Besides the molded plastic, there are some parts that are vac-metalized. Other than that, there's nothing to discuss.
All in all, these are fun toys, but the scale really kills it for me. If you are interested in picking these up, you'll have to work extra hard as these are figures that are extremely rare and difficult to find.
You can discuss this topic further on