The Ninja Turtles were added to the roster of properties celebrated at Power-Con this year and I personally enjoyed the addition quite a bit.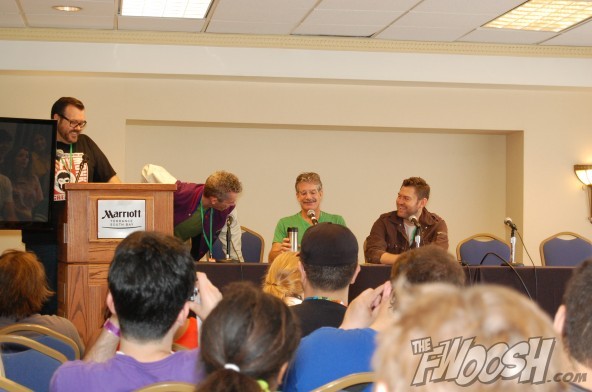 The first panel I attended was a Ninja Turtle voice acting panel with Cam Clarke (the original voice of Leonardo and also Adam and He-Man in 2002 among many other things), Townsend Coleman (the original voice of Michelangelo) and Christian Lanz (the voice of Xever/Fishface on the new show).  Eventually Greg Cipes, the actor who plays Mikey on the new show dropped in.   It was a briskly entertaining discussion charmingly lead by moderator Brian Stevenson (better known to me as one of the brains behind Spymonkey creations) and I learned a few things I didn't know about the development of the original show.  For instance, they hadn't quite decided which actor was playing which turtle in the original voice recording session for the original show.  My daughter is a huge Ninja Turtles fan for the new show, so she particularly enjoyed Christian Lanz's tale of landing the role of Xever.  The thing that struck me most about the entire panel was how funny all of the voice talent was.  These are some born entertainers.  In addition to the panel, the voice actors were available to meet and talk with fans.  It was the highlight of the con for my daughter to talk to 'Xever"!
Playmates Toys
Playmates also had a booth showing off their various Turtle Projects including figures based on the show and classics figures based on the original show.  Seeing the new BeBop and Rocksteady figures was cool even though I'm not a fan of the characters and the articulation scheme is a little flawed, they are beautiful sculpts.
They also had a trio of prototypes for mutant figures from the new show including this iteration of Mutagen Man and some were new basic turtles that had a storage shell and more cartoon accurate head sculpts.
The Turtle Van
Outside the venue was this beautifully customized van for turtle fan photo ops.