"I'm just a mid-ranking maintenance worker who takes each day as it comes. I'm not particularly chatty, handsome, or clever, but you know what? I get by. I manage." –Hoist
James Roberts sums up how many of us have always felt about Hoist nicely in the Transformers Spotlight issue that comes packed with the figure. Hoist isn't a character that many Transformers fans have spent a great deal of time thinking about, and, until now, all he has ever been to me, really, is a green Trailbreaker (or Trailcutter, as he is currently named).
He's never had all that strong a strong media presence either, aside from some token appearances in the cartoon and Marvel comic (though he is featured on the cover of #14 where he's saving a Bruce Springsteen look-alike from being crushed), so when his Spotlight issue came out, my initial reaction was "… why Hoist?" He just isn't a character who seemed worthy of — or really needed — such attention.The issue itself is good, but that may have more to do with Swerve than anything else, even Hoist himself. But I do like how IDW is not scared to turn the focus on characters that often get overlooked, which would describe most of the cast of More Than Meets the Eye, so in that regard, Hoist fits right in.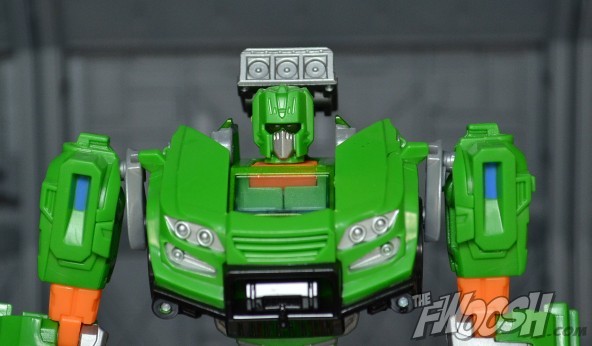 I had the original G1 figure that was a repaint/retool of Trailcutter, just like this one is. And just like Swerve in the comic, if you were ever to ask me about Hoist, all I could tell you is "Well, he's green…" and I wouldn't have much else to say. He was never a favorite figure, but I did always prefer him to Trailcutter because the green was so striking and sharp. He has way more presence in a collection because the green/orange/black combo really pops. But aside from his colors… he's a difficult one to really get a handle on in terms of character because there's never really been a lot to work with. He's a repair/maintenance 'bot who helps fix up all the other 'bots, so he mainly serves in a support capacity.
In his packaging, the green really jumps out at you from the pegs because it's so vibrant. I hit four Walmart stores looking for this guy, and when I took the corner into the toy aisle of that fourth store, I could see the green from a few yards away. And as with all the figures in these IDW waves, I love that the majority of the character artwork on the front of the card is supplied by the comic book that's included. It makes me feel like I'm collecting ToyBiz Marvel Legends again.
He's just such a gorgeous figure and it's all in the colors. The mold is not a bad one, don't get me wrong, but I wasn't doing back flips over Trailcutter or anything. The green and the orange with the silver and black accents really demand the eye's attention and it's difficult to look away. Once again, many people may view Trailcutter as the more important character, but Hoist is way prettier.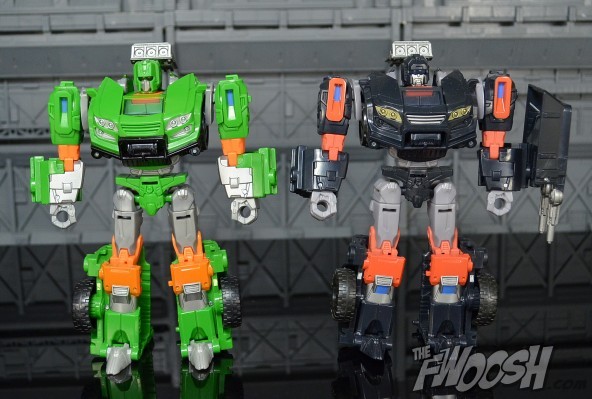 They're almost the exact same figure; the only differences is their weapons and head sculpts, but if I had to make a choice between the two and could only keep one, I'm grabbing Hoist every time. Again, it's the green.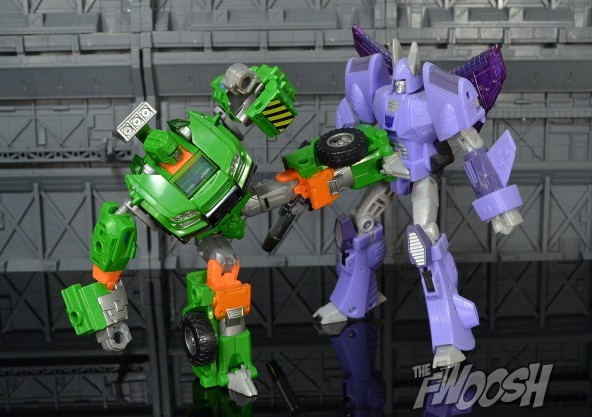 Like Trailcutter, Hoist is decently articulated and it's easy to get him in dynamic poses. He balances well thanks to the surface area of his feet and his center of gravity. His shoulders are a little finicky, like Trailcutter's, because the tabs (you can see them pretty well in the above shot) don't really hold the shoulders in place all that well because the gray/silver piece is made of a very soft plastic that doesn't want to lock in place. As a result, you have to be very mindful of this as you pose his arms. That's pretty much my only crit. Otherwise, he's pure hand candy.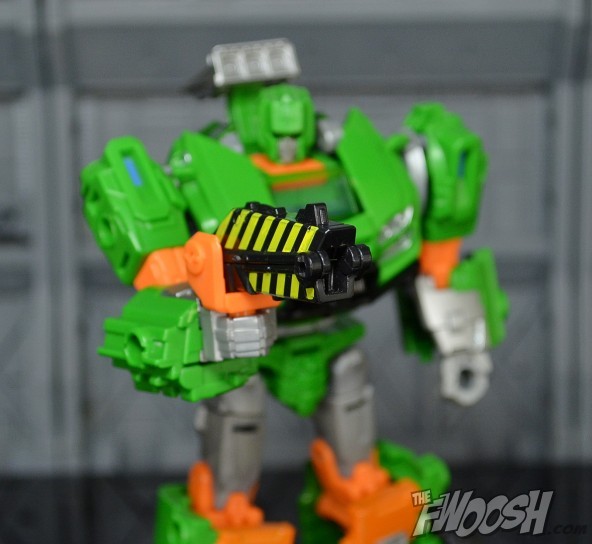 His weapon is his tow-truck crane folded up into the form of a blaster. It works fairly well to that end, and the yellow stripes go on to complement his look even further.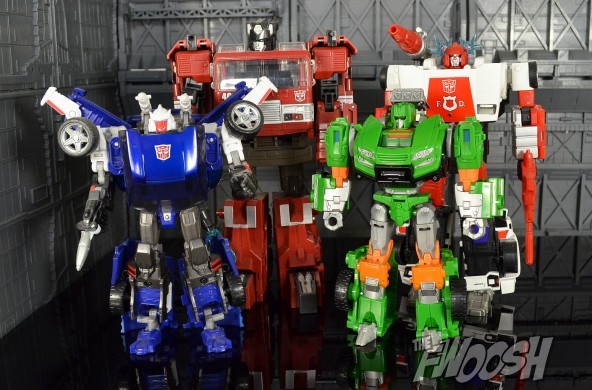 He is a small one and easily one of the smaller Autobots released so far in the deluxe-class CHUG line. Nevertheless, he still looks great in a group display because that green just displays so well. He really is one of the best-looking Autobots (but don't tell Tracks I said that).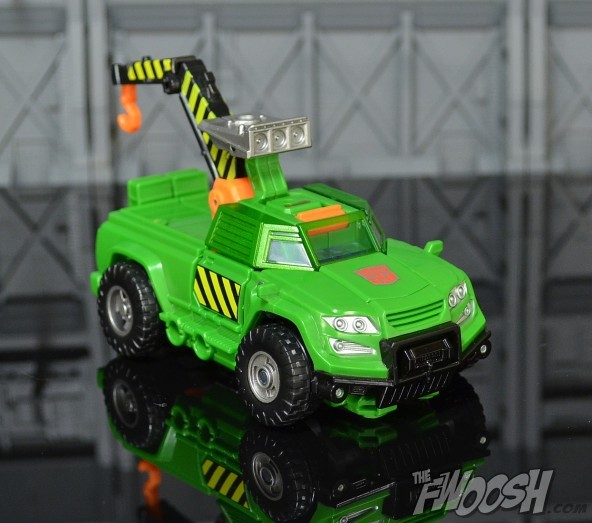 His alt mode is a tow truck, and it's convincing enough as far as alt modes go. One thing you'll notice right off the bat is that nice, big Autobot logo on his hood. That's the only Autobot logo he has, and it basically vanishes once he's in 'bot mode. Trailcutter had the same problem, so in 'bot mode it's not plainly obvious which side their political/social beliefs lean toward — just like your family members who don't have a Facebook page (ha!).
His wheels align well so he rolls effectively, and, for the most part, he lacks that jigsaw-puzzle effect that can compromise the alt mode of many an Autobot.
Overall, I like him and I'm happy to add him to my Autobot shelf. I hope IDW and Hasbro continue to release characters like this who have flown under the RADAR for a long time by giving them a Spotlight issue and an updated, modern figure. I'd love to see the Omnibots or the Throttlebots get this treatment. Hasbro has done an admiral job releasing so many characters since the Classics line debuted way back in 2006, and this current partnership with IDW adds just that much more depth to the characters and to the Transformers universe as a whole.
This second wave of the IDW deluxes (Thundercracker is the only other "new" figure in this wave) is currently showing up at Walmart stores across the US, and that's where I found mine. Online shops like BigBadToyStore should be getting him in soon, so he shouldn't be too hard to track down in the near future.