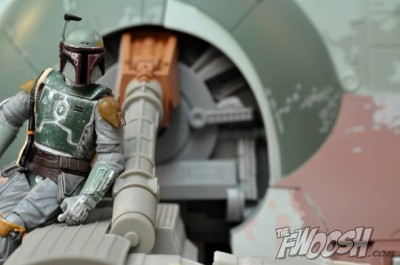 With the Star Wars-collecting world still riding high with the release of the 6-inch Black Series line, Hasbro has quietly hit another high note with its Amazon exclusive Slave 1. As part of the Vintage Collection for its tried and true 3 3/4 line, Slave 1 is getting the rock-star treatment it so richly deserves. No disintegrations you say? We'll just see about that.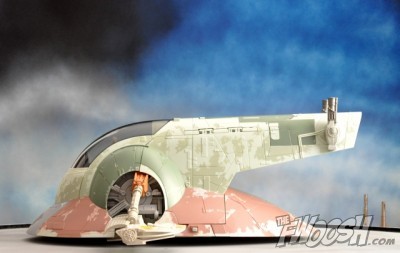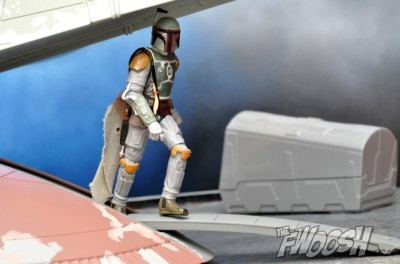 Slave 1 (or Boba Fett's sweet ride for the young or uninitiated) is being sold in vintage packaging exclusively through Amazon for $70. Amazon has had a bit of a rough time with this exclusive (price reductions, shipping disasters, faulty spring mechanisms), but I'm happy to say that mine came in tip-top condition. The box will go straight to the recycle bin, but I do still get a twinge of nostalgia whenever I see that retro packaging. So I'm glad it arrived in one piece.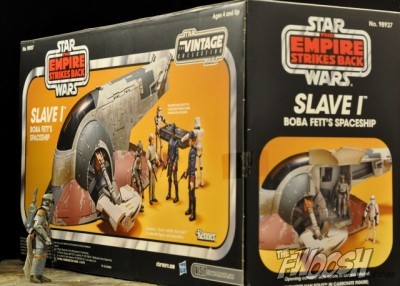 Measuring at over 19 inches in length, the ship itself is big.  Past ships (for both Jango and Boba) have been greatly undersized, so it's nice to see something that looks as formidable as its pilot. After all, if you're going to chase the Millennium Falcon, you better do it in something bigger than a landspeeder.
Like the Millennium Falcon, Slave 1 in the Empire Strikes Back doesn't look like much. It's old and busted with peeling paint and oddball design elements. But it's got it where it counts. It's quintessential original-trilogy Star Wars and Hasbro has once again done a fantastic job in conveying that. To me, the sculpt looks dead on, but I base that solely on gut reaction and memory of the movie. I see it and I think Slave 1. The paint apps are decent and what I expected for a toy of this size and price. It's hard to get the effect of peeling paint without making it look like some weird multi-colored camouflage, but they did a good enough job for my tastes. There are a couple of stickers to apply to the cockpit and cargo bay areas, but nothing to cause any concern to the decal-phobics out there.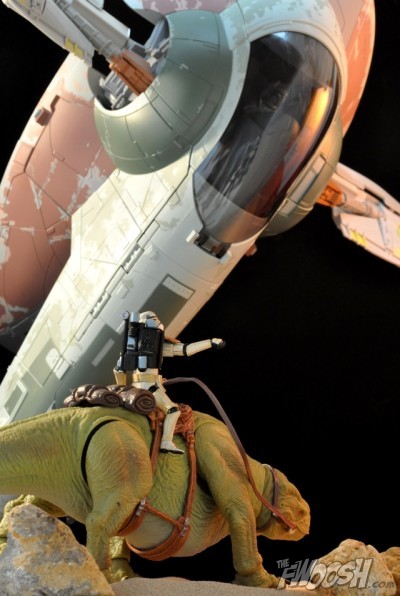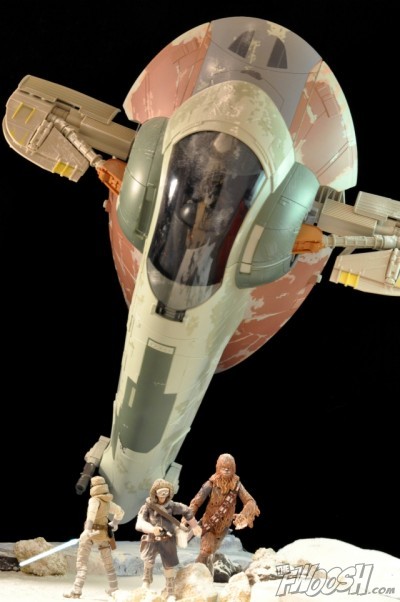 As this is a Star Wars vehicle, there are certainly going to be some features. I'm happy to say that none of them impede the sculpt and all of them greatly enhance play value. The features include:
-Opening canopy
-ramp lowers for prisoner cell storage
-walkway extends to reveal storage compartment
-Spacious cargo bay for Sarlacc support groups
Action features include:
-Pivoting wings and rotating cockpit
-bomb releasing mechanism
-Rotating cannons with firing missiles (me being me, I lost a missile already)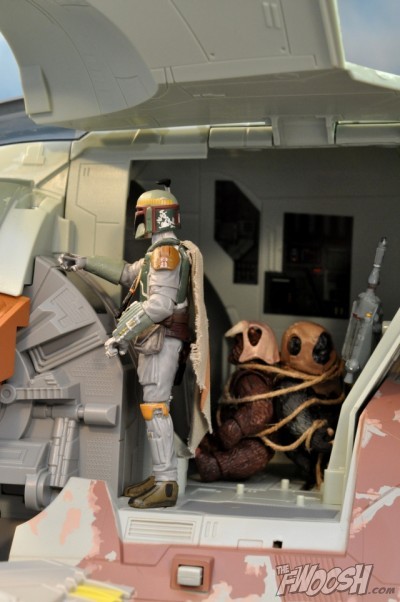 Additional accessories include a prisoner cell that fits securely in the storage area and can hold up to one person (or two jawas) and Han in carbonite. Both accessories feel and look a little cheap, but that's mostly due to the lack of paint.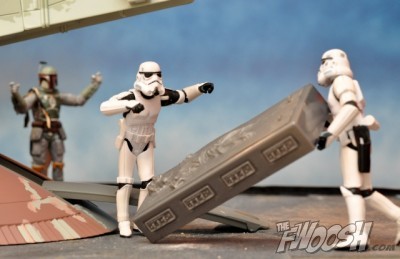 With Star Wars, it's not uncommon for vehicles to have just as much personality as the living, breathing characters.  A spacecraft like Slave 1 certainly fits that bill and Hasbro has done it justice.  No matter what your personal scale preference might be, this is definitely one the of the coolest Star Wars toys currently on the market.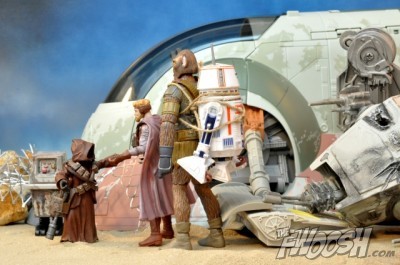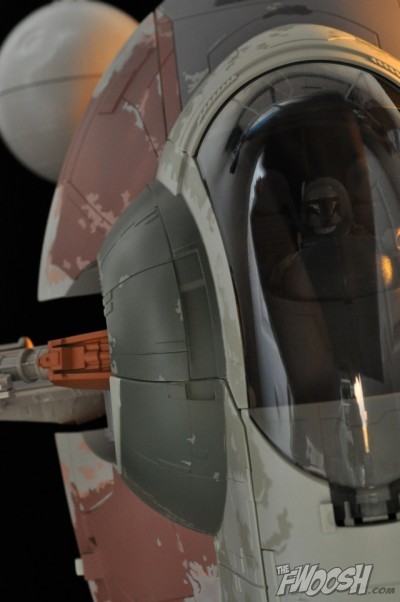 Additional links: