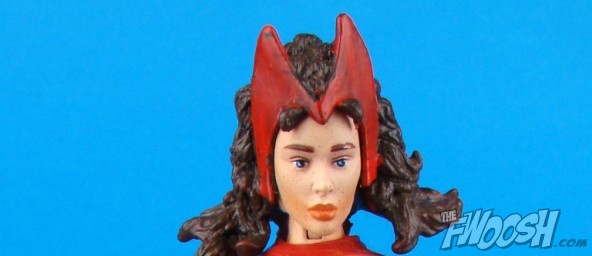 There really isn't anything good to say about Toy Biz's 2005 Series 11 Legendary Riders Scarlet Witch. I could if I tried to convince myself that there is a really decent head sculpt under that mess of a paint job (worsened by years of being at the bottom of the box) and that plenty of customizers have done her right. But truth is: no, nothing good.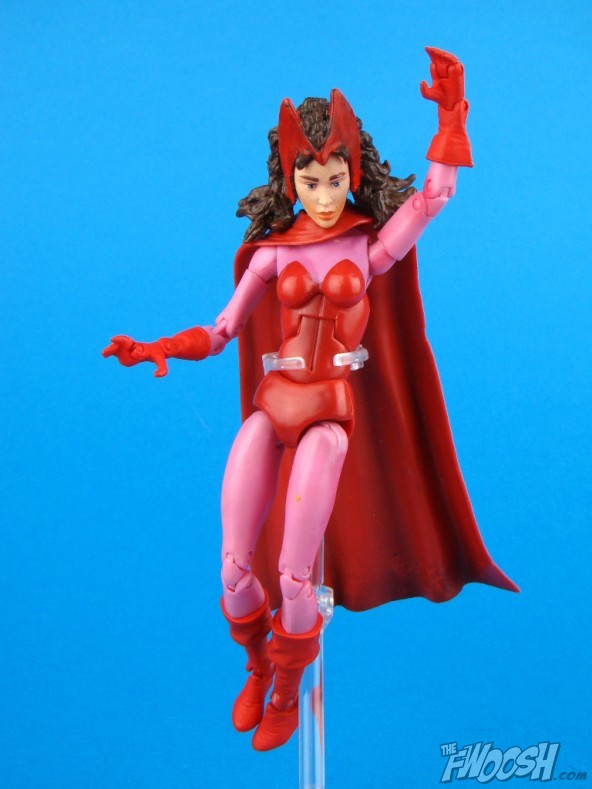 Wanda Maximoff, aka the Scarlet Witch got her famous start in X-Men in 1964 as a member of her father's (Magneto) Brotherhood of Evil. She was very evil mutant. And then she got good, reforming to become a hero and important member of the Avengers. So important that she eventually killed them off and changed reality as we know it. Allowing Brian Michael Bendis to warp the Marvel Universe into his modern vision.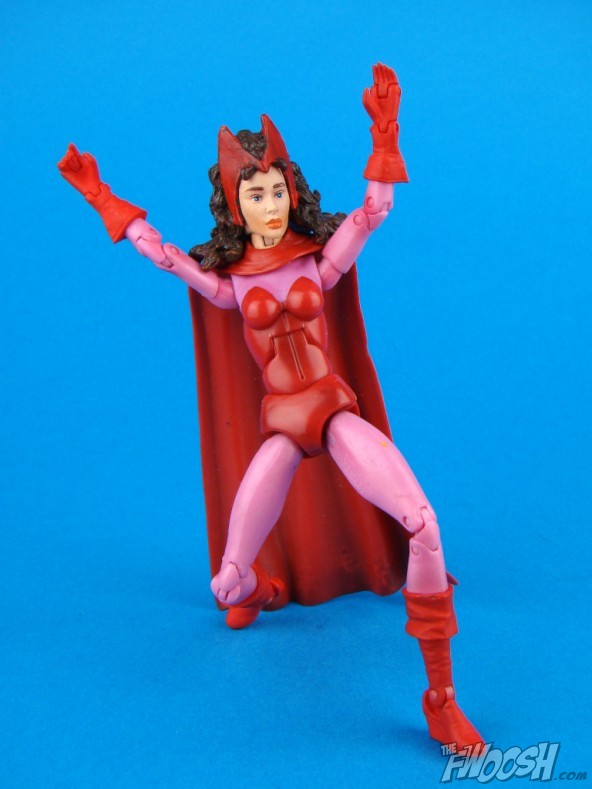 This is a sad tale indeed, the original prototype was a thing of beauty, the Marvel Legends collectors finally thought they had their perfect female Legends figure, all was headed in the right direction. Dave Cortez knocked another amazing prototype out of the ballpark it was beautiful. Curves, athletic build, it was headed for greatness, and unlike Hasbro, Toy Biz did a fantastic job with their press photos, when the figure came out all kinds wrong you knew where to point the finger.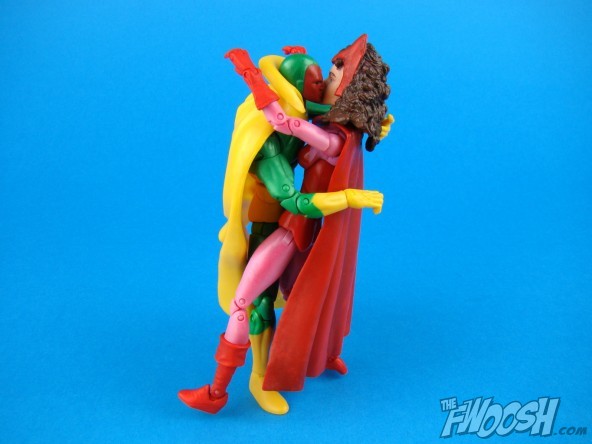 And it was easy. The factory almost completely munched this great figure. As mentioned the head is an area of contest, but otherwise the figure bombed. Everything came out thin and skinny, she went from being curvy and athletic to walkway model please feed her a burger skinny. The figure was wrong. All kinds of wrong. Who wants a skinny need a burger non athletic super heroine on their shelves? No one! And she was a demanded figure, much demanded, like people were ready to kill for her demanded. And we were treated to old skinny Mitch. Too bad we couldn't get her to M-Day us out this one.
The articulation was more than there. It had just about everything that we wanted. There are couple of sore spots, she is missing thigh swivels, this is a huge miss and really kills and good posing with the legs. The combination of a torso ball and swivel waist is a twist too much, resulting in spinning meat abs. Additionally the purpose of the torso ball joint should be to replace the need for the waist swivel or the hinged ab, or when done well, both. In this case we get all 3, with mixed results; the figure really doesn't pose that well making a huge sore spot in the hand candy department.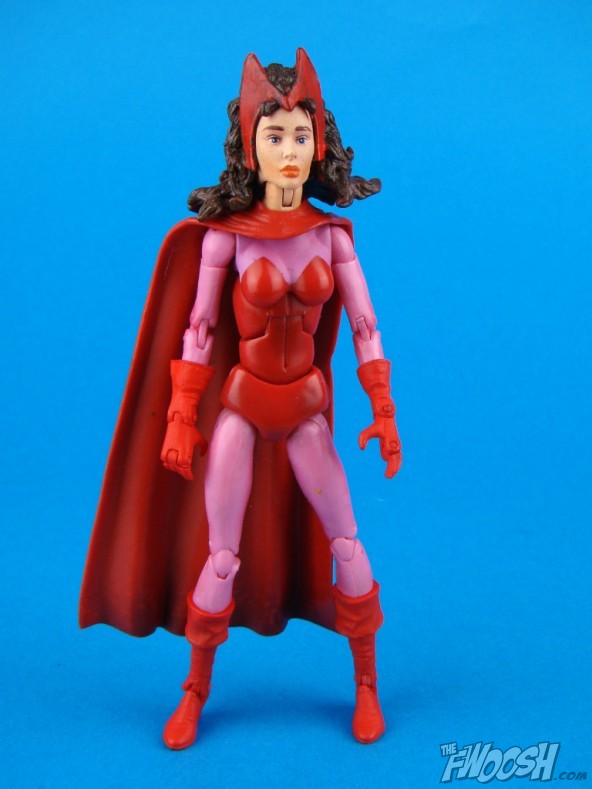 And forget posing her. Her skinny ass falls over just by looking at her. I can get her to stand just long enough for me to snap a pic and then bam! Over she falls. There isn't display or play value in her.
The breakdown is:
-hinged toes
-rocker ankles
-hinged ankles
-shin swivels
-double knees
-ball hips
-swivel waist
-hinged ab
-boobticulation (ball torso)
-ball shoulders
-swivel biceps
-double elbows
-swivel forearms
-hinged wrists
-articulated fingers
-hinged neck
-swivel head
Yeah this figure is in need of some serious help. Not even customizers are able to save her, just her head. And the head needed serious help. Ed Wires was one of the best prototype painters on Earth and I'm almost 100% certain his prototype looked nothing like what we got. There are black splotches on her head piece, there are spots all over her face, and in general the paint is sloppy. It would pass for dollar store material, not Marvel Legends quality.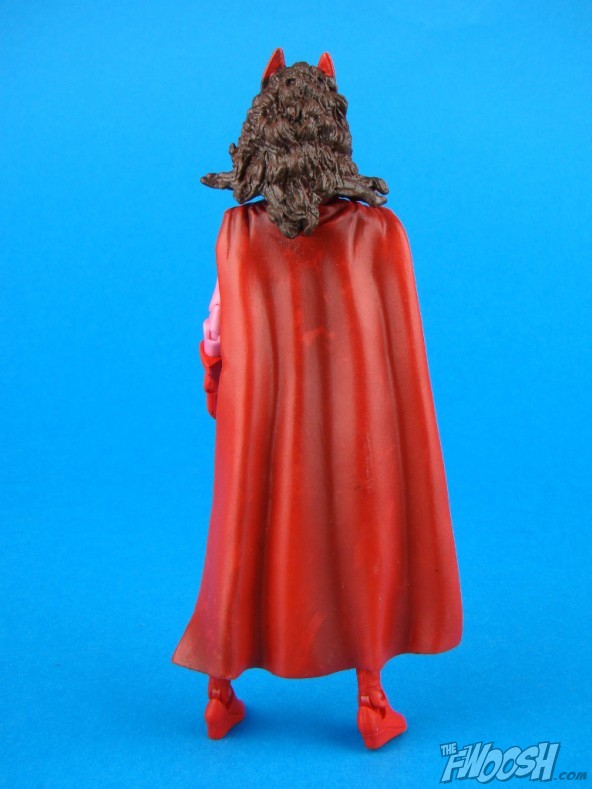 This figure is so bad, that well not even the zomb horde was willing to come out and devour her, I think they thought she was one of them. Not surprisingly you can still pick her up on Amazon.com, but lets hope that Hasbro has an official Scarlet Witch announcement on the way at SDCC. We need a new reality altering Witch!
You can discuss this figure further on the fwoosh forums.