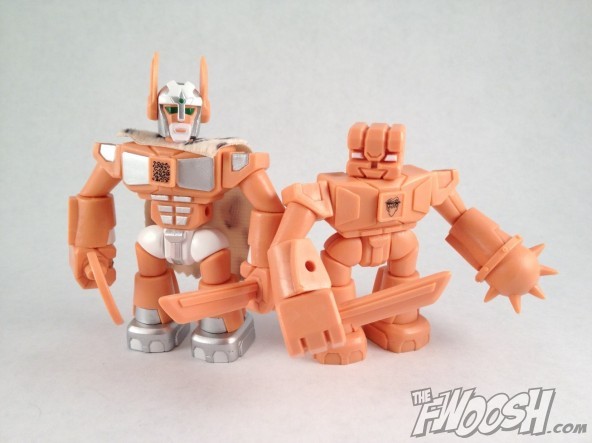 EDITOR'S NOTE: Fantastic Fwoosher Fireball13z is guest-starring today and is here to give you a look at two of the newest figures from Spy Monkey Creations (SMC) from their Weaponeers of Monkaa (WoM) line. Take it aways, Fireball13z!
If you haven't heard of the Weaponeers of Monkaa, we will all pause and give you a few minutes to got get your hearing checked. Please do not take long, as the rest of us want to get through this so we can go check out VeeBee's latest first look!
The WoM use the now famous Glyos System created by Matt Doughty of Onell Designs. If you have not at least heard of that, here is a very quick expiation of the Glyos System: it is a kick butt way for you to pop apart the joints on your action figures and make your very own custom builds.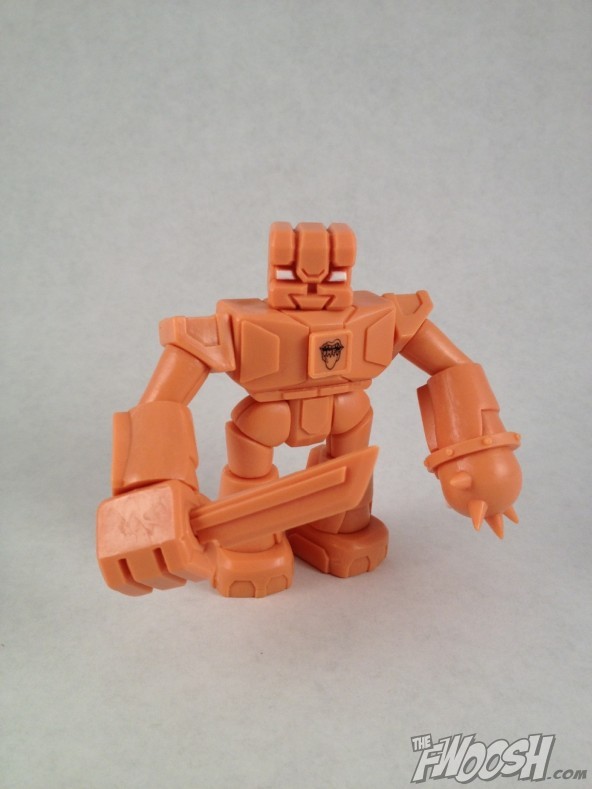 The best part of WoM using the Glyos System is the fact that you can mix and match parts of different action figure lines to create amazing builds. I have zero talent when it comes to this, so you will just have to use your imagination; my builds are either just standard figures or a big pile of parts on my table. I have included a few pics with using parts from the Four Horsemen's Outer Space Men, which is also a Glyos figure line.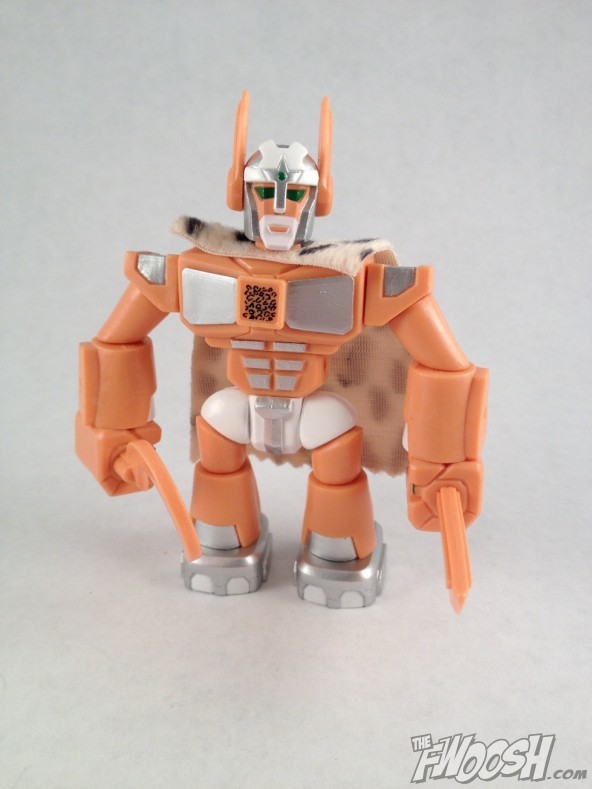 Starting with SDCC 2013, SMC has launched their "2013 Convention Tour." While these two figures are not SDCC exclusives, they were first available at SDCC 2013. I do not have the date of the drop, but you will see these two figures pop up on the SMC website for sale sooner rather then later.
The first figure is the W.O.M.O.M.F.G. This figure pays tribute to October Toys' O.M.F.G. line, a line of small 2-inch figures, which itself is a line that pays tribute to the M.U.S.C.L.E. or Monsters in My Pocket toy lines. So this figure is a tribute to a tribute of… wait I've confused myself now. The figure is molded in the same flesh-colored plastic that is used on the O.M.F.G. line. He even comes with his own unique chest symbol, which is the O.M.F.G. logo.
The second 2013 Convention figure, The Weaponeer, is another tribute figure. This time it pays tribute to DC's Warlord from the great '80s REMCO line Lost World of the Warlord. He is also cast in the same flesh-colored plastic, but has a lot more paint details.
Packaging for me is a waste of time normally, but I will say I think SMC did something really cool with these two figures. Each comes with their own "card back" that looks very similar to the lines they are paying tribute to. The figures themselves come in just a clear plastic bag, so no silly card board or plastic trays for me to fill up my trash can. The basic out-of-the-bag builds of these figures have roughly 18-20 cut joints of articulation. Both of these figures come with four unique heads, as well as two fists that can be used as heads. Like the standard release WoM figures, they come with a straight dagger and a curved blade, but, as an added bonus, these two figures come with a set of flesh-color Close Combat Armory, which includes two guns, two hilts, and six more blades. The Weaponeer figure also comes with a cloth leopard-print cape. As an added bonus, for a small up-charge when you buy The Weaponeer, you can get a Solid State White Armory that comes with many more weapons and a huge amount of extra Glyos pieces to buff up his weapons.
The figures stand at around four inches tall and are repaints of figures already released in the WoM line. But, man, a new coat of paint really makes these guys feel like an all-new toy. In their basic build, you should have no problem standing or posing them, and changing their parts around is very simple. The W.O.M.O.M.F.G has a few white paint apps, but it is mostly just solid flesh-colored plastic. The Weaponeer figure comes with a lot more paint detail. Four of the heads come with white, silver, and green paint apps. The fist "heads" come with green paint apps. Over the rest of his body, there is a mix of white and silver paint schemes. Since they share the same basic plastic color, you can also mix and match the parts of the figures.
The W.O.M.O.M.F.G will run you $12 and The Weaponeer will run you $15. The price may seem a bit high for some toys you find at your local toy store, but, really, you get your money's worth with the playability with them. These are not mass-market toy lines; the run of these is very small, and a there's good chance when they are gone, they are gone for good.
If you are already a collector of WoM, I can see no reason for you to not grab these bad boys the second they come up for sale. And if you are not a collector, these would be two great figures to jump on the bandwagon with. This is a great line for people that just want some fun action figures to play around with. Some of the builds I have seen people come up with really blow my mind.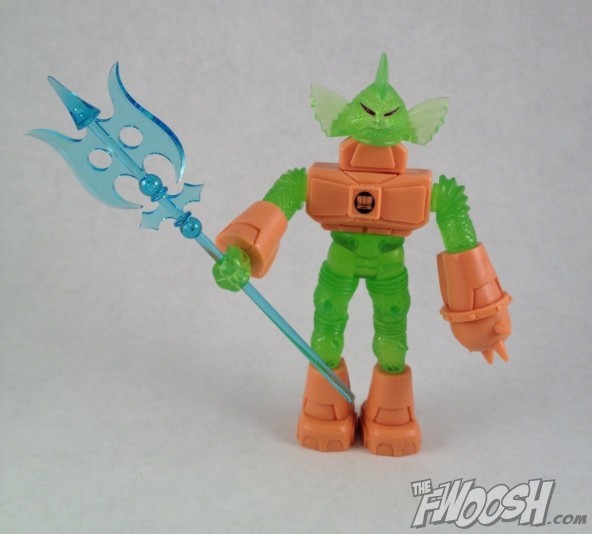 Also if you haven't I would suggest going to the SMC web site and check out the stories and world they are building for the WoM.
-Fireball13z
*Thanks, Fireball!
Additional Links