Play Imaganitive sent out a press release relating to their appearance at STGCC, Singpore Toy, Game & Comic Convention occurring 31st August through 1st September 2013. Play Imaganitive came on to the scene when they announced their Jim Lee 52 Batman figure. Shortly after they announce Superman, Iron Man and a slew of other properties. They grab my interest as they are die-cast toys, you heard me right metal! Most of their offerings are 1/6 or 12″ scale and they are giving Hot Toys a run for their money.
Now, they are going after the 1/12 market. They recently announced a number of Iron Man 3 figures that will be released, die-cast and all. Amazing! Lovely! Specially since they will be looking at making a number of the armors from the armory from Iron Man 3, there is a ton of exciting potential. And then yesterday.
Yesterday I got a press release from them for the upcoming STGCC con. And as I scrolled down I saw this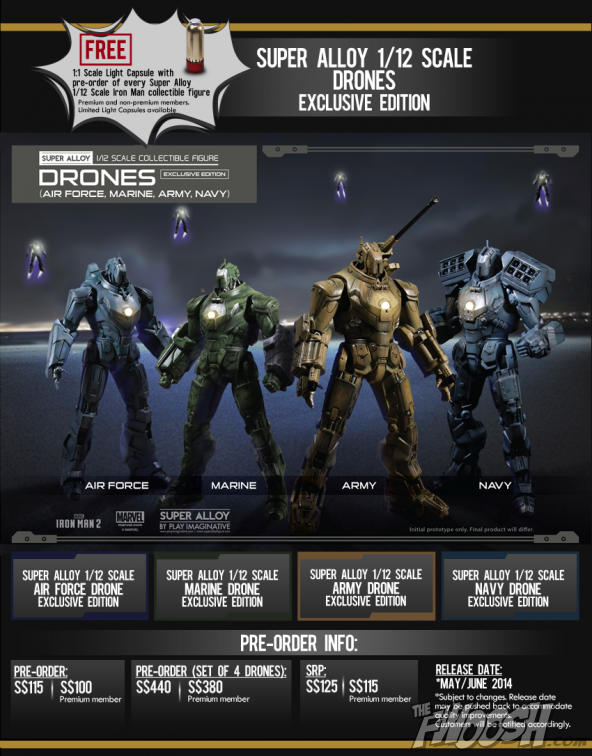 Yeah you are reading that right. 1/12 scaled drones from Iron Man 2. That's a preorder price of S$115 (Singapore Dollar) or $89.58 US; with a suggested retail price of S$125 or $97.37 US. Yeah these are not cheap. And before we get our panties in a bunch, these are figures that Hasbro has not made and probably will never make; a third party is having to make them. In addition, these are "high-end" die-cast toys that will have a limited production run. That's going to make them expensive. These are not for your average collector.
We'll take a moment for average collectors to collectively rage.
I don't know how many of these that I will buy, I'm tempted to buy a set or 5 of Army or Marine. I can't decide. When I told my kids about these, specifically my youngest he dropped his jaw and was super excited about these. When I told him the price, he cried and a part of his childhood withered away and died. I feel for him as the same happened to me.
We'll keep you updated with more information when these are available for general consumption. You can read the full press release below.
And feel free to talk about this on the