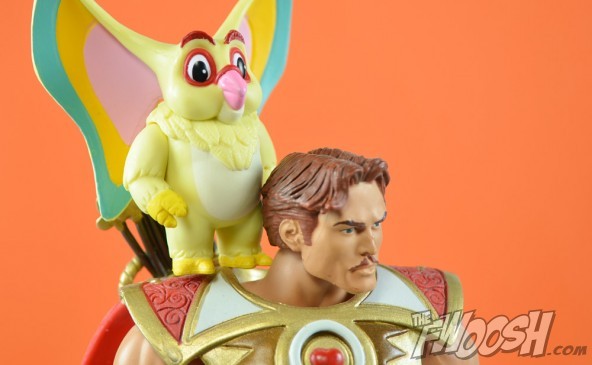 As we sprint to the finish of the 2014 Subscription sales window, I think the past few days have really shown what a diverse line Masters of the Universe Classics is in terms of overall releases. Mantenna, Batros and Nepthu are a colorful bunch all on their own, but, as you know, MOTUC offers product that falls outside the traditional action figure release. Case in point is the subject of today's First Look: the End of Wars Weapons Pak.
Unveiled last month at SDCC, Toy Guru announced that this appropriately named set will be the End of the Weapons Paks for the line. I am not sure if this is because the previous set is still available at Matty Collector, or if the thought is they have just run their course, but they did take advantage of this final SKU by making good on some promised items, and, for the first time, we actually get a figure in a set in the form of the know-it-owl himself, Kowl.
Let's take a look at each piece individually.
Netossa's Sword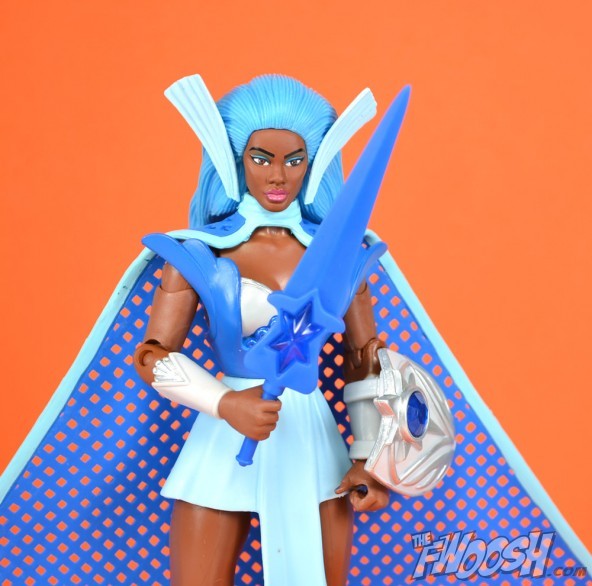 If not for Kowl, this would be my most anticipated piece in the entire set. I actually really like the Classics Netossa figure, but when she was released at the beginning of the year, she was quite sparse in the accessories department. Back in the 1980s, Netossa was shown on card back wielding a blue repaint of the Bubble Power She-Ra sword, and they have made good on that in Classics. I am really glad to get this not only to get Netossa an actual weapon, but because they made a weapon specifically for her. I still wish we could have gotten her headdress too, but maybe that can come with the eventual Spinnarella figure. The sword looks great, but it is made out of a pretty soft plastic, so you might need to straighten it out when it arrives at your house.
Rattlor's Armor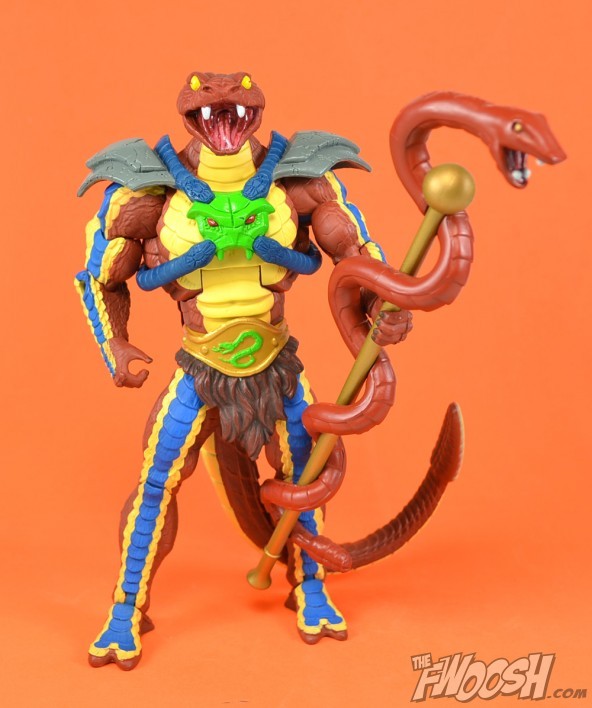 The other highly anticipated item in this pak is the 200x-inspired Rattlor armor that did not make the budget with the figure's initial release. A lot of people have been wanting this due to Rattlor's rather sparse wardrobe (which I like, it makes him look more savage), so this will plus him up a bit. The colors are vibrant and it fits him well, so I think this will be a big selling point for the overall set.
Strobo's Gun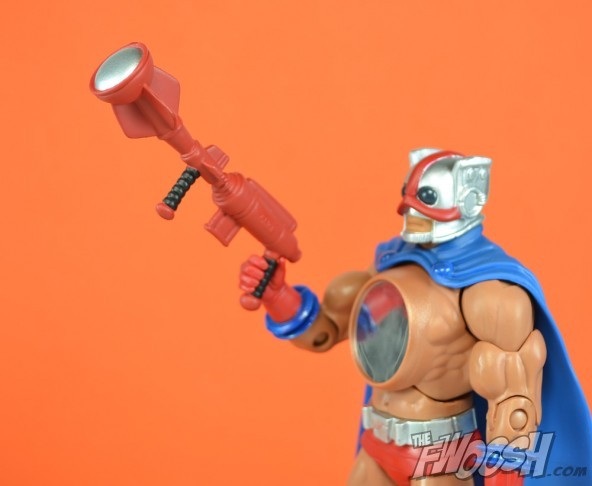 Another new piece is the Enforcer mirror gun that the Four Horsemen created for the traveling-exclusive Strobo figure. Unlike the Rattlor armor, Mattel actually meant to show the gun, but then they had to pull back when they found out it would be too expensive to include with the figure. I like how the motif fits Strobo individually, but also the Cosmic Enforcers as a whole. It has two handles so Strobo can hold the gun with both hands, and, unlike several of the other pieces from the set, it has two different paint applications. The funny thing is that most collectors will probably now have the gun before Strobo after being disappointed in having to wait for it be released.
The rest of the weapon items are all repaints and reconfigurations of existing items.
Green Power Sword, Shield and Battle Axe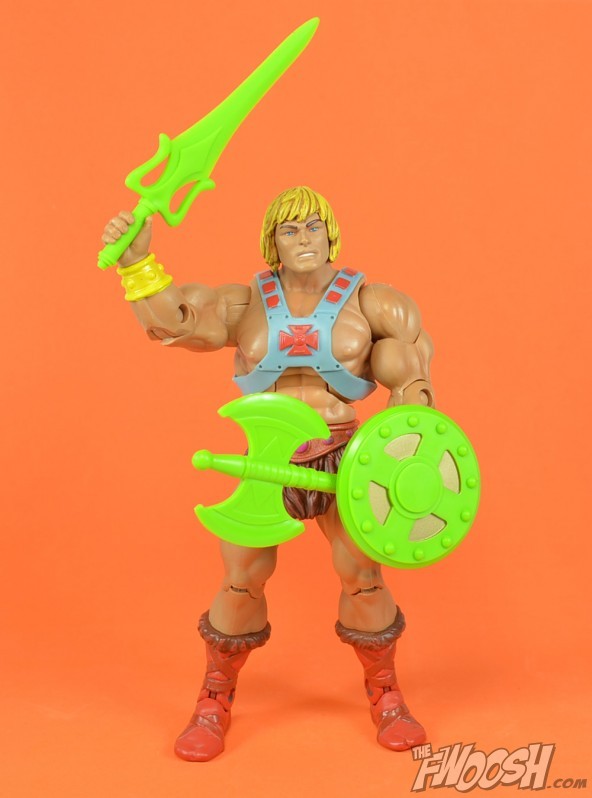 All three of these pieces are the standard He-Man weapons recast in a bright green. I am sucker for different color ways of the Power Sword (now we need red!), so I am glad we got this. These pieces almost seem to hint that Slime-Pit He-Man might be lurking around the corner; he might be next year's Spirit of Hordak. The shield has gold inlays and it is the only one of the three that has actual paint applications.
Silver Sir Laser-Lot Sword, Mace and Shield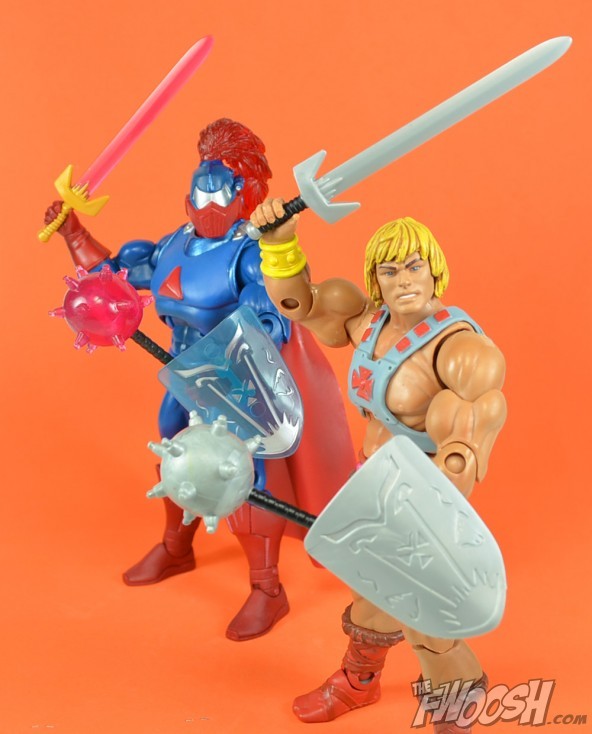 Surprisingly, I really like these three pieces, especially the sword and mace. It goes to show that the sculpts for these were always there, but I think they look so much better in more natural colors. The mace can be picked up by anyone and be cool and the sword instantly becomes my "generic" weapon of choice. If you have some figures standing about on your shelf that are weaponless, these three pieces are probably the most adaptable to any situation.
Gold Palace Guard Mace, Shield and Staff
These three items are straight-up recastings of the previous Palace Guard weapons. Maybe you could use them for the Guard lieutenants or something to help set them apart from the grunts.
Silver Trap Jaw Gun, Hook and Clamp
Trap Jaw's three weapons have been reworked in silver so that they can be used by Roboto. I am always for more implements for him and Trap Jaw, so it is cool to get these obvious additions for him.
Black Hurricane Hordak Maces
Three in all, the HH maces are now in black and they can be used by Hordak himself or for Trap Jaw. Maybe Trap Jaw is eventually assimilated by the Horde and gets a new arsenal, but Hordak always looks cool rocking new weapons.
Kowl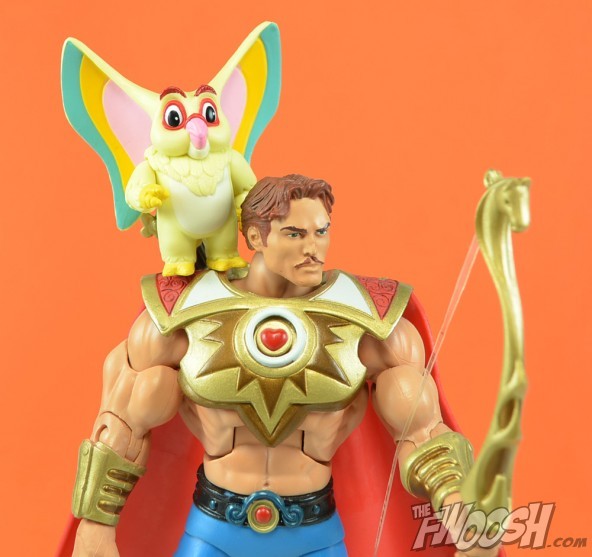 Ah, the standout of the set is the figure character figure in a weapons pak ever – Kowl. We have been anxious to find out how the little guys would be released in the line, and I think this is a fantastic way to do it. Bow's little spoil is kind of modeled after a hybrid of the original toy and Filmation looks, but the color scheme is 100 percent toy. This is actually a first (I believe) for any PoP character released in the line. It's an interesting choice, but maybe there are also plans for the cartoon version later down the line.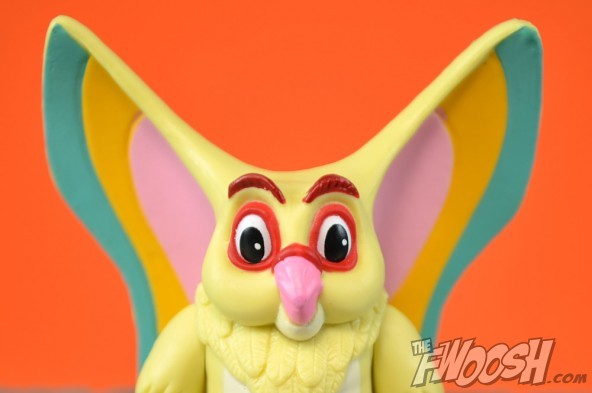 At first, the figure seemed too small to me, but doing a comparison to his size in the cartoon, he is pretty spot-on. He has some feather detail to him (the Horsemen have to be so tired of sculpting feathers at this point) and his expression is right on. You can almost hear his queeny know-it-owl voice telling Bow how much better he is than him. I love that you can perch him right on Bow's shoulder or arm, but getting a stand for him would have been cool. He really only moves at the shoulders, but I am not sure how much movement you need from Kowl.
Now, the downside to getting an actual figure in the pack is that, as Toy Guru told us in San Diego, Kowl took up most of the budget for this set, so most of the weapons had to be left unpainted. It is a tradeoff, and I think they made the right choices on what to paint and what not to paint because in the end, Kowl is worth it.
Overall, I think this pak balances out nicely. Sure, the Palace Guard, Trap Jaw, and Hurricane Hordak stuff isn't as exciting to me, but the green He-Man weapons, Netossa sword, Rattlor armor, Strobo gun, and especially Kowl make the price well worth it. Now, if we can find a home for Loo-Kee, Imp, and the rest of the little guys, we will be all set.
*Thanks again for tuning in and thanks to TG and MOTU team for sending this set along.
Additional Links