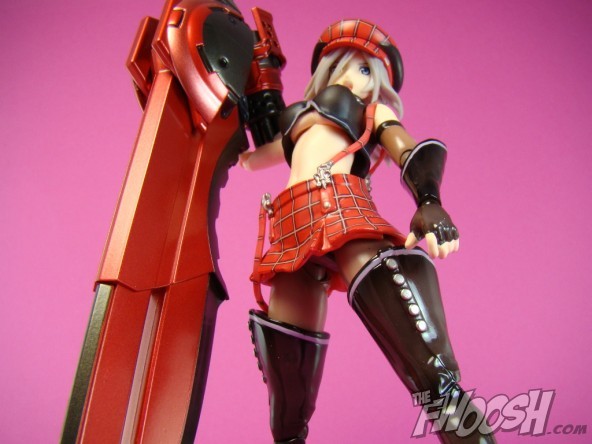 God Eater Burst is a 2011 PSP game. This I know because I looked it up on Wikipedia. If I had not looked it up, I would have no idea what game this figure is from. Sure, the box art and BBTS listing were give aways as to where the figure comes from, but I had never heard of this game. Nor should I have because I'm not a huge game person; I stick to my one to two games and I am golden. In addition, I'm not huge on the handheld games, like PSP or PS Vita (even though I own a Vita).
I did pick up this figure because I wanted to do a review of a Bandai D-Arts figure, and I wanted it to be something other than another fighting figure (Terry Bogard BBTS listing), since NECA, Play Arts and everyone under the sun does fighting figures. I wanted something that looked cool and had pop, not Pokémon (though those are really cool), not Digimon, and not MegaMan. Something with pop. Actually, the Persona characters from D-Arts have that pop, but there's another long running game property that I know nothing about.
Back to my need for a cool-looking game figure. Enter God Eater Burst Alisa Ilinichina Amiella, who is a Russian female character in the game who has a big-ass sword that transforms into a gun. This is a great-looking figure, and for a female figure it's a pretty decent scale. I don't know what it is about Japanese toy companies, but they really do seem to be able to make dynamic-looking females. It's strange, cool, and somewhat scary. But this is a nice-looking female figure. Yeah, the costume is typical female video game fare: thigh high leather boots, nylon pantyhose, short skirt, and a shirt that doesn't cover much (must be taped on). But I am impressed with the spray app for the nylons — it looks sharp. In fact, the paint on this figure is simply amazing; it is sharp, clean, and well done. And the plastic colors really pop! This is a fantastic display piece.
The articulation on this figure is excellent. It's becoming a standard for most of these Japanese toys, like Figma, Revoltech, and Bandai brands. There is a ton of hand candy on this figure and she poses really well. She has high heels (and, no, I will not start a discussion about why fighting female figures have high heels or how well they can fight in them) and stands well in them. I've found that action figures wearing high heels will often have issues with balance or holding poses. In this case there is no problem, I am able to get good balanced poses.
This figure is chock full of articulation! It is based on the current Japanese trend of using hinged ball joints that had ball pegs that pop into an matching socket. Some people do not like these joints, but Figma and Bandai are doing a great job incorporating them into the sculpt. The only area where movement is somewhat limited is the hips, and that is due to the skirt more than anything else. It is in the way, not terribly in the way, but you can't get her to sit. I do like that this figure uses the "rocker" shoulders and a ball-and-socket joint hidden in the chest. It just gives that extra bit of pop to the figure. The articulation breakdown is as follows:
swivel foot
ball ankle
swivel ankle
ball knee
thigh swivel
ball hips
hinged balls (need to verify)
ball waist
ball ab
ball rocker shoulders
ball shoulders
bicep swivel
ball elbow
swivel hand
ball wrist
swivel hand
ball neck
ball head.
TOOONS of articulation
There are a good number accessories. Included is Bandai's clear stand with two arms. Of course, my kids took the stand out and immediately started using it with War Machine and Mk7. She also has two sets of hands, her hat, and some faces. The faces pull on and off by removing the bangs and then popping the face out. It's a good system for those that prefer smiling or screaming heads. The extra hands are for holding the big-ass sword or for punching. The two open sets of hands are made for holding at either a 45-degree angle or a 90-degree angle. I'm using the 45ers.
Finally, the big-ass sword. This this is monster and part of the attraction to the figure. As a regular player of Dark Souls and Demon Souls, I like big, gigantic, fantastic weapons. And while I don't play Final Fantasy, the weapon designs in these games are awesome. As is, this a big, giant, ass-kicking sword with a Gatling gun. The thing is so huge that the figure can't hold it and she falls over — you have to use the stand to get her to hold it! But it's awesome. There is a web exclusive where the sword is transformed into a giant Gatling gun. Looks fun, and you can preorder it today at BBTS.
This is a fun figure and I strongly recommend it for anyone wanting to get into D-Arts, or anyone that wants 3-D version of the characters from God Eater. For those of you looking for some eye candy or some hand candy, then go for it. This figure is good value for the money.
You can still get this figure at affordable prices:
You can discuss this figure further on the