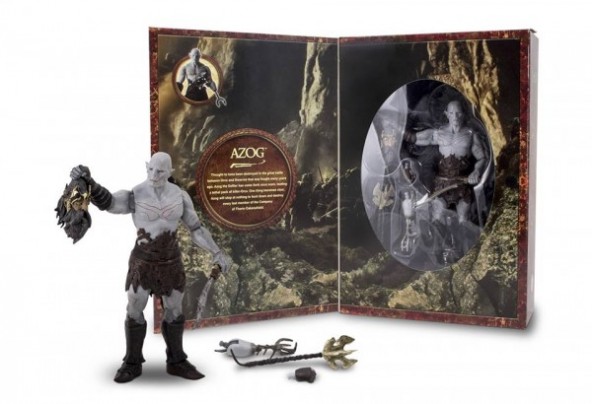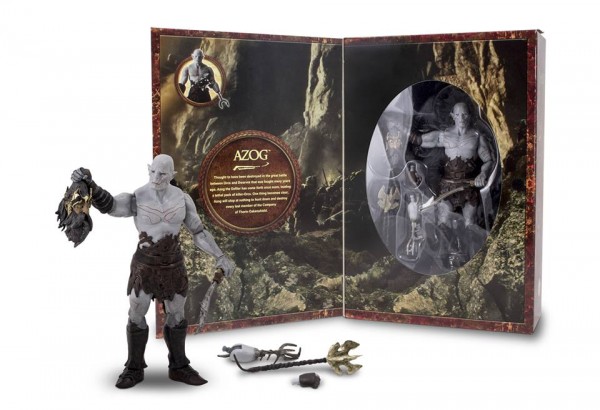 We have known that Azog would be at SDCC for a while now, but now we have the price all locked down.
via The Bridge Direct:
We wanted to share with you that we have a confirmed price of $40 for the SDCC 2013 Exclusive Hobbit Collector Azog figure.

The Bridge Direct will also be selling a few limited pieces of last year's Comic-Con exclusive figure, Bilbo Baggins. In case you didn't get it last year, now's your chance! Here is more info:

SAN DIEGO COMIC-CON 2012 EXCLUSIVE HOBBIT COLLECTOR FIGURE – BILBO BAGGINS ($25)

The Bridge Direct's limited edition 6" scale figure of Bilbo Baggins presents the title character from The Hobbit: An Unexpected Journey in his "invisible" state while wearing the Ring, which he holds in his hand. This intricately detailed transparent figure is presented in a numbered collector's edition box.

In addition to The Hobbit figures, The Bridge Direct will also be selling other toys from their line including Power Rangers toys and Flying Heroes action figures:

Flying Heroes (For Ages 4+, SRP $16.99)

The most iconic superhero characters are taking flight with the new Flying Heroes line. With a quick pull from the launcher, kids can unleash their favorite superheroes and watch them FLY like never before. The 2013 collection features three of the most popular superheroes – Superman, Batman and Spider-Man.

These are not SDCC exclusives but are perfect for any Superhero fan!

The Bridge Direct / Weta Booth number is #3513B.
Additional Links