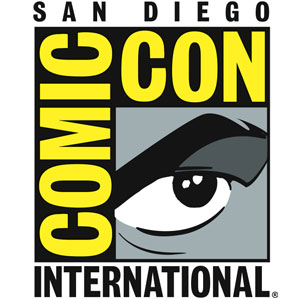 It's almost time for the San Diego Comic Con! Are you one of the lucky fans attending this year? If so, you are going to have an absolute blast, San Diego is a beautiful city, and the comic convention has something for everyone. Some people enjoy going to the convention all day, every day, from Wednesday night to Sunday; however, if you feel the need for a break from the con (or someone is traveling with you who is not interested in attending), take some time to check out some of the great activities and amenities that San Diego has to offer!
Before you travel, take some time to check out ticket packages that are available, which let you bundle admission prices for several different attractions at a significant discount. I did this last year and saved about $50 per person, but this is only going to be worth it if you are interested in actually doing all of the activities.
BEACHES
With the San Diego weather pretty much ideal year round, you can't go wrong with a trip to the beach. The area does boast over 70 miles of pristine beaches, so there are a lot of different options to choose from. I have had the chance to check out two very different beaches in the San Diego area. A word of warning, San Diego does not really get hot, so you may not notice that you need sunscreen; however, you will burn if you do not use it (don't make the same mistake as me; pack it when you travel so that you don't have to pay $15 at the surf shop).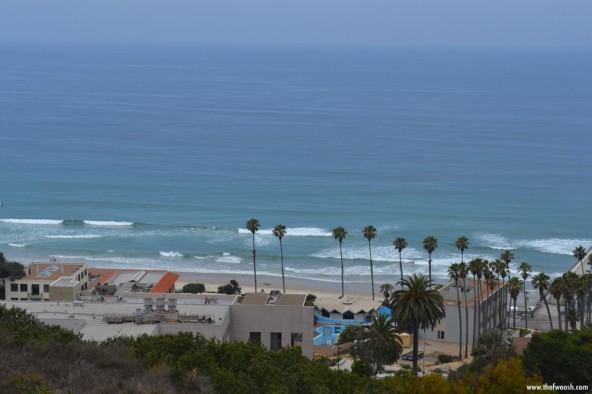 The first was Pacific Beach, which we reached by taxi ($35 each way from the convention center). Pacific Beach is ideal for a group looking to really soak up the sun and enjoy a busy atmosphere (party time!!). There is a three-mile-long boardwalk with all sorts of local shops, bars, and restaurants. The beach has public restrooms, volleyball nets, rental stands, and is free to enter. After soaking in some rays, I got a little bit warm and went to jump in the ocean, but just as fair warning, the water is cold, but then again, I'm a wimp.
Last year, I rented a car and went a little bit further out from San Diego to La Jolla and the beach at La Jolla Shores. There was free parking there, but I couldn't find it, so had to pony up the $5 to park. This area was a lot rockier than Pacific Beach; there was a great spot to hike, and you could actually drive up to a lookout point right from the beach. I'm sure it's a nice chill place to relax, but I didn't get to enjoy that because I had a hungry, tired, cranky 6-month-old with me (no, the beach is not stroller-accessible). This area does have a lot of sea caves and there were a ton of kayakers in the water near us, so if you're into that, La Jolla Shores is the place for you.
http://www.lajollabythesea.com/blacks-beach
SAN DIEGO ZOO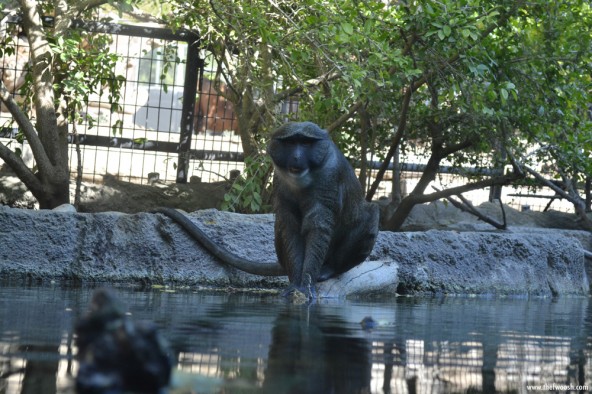 I have been to San Diego five times, and I have visited the zoo twice. It's a lot of fun (lots of walking too), but it's pricey ($40). The first time I went, we took a cab, which was around $30 each way. The second time, I took the bus (with my mother and an infant), which was much cheaper. Admission to the zoo includes their skyfari, which has you suspended over the zoo and lets you peek in on animals in the enclosure. If you take the skyfari at the beginning of the zoo, it takes you all the way to the other side, so you have to either walk back or take the skyfari back. We chose to walk back and check out more of the exhibits. This zoo is huge, so even if you walk the whole park, chances are you will miss something. There is a FREE guided bus tour that is included with the price of admission. Park guides stop the bus so that you can take pictures — sit up top if possible for the best views. The gift shop seemed kind of pricy, but if you just want some post cards, they can provide what you need.
BIRCH AQUARIUM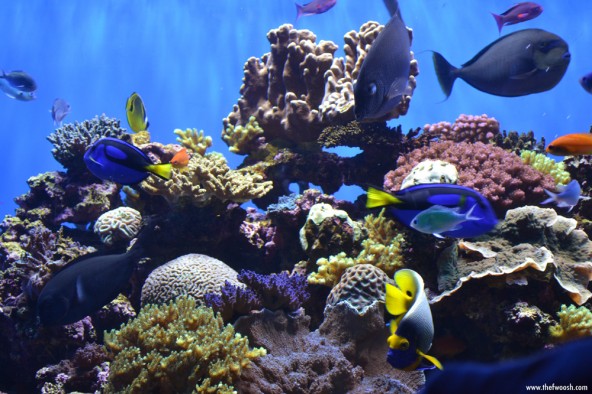 Located in La Jolla, we took our rental car here, about a 20 minute car ride – I got turned around, so it was 30. The parking was free! If you have kids, and would like to take them somewhere educational and fun, this is a good option (under $20). You enter the building after passing some really cool fountains with sculptures, and there is plenty of space to leave strollers, bags, etc. The Birch showcases some really beautiful and unique fish, coral, kelp, and tide pools. It wasn't overly busy, but was conducive to an enjoyable morning. The staff is happy to talk about the exhibits as well, and they have educational sessions several times a day. My personal favorite was the tide pool area where children (and adults) are encouraged to look, touch, and explore the areas looking for hidden critters. For someone who is from and lives in a landlocked area, the aquarium was really relaxed and a nice alternative to a larger theme park like Sea World – plus, they had an awesome gift shop!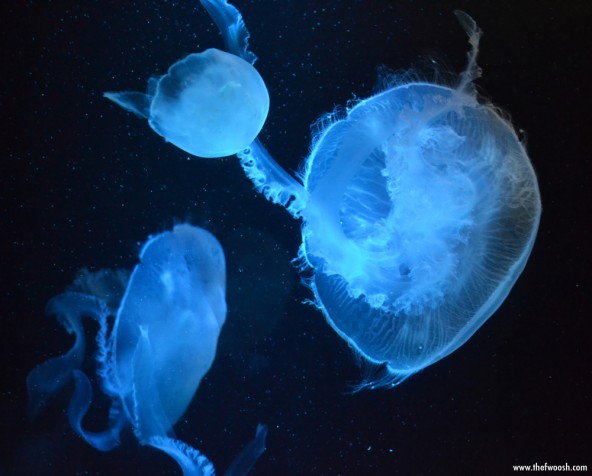 HARBOR TOUR
OK, say you're at the con, you want to take a quick three-hour break and don't have anything to do… take some time and enjoy a harbor cruise. To get to the ships, it's a short walk to the pier – right on North Harbor Drive like the convention center. Most of the cruises have the one- or two-hour options, are leaving every hour, and are priced under $30. I took a one-hour tour (which was enough for me). The ship took us around Coronado Island; we saw seals (the animals, not military group), and the captain gave us a detailed history of the buildings and surrounding area. This isn't a party cruise, but is something fun to do if you've got a few hours to kill.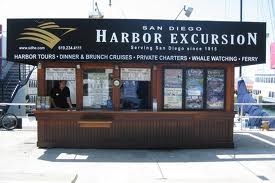 SEAPORT VILLAGE
Every year I've been to San Diego, I've seen these signs for Seaport Village, and it looks like a really fun carnival-like place. It is actually more of a tourist trap, I did not enjoy it. If you need souvenirs, this is certainly a good place to go, but the downtown area also has shops that are a LOT cheaper with some of the same items. The one plus side is they do have several restaurants, but, again, I prefer the downtown area for cheaper and tastier eats. I personally don't recommend it, but with its close proximity to the con (behind the Manchester Grand Hyatt), if you want that touristy atmosphere, this is an easy place to visit.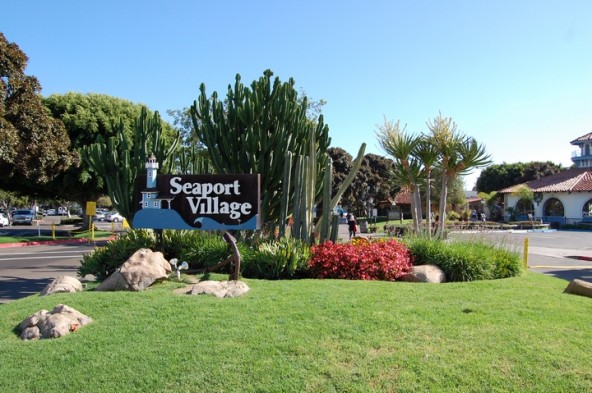 http://www.seaportvillage.com/
FOOD TOURS
Last year, I decided to try something unique and signed my family up for a downtown San Diego food tour. It was about $80 per person, more if you would like alcohol included. We met our tour guide downtown and walked to five different restaurants (all different types of food), enjoying a sampling at each restaurant. Our guide was knowledgeable about the chefs' backgrounds and foods, and he offered us additional tasting options depending on what we liked. This was close to the comic-con, started later in the day (so no panels were missed), and was WELL worth the money. I had a wonderful time; this is a very unique way to see San Diego. I recommend doing this tour early in the con so that you can go back to the restaurants if you find one that you really like.
http://www.atasteof-sandiego.com/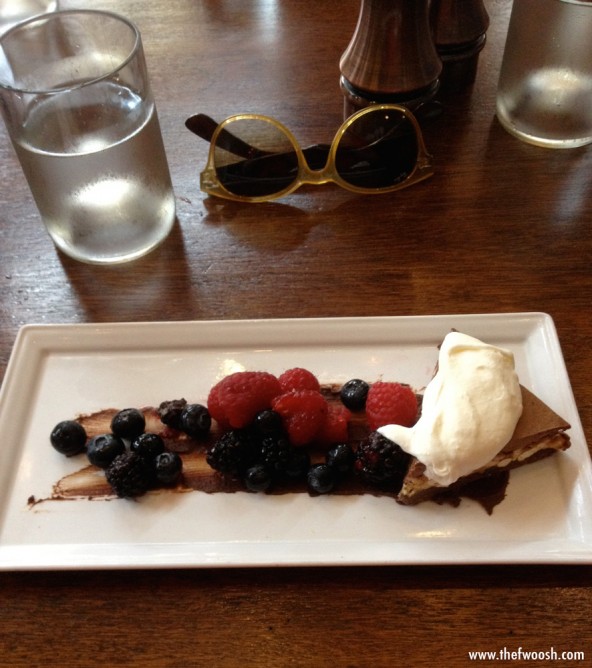 I have to mention In and Out Burger, as a certain someone I know absolutely LOVES it and we have to go every year. This is not snooty food, although you can sit down or drive thru for your meal — decisions decisions! In all fairness, it is pretty tasty and inexpensive with really good milkshakes; however, you will have to take a trolley, cab, bus, or car to get to one, as there is not an In and Out Burger anywhere near the convention center. Be sure to check out the Internets for secret ordering codes – Animal Style.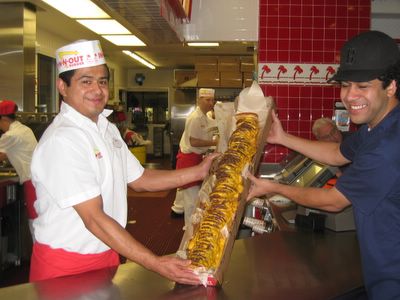 MUSEUMS
San Diego is rich in history and is home to several museums. Along Harbor Drive alone, you will see pirate ships with historic tours and the USS Midway (huge aircraft carrier). The three museums below are certainly NOT all that San Diego has to offer, but offer a small sampling of what you can explore in San Diego.
I have toured the USS Midway, which is reasonably priced (under $20) and includes a headphone guided tour. You can walk here from the con in under 15 minutes. It is handicap-accessible with elevators, but those areas are limited to two levels, and you will not be able to explore the whole ship. If you are an aviation expert, you will really like exploring this ship, as it is PACKED with vintage planes.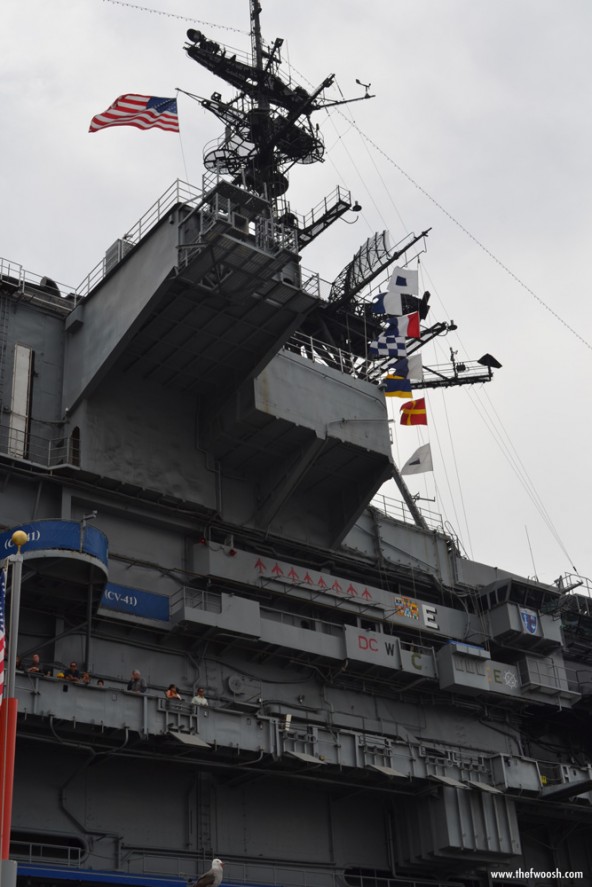 The San Diego Children's Museum is an excellent place to spend an afternoon with your kids (although kids LOVE SDCC) with admission of $10 for anyone older than 1 year. It's an educational museum with exhibits that are participatory, allow children to CREATE art, include performances, and houses a park on the grounds.  A great break for anyone and has exhibits tailored to children toddlers to teenagers.
http://www.thinkplaycreate.org/
The San Diego Museum of Man is an anthropology museum located in Balboa Park – about 10 minutes away from the con. Admission is only $12.50 for adults, which makes it very affordable.
http://www.museumofman.org/?gclid=CJTH35z2jrgCFdKj4Aod52sAvQ