The Club Filmation subscription kicked off this month with the one-off snow-themed villain ICER! Let's take a look!
Icer™ Bio
Real Name: Icleeel of the Outer Stilia Clan
Originally from the outskirts of Stilia in the Ice Mountains, Icer™ is a master at controlling cold weather. Skeletor® recruited him after realizing a need for evil agents in the North and exploited him when Whiplash® failed to obtain the Ice Raider from King Randor®. Skeletor® ordered his new frozen ally to take over the northern weather station and create cold weather all over Eternia®, while he attempted to steal the Ice Raider himself. Icer™ has freezing powers and melts into water when he needs to get in or out of tight spots.
You must be 18 or older to purchase this product.
Well, this bio basically summarizes his Filmation episode "The Ice Age Cometh", which is fine and will not generate controversy, but I like a little bit more in a bio. What's this guy's background? The real name mentions a clan, but a clan of what? Is he a mutant or are there other Ice Men in Eternia? An ice golem? I'd like a little more info, but I'm sure Benty will help me with that.
Accessories
Icer comes with two accessories, the Staff of Avion and a deadly looking icicle. The icicle is cast in a clear blue plastic with a light frosting of white airbrushing that gives it a great icy effect. The PVC is pretty stable, but I think the tip where it gets thin is a little bent. Not a big deal. At first I was thinking this was a bit of a lame accessory, but I love it in use as a weapon in various poses.
The Staff of Avion is also pretty solid. From samples I've seen where paint has scraped off (mine is fine), it's cast in the same clear blue plastic as the icicle, but it's painted a couple of really nice gold tones. The staff has the right look from the Filmation version of the staff, but is enhanced with some cool details.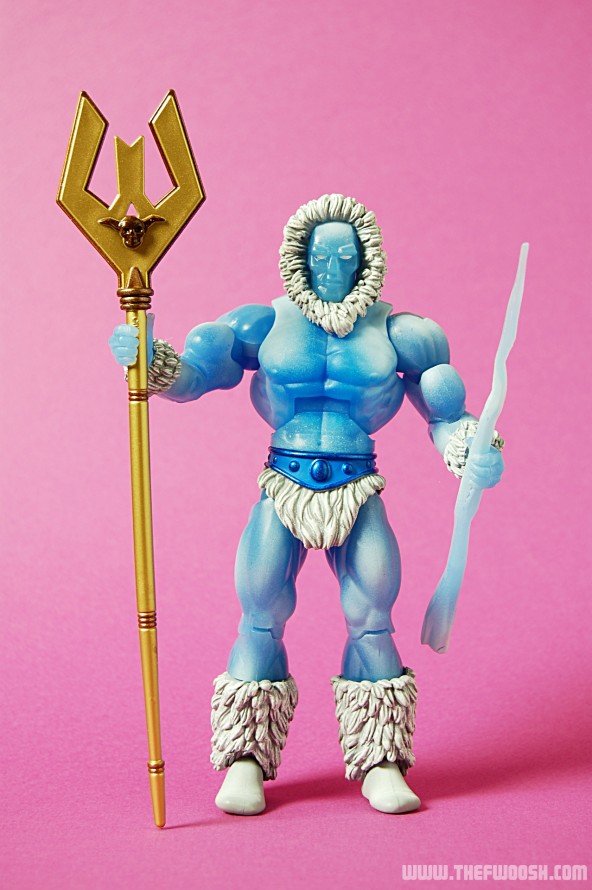 Though this accessory is really not for Icer, I love that they included it. It's one of the many cool Filmation story starting artifacts that are great to see in plastic. The staff really is more of a Stratos accessory, but he doesn't hold it well as his hands were not designed for that. The staff can be balanced in his open hands when he is standing around which is good enough for me.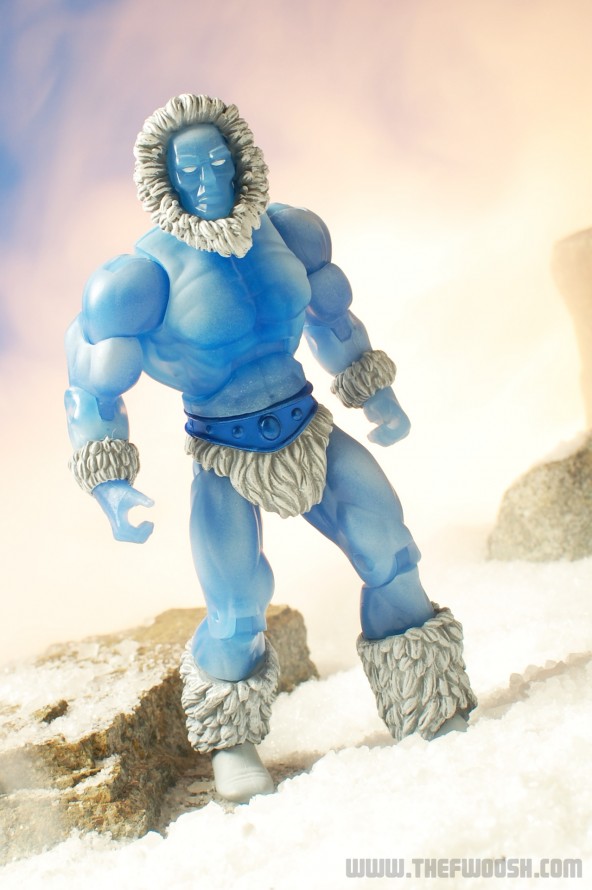 I only have one slight nitpick about the staff is that there are three mold flashing circles on one side and the other side has the ubiquitous CHINA stamped on it. I just wish there was a perfectly clean side.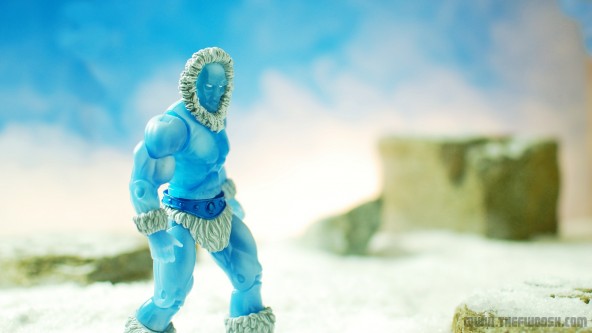 Sculpt
Icer features the usual amount of re-use in this line being built on the standard He-Man body with some new boots and forearms and head. The interesting thing I noticed was that his boots look very similar to Stratos' but are actually a different sculpt. I wonder why they did a new sculpt for such a similar piece.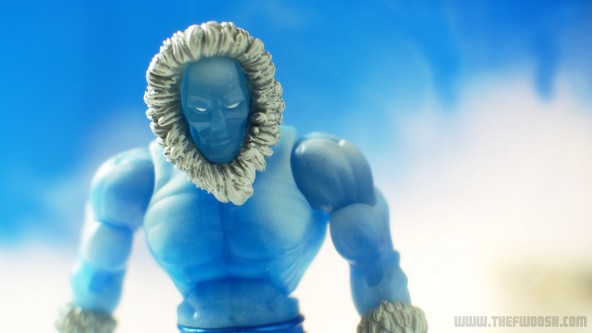 I think the face sculpt is perfection. To be honest, the drawing of Icer mostly looked comically stupid to me and didn't really quite convey the man of ice look that I think they were going for. I'm very glad that the 4H took a little creative license and made an intimidating face for this character.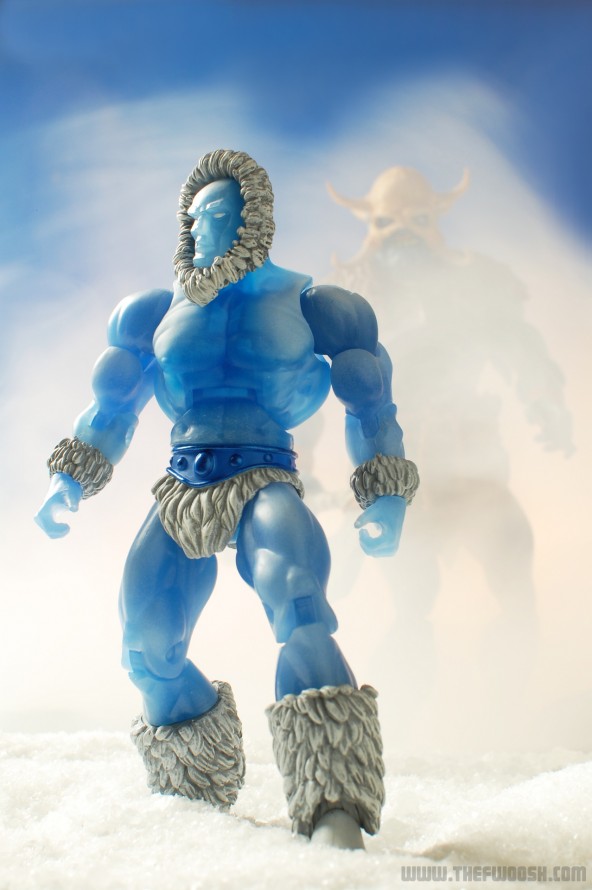 Articulation
Icer has the standard MOTUC articulation. The ankle articulation is slightly blocked by the furry boots, though really not much more than most MOTUC figures. It's really just the backward movement that isn't as good. The loincloth is flexible and allows for good hip movement.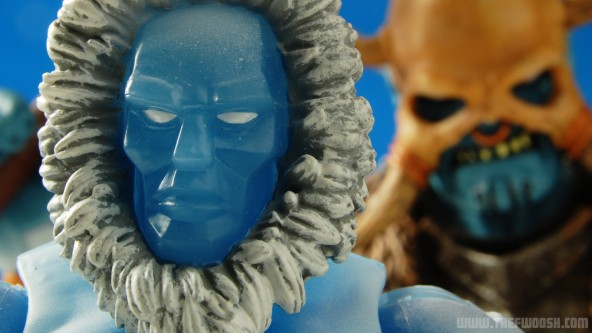 Paint
Paint on Icer is pretty cool. Heh. He's cast in all clear blue plastic with light white airbrushing for that ice effect. There is some nice drybrushing on the furry bits that brings out the details in that sculpt. It's good because it adds some more detail to a somewhat sparse design.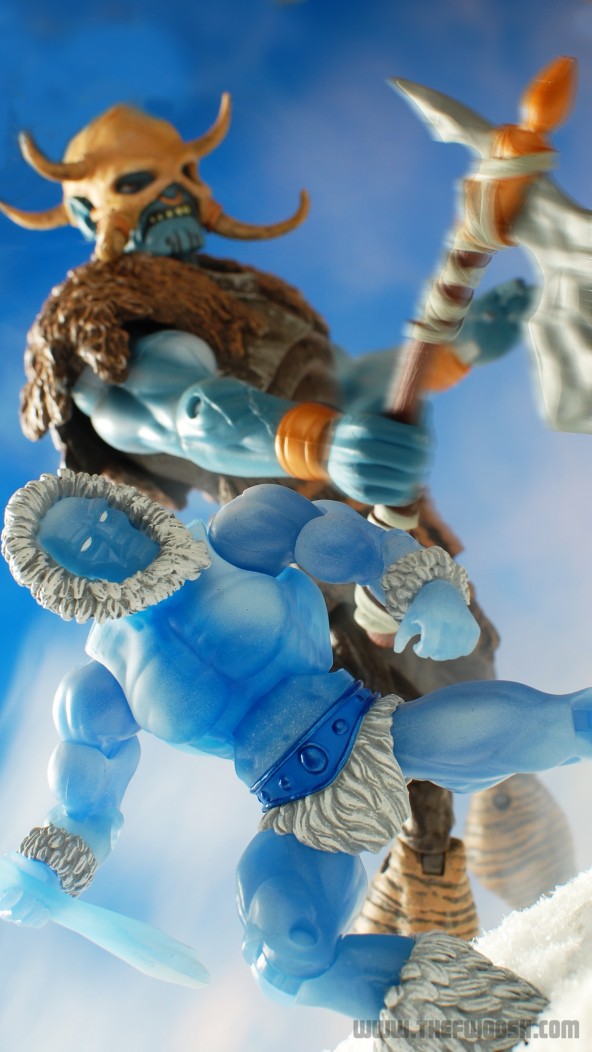 I also like the metallic Ice blue details on the belt. Again the 4H are keeping the source design, but they have kicked it up a notch with some sharper detail and paint applications.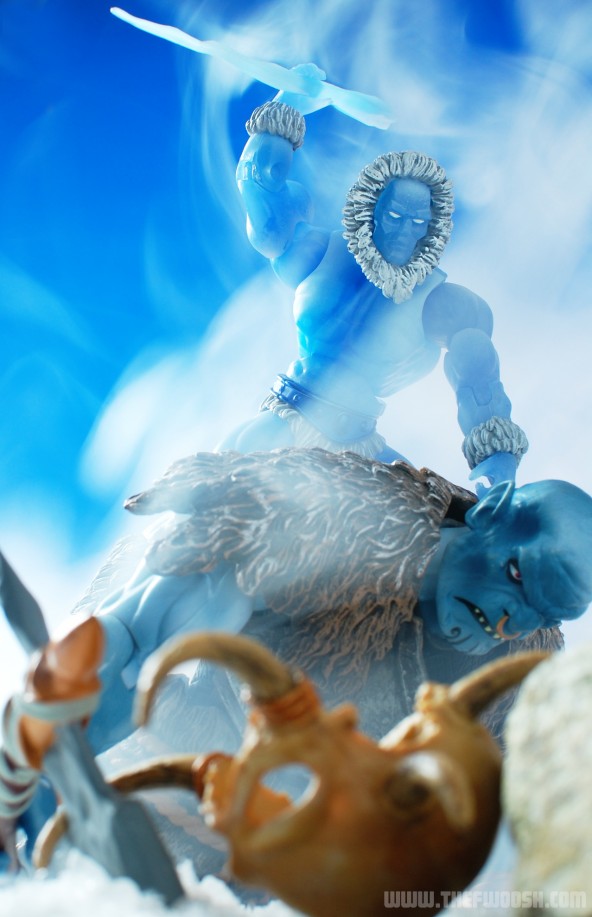 Final Thoughts
Icer is not on the top of my Filmation list. I didn't remember his episode from when I was a kid and I found it mostly irritating as an adult, mostly due to the whiny child who has to learn his lesson of the week (Phillip). The visual of Icer is kind of inconsistent in that episode as well, sometimes looking like ice and sometimes looking like a weird blue version of the Cowardly Lion from The Wizard of Oz.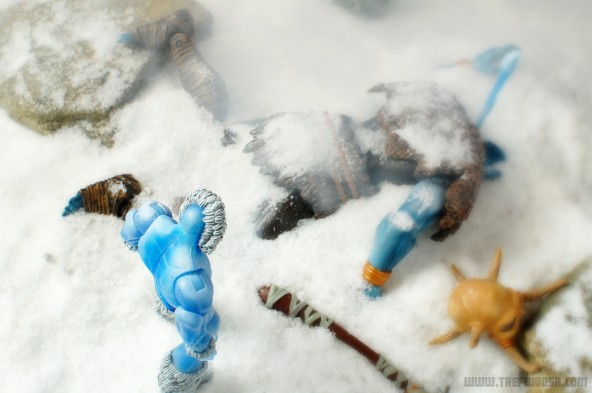 Any quibbles I had about the character went right out the window when I saw the prototype at toy fair. This version based on the MOTUC standard body and detailed head fur sculpts immediately grabbed me and I'm glad to say that the final product has lived up to that prototype. I think I might have liked to see the 4H design a bit of chest armor or a weapon strap like they did for Moss Man to make Icer fit in a bit more with the level of detail in the vintage toy designs, but the all the fur detail almost gets you there.
Song of Fire and Icer
Previous Features: