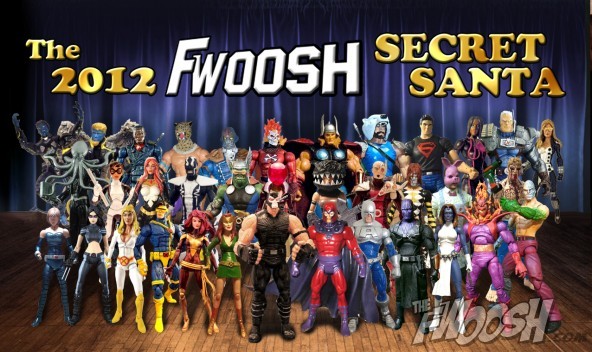 Fwoosh's own "Santa's little helper," ethansuplee, is once again putting together our Secret Santa Custom Swap!  It's been a really great event the last few years, and this year looks to be bigger and better than ever! So if you're interested, head on into the custom shop talk forum and sign up or follow the link:
OFFICIAL 2013 SECRET SANTA CUSTOM SWAP SIGN UP- 8/12 DEADLINE
Now that all of the SDCC craziness is over and done with and theFwoosh.com has remained standing in the wake of high traffic… it can only mean one thing:
It's that time of year again, time to start the 2013 Secret Santa Sign Ups!
PARTICIPATION RULES:
DEADLINE FOR SIGN UP IS MONDAY, AUGUST 12, 2013
WISHLISTS ARE DUE BY MONDAY, AUGUST 19, 2013
SECRET SANTA CUSTOM SWAP IS OPEN TO ALL SKILL LEVELS, BUT PLEASE PUT IN THE SAME AMOUNT OF WORK THAT YOU WOULD EXPECT FROM YOUR ELF. IF YOU DO NOT HAVE A CUSTOM GALLERY, BE PREPARED TO EITHER PUT ONE TOGETHER OR PRIVATE MESSAGE ME SAMPLES OF YOUR WORK TO PARTICIPATE. THESE RULES WILL BE STRICTLY ADHERED TO.
SECRET SANTA CUSTOM SWAP IS ALSO OPEN TO ALL LOCATIONS PER PREVIOUS SECRET SANTA EVENTS, SO PLEASE BE AWARE THAT YOU MAY HAVE TO SEND TO A FAR-OFF LAND SUCH AS ENGLAND OR BRAZIL IF YOU CHOOSE TO SIGN UP
THE OFFICIAL SCALE FOR SECRET SANTA IS 6-INCH SCALE (WHILE YOU MAY REQUEST A 3 3/4 SCALE OR 12-INCH SCALE FIGURE IN YOUR WISHLIST, YOUR ELF IS NOT NOT NECESSARILY RESPONSIBLE FOR PROVIDING YOU WITH A CUSTOM IN YOUR CHOSEN SCALE)
DEADLINE FOR FINAL CUSTOMS TO BE COMPLETED AND SHIPPED IS NOVEMBER 25, 2013 TO ENSURE THAT ALL PARTICIPANTS RECEIVE THEIR GIFTS BY THE END OF DECEMBER.
*NEW RULE*
ANY PARTICIPANT NOT SHIPPED BY DECEMBER 31, 2013 MAY FIND THEMSELVES BANNED FROM FUTURE EVENTS.
ALL RECIPIENTS MUST POST A PIC OF THEIR GIFT ONCE THEY HAVE RECEIVED IT, AT WHICH POINT THEIR ELF MAY COME FORWARD AND CLAIM THEIR WORK.
ALL PARTICIPANTS WILL NOT DISCLOSE THE NAME OF THEIR RECIPIENT, NOR WILL THEY POST PICS OF THEIR FINISHED CUSTOM IN ANY FORUM/THREAD ACROSS ANY BOARDS UNTIL AFTER INDIVIDUAL REVEALS ARE MADE.
THERE WILL BE A CHECKPOINT TOWARD THE BEGINNING OF OCTOBER. I WILL SEND A PRIVATE MESSAGE TO ALL PARTICIPANTS, AND YOU WILL BE RESPONSIBLE FOR CHECKING BACK WITH ME TO LET ME KNOW THE PROGRESS OF YOUR CUSTOM. FAILURE TO RESPOND TO THE PRIVATE MESSAGE MAY RESULT IN EXPULSION FROM THE EVENT (WE CAN'T AFFORD TO HAVE PEOPLE NOT RECEIVE THEIR GIFTS DUE TO FLAKY PARTICIPANTS). WE WILL PROBABLY HATE YOU AS A GROUP IF YOU FAIL TO DELIVER. PLEASE REMEMBER THAT THIS EVENT IS ESSENTIALLY A "TRADE." IF YOU HAVE BEEN A MEMBER OF THE FWOOSH FOR LESS THAN A YEAR, BE PREPARED TO ALSO PROVIDE A WORK-IN-PROGRESS PHOTO. DEADLINE FOR THE CHECKPOINT WILL BE IN EARLY OCTOBER.
WISHLIST RULES:
ALL LISTS MUST CONTAIN A MINIMUM OF 5 CHARACTERS TO CHOOSE FROM (NO MAXIMUM).
ALL LISTS MUST CONTAIN AT LEAST 1 MALE CHARACTER AND 1 FEMALE CHARACTER.
ALL LISTS MUST CONTAIN AT LEAST 5 COMIC-BOOK CHARACTERS.
YOU HAVE THE OPTION OF REQUESTING A SPECIFIC STYLE OF BASE BODY (EX: MARVEL LEGENDS, DCUC) OR SPECIFIC SCALE; HOWEVER, THE STANDARD SCALE FOR THE EVENT IS 6-INCH AND A REQUEST IS NOT A GUARANTEE.
FEEL FREE TO SPECIFY A PARTICULAR COSTUME FOR EACH CHARACTER IF YOU SO WISH.
Here's a link to last year's Secret Santa Custom Swap to see how it's all done.  Also a link to the 2011 Secret Santa Custom Swap.
So come on in,  get signed up and let's see what Secret Santa puts under your customized Christmas Tree this year!