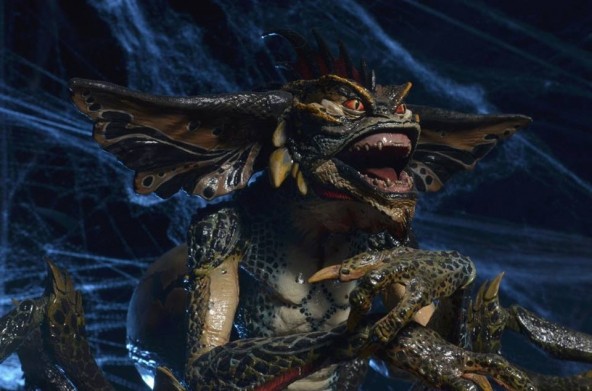 NECA just released a barrage of new pictures and new order information for their long-time-coming and ginormous Spider Gremlin! My Grodd it is BEAUTIFUL! If these pictures don't get you salivating, I am not sure  you actually like toys. This will be a one and done run, so place  your orders now. Also, NECA has stated that the success of the Spider Gremlin will be a determining factor in us seeing more Gremlins figures down the line, so go get him! You can order him now from Fwoosh sponsor Big Bad Toy Store right now. $47.99 for this guy seems like a steal. What are you waiting for?
From NECA Online:
***RETAILERS – All orders due by July 8th!***

The most massive and most incredible Gremlin figure ever produced is finally headed your way this Fall.

When fully assembled the Spider Gremlin stands over 10″ tall and is nearly 15″ across and over 12″ deep!!

It is enormous and full of detail! An incredible re-creation of the puppet seen in Gremlins 2: The New Batch the Spider Gremlin features a hinged jaw, ball jointed shoulders, elbows, and wrists and 8 massive spider legs that are also articulated in 3 places each! In total over 30 points of articulation!!

Also includes a support stand to help balance and display him in your desired poses. This figure will be the centerpiece for every Gremlins collection – Don't Miss Out!!

LIMITED TO ONE PRODUCTION RUN ONLY. This figure will NOT be available to re-order!
Additional Links