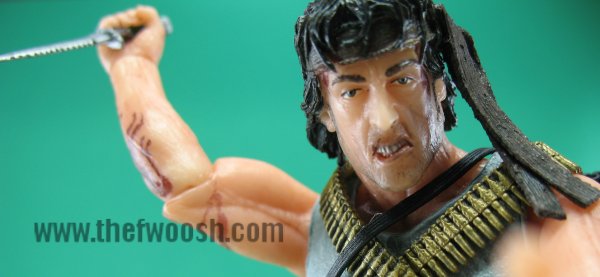 It seems we've entered into a golden age of movie-related action figures, led by NECA's current blitzkrieg of well-articulated offerings. They've been hitting the movie properties hard lately, delivering figures from Predator, Alien, Rocky, Gremlins, ET and other franchises. Sylvester Stallone in particular is receiving a lot of attention, and now Rambo finally joins the fun with an action figure straight out of First Blood.
While it's doubtful that any figure is going to hit the height of the Dutch figures from the Predator line in terms of appeal, desire, and end result, Rambo is a character with just as much iconography and even more history behind him. Spanning four movies, Rambo was one of the defining movie heroes of the '80s. In fact, when you think of macho action movie excess, Rambo is likely the defining character of that genre.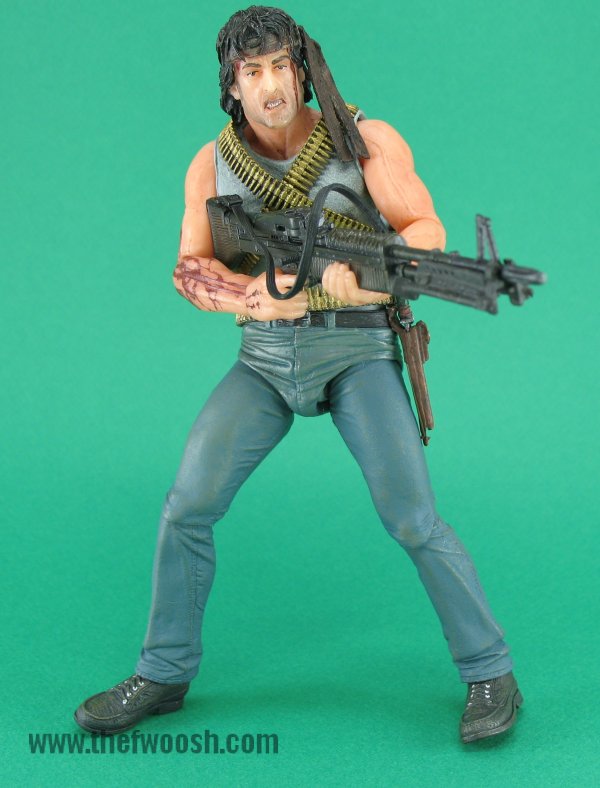 The downside is that most people seem to want the Rambo from the later, more iconic movies. First Blood is a different beast than those movies. While they elevated Rambo to near unkillable, inhuman superhero mode, First Blood is a tonally a totally different movie; it's a reactionary story about the damage that fighting other people's wars can do to a man. We're watching a man break down on the screen, reverting to a primal instinct: well-trained and dangerous. Where Rocky was always the story of a man defeating impossible odds to come out a winner, or at least a better man than he was before, Rambo was the story of a man who had exceeded his sell-by date and was existing disconnected and adrift in a world that no longer fit him, and that he no longer really wanted to live in.
With that said, this figure essentially is just a man in pants, so he's not going to be as visually exciting and stunning for those that needs their action figures to have more shelf appeal. But he's an important figure to make in the history of the character, so I'm glad to have him.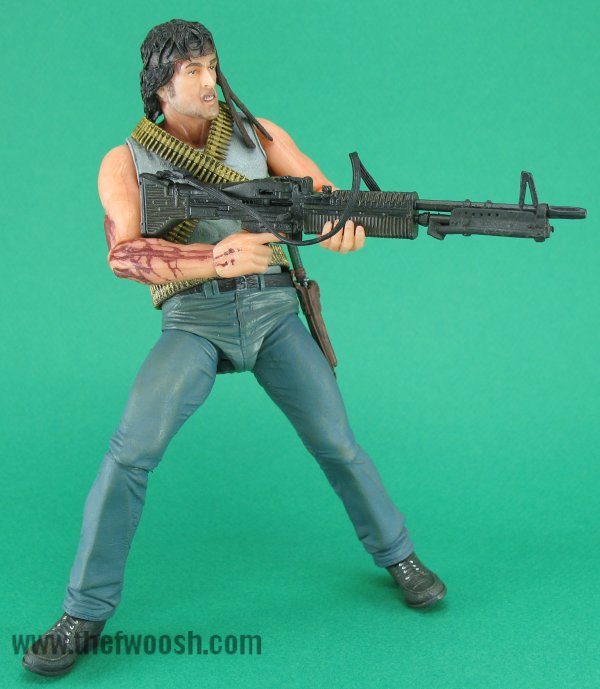 The figure itself has what is now the standard articulation setup of NECA's more articulated offerings, with the flexible crotch overlay that produces a more believable crotch area while maintaining the articulation capabilities of ball hips. He comes with an alternate right hand for gripping his knife, which was a nice little touch.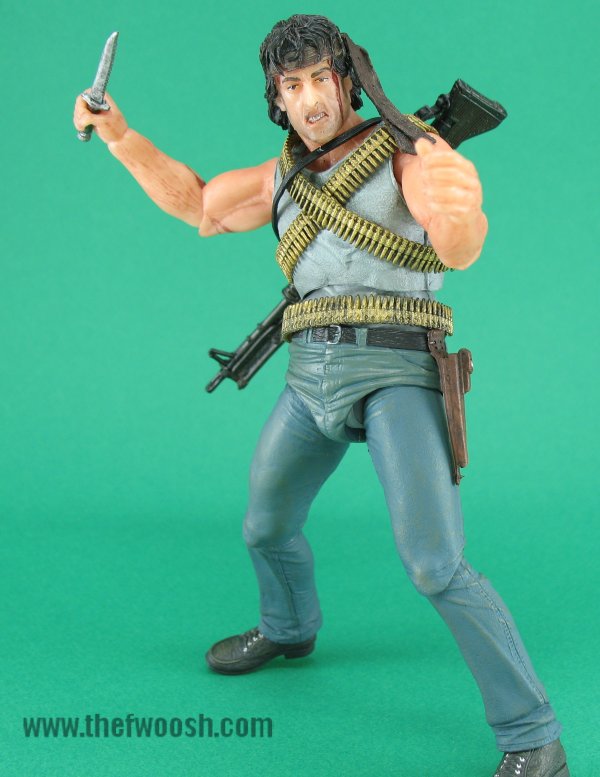 The general flexibility of the elbow joint has so far been determined by whether or not the arm is a shirt sculpt of a bare-arm sculpt, and since this is bare arm, he has a full 90-degree range. While that may not be enough for devotees of double joints, it's enough to get the job done in the usual poses. I wouldn't mind a bit more range, but I understand NECA is going for a difficult-to-maintain balance between articulation and aesthetics, so it's fine. He has a flexible shirt overlay on the top part of his torso and a sculpted shirt on the lower part, so he gets a decent range of crunching and twisting.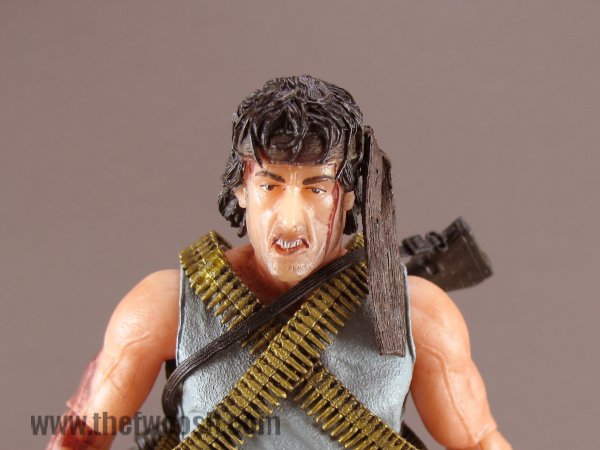 I've read complaints about his face sculpt. Stallone has a fairly unique and peculiar face, and while this one doesn't seem to nail it completely, it works well enough for me and actually looks more and more like him the longer you stare at it. It's just one of those faces that's a bit like an inkblot: you're going to see what you're going to see.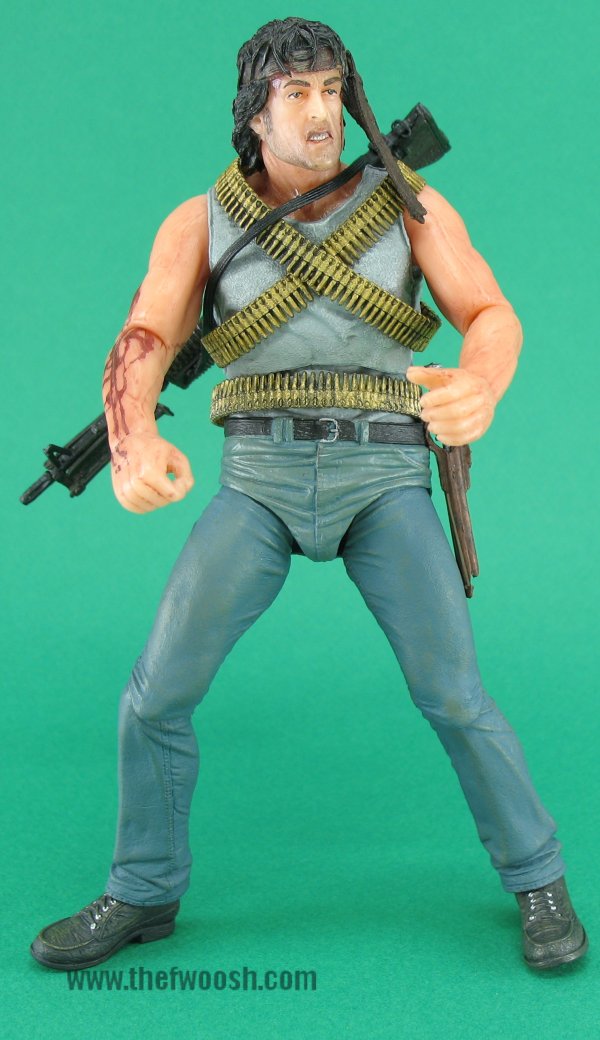 He comes with a hunting knife that slides neatly into a sheath on his side, and his big-ass M-60 with three removable ammo belts. Any of the belts can be taken apart and slid into the Machine gun if you want to have the belt feeding into it.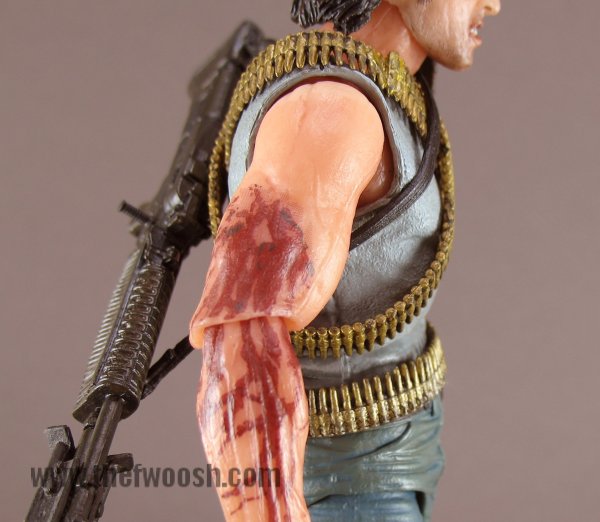 Paint is good all over, down to the little bits of silver on the grommets of his boots. The blood on his arm has a nice "old blood" color, like it's been dry for a while.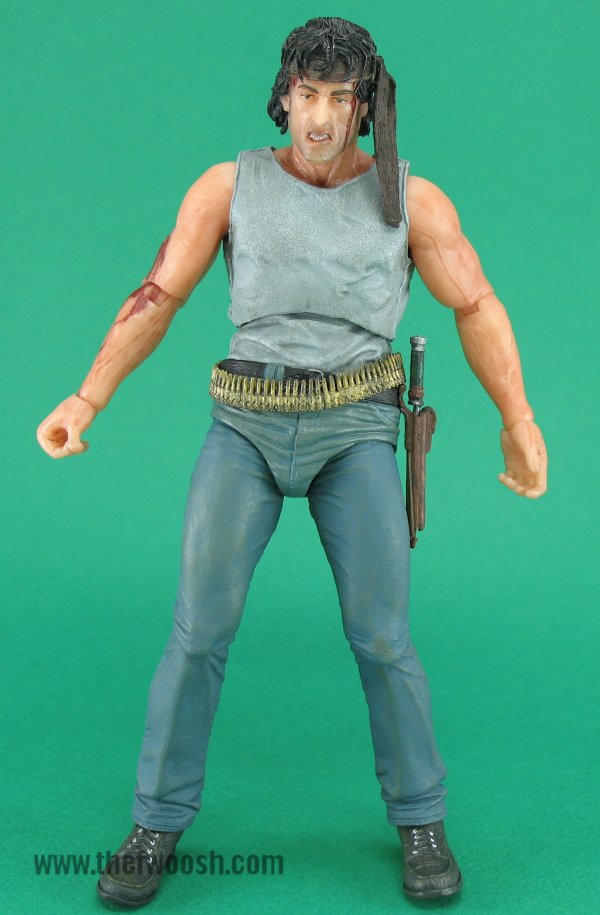 Overall I'm happy with this figure, and it's great to get yet another iconic movie character into the collection.