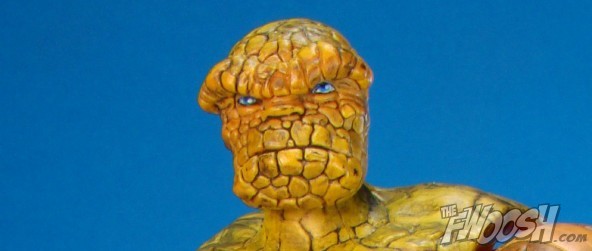 I love this figure. Even though it isn't perfect, it is pretty damn amazing. First released in 2002 as part of Toy Biz's Marvel Legends Series 2, this figures continues to hold its own against most of the current offerings out there. Ben Grimm made his first appearance back in 1961 as a chunky, blobby pile of rocks in Fantastic Four #1 and remains one of Marvel's greatest characters.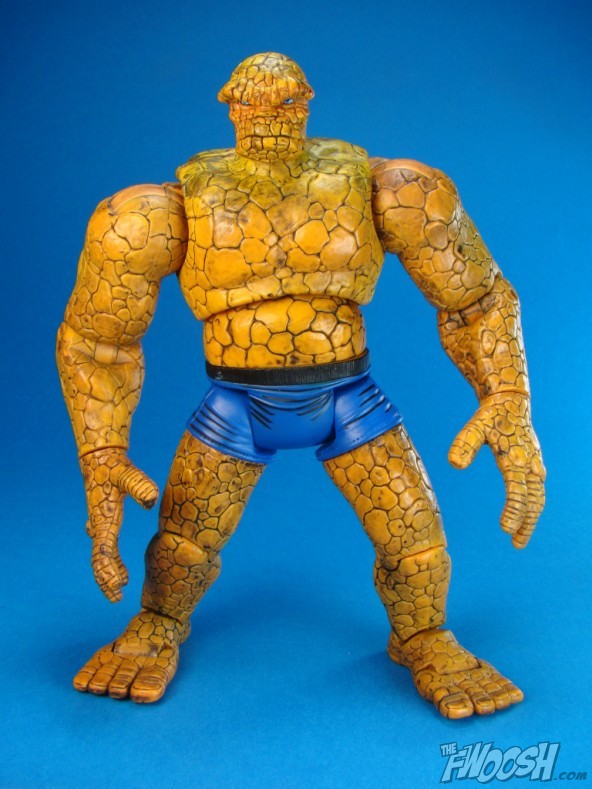 The figure was at the center of controversy when it was released all those moons ago. You see, there are a group of collectors out there that believe that The Thing should be represented in toy form as he is in the comics. In other words, to scale with his comic stats. Thing's comic stats had him listed as being six feet tall, which would mean the figure should be six inches tall — one inch to one foot, ala 1/12 scale. Thing was released as a large figure, closer to seven inches in height, and the Internet exploded with collector rage.
In time, we convinced ourselves that this was OK. There was a device called "relative scale," or how an artist interprets the scale. And, sure enough, there are plenty of examples Thing being Hulk-sized. That kinda calmed us down, until… we saw the articulation.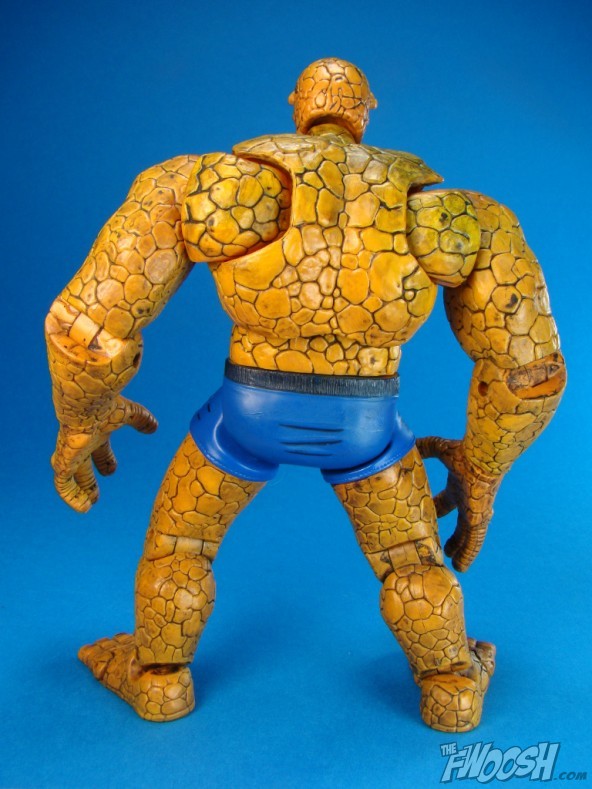 NO BICEP SWIVELS! NO BALL JOINTED HIPS! Just as the Internet was getting a break from raging, BAM! More collector rage. Featuring hinged toes, rocker ankles, hinged ankles, hinged knees, thigh swivels, t-crotch, waist swivel, ball abs, ball shoulders, forward shoulders, hinged elbows, swivel wrists, articulated fingers, and, finally, a ball head, he was loaded with articulation. But we still managed to bring the house down about the t-crotch and the lack of bicep swivels. Now, the lack of bicep swivels — we can probably justify this since there was that nifty forward-shoulders thingy where the shoulders popped out towards the middle of the pecks, giving similar forward movement like a bicep swivel. Horrible justification, but ya gotta run with something.
However, the greatest travesty was the lack of ball hips. I mean, c'mon! What kind of figure doesn't have ball hips? To be honest, in 2002, not many. Marvel Legends was one of the first lines to use them in a mass-produced six-inch line. We'd seen ball hips in other scales, but not in six-inch superhero lines. After some rationalization, we calmed down a bit and counted ourselves to be happy to have a Thing with bendy fingers that worked and that had a fantastic sculpt.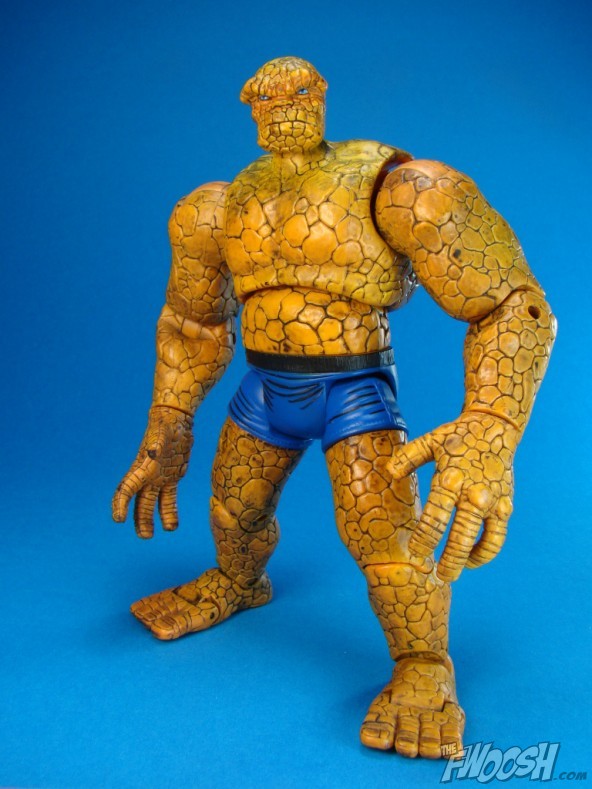 Really, this is still one of the best-sculpted Thing figures to come out of any line, except maybe Jesse's four-inch Thing that Digger liked playing with at SDCC. Other than that, this is the one. Phil Ramirez really knocked this one out of the ballpark. It channels George Perez and John Byrne from the '70s and '80s. The rock work is simply amazing and the attention to detail superb. And the face — if there was one thing that Ramirez was consistent in all his work, it was the head sculpts. He was always spot-on with capturing the essence of each character. And each detail magnificently brought out by paint.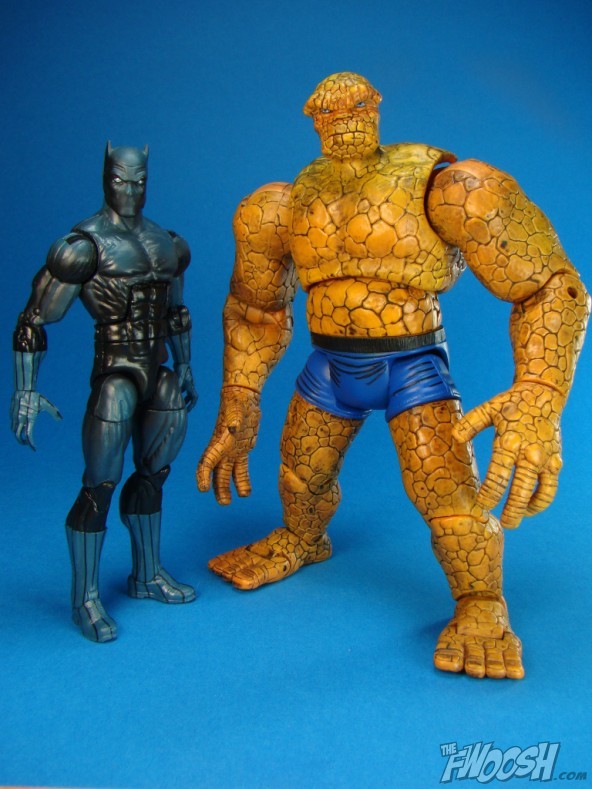 If I remember correctly, Ed Wires was responsible for the paints on Thing. Ed was the primary prototype painter for most of Toy Biz's Marvel Legends, continually churning out incredible work after incredible work. His prototype painting did not always make it through mass production, but more often than not it did.
Paint plays a huge part in bringing character to this figure. The color of the stones, the facial details the black wash that fills every rocky nook and cranny — simple amazing. I'll be honest, I miss the days when paint apps were consistently this good.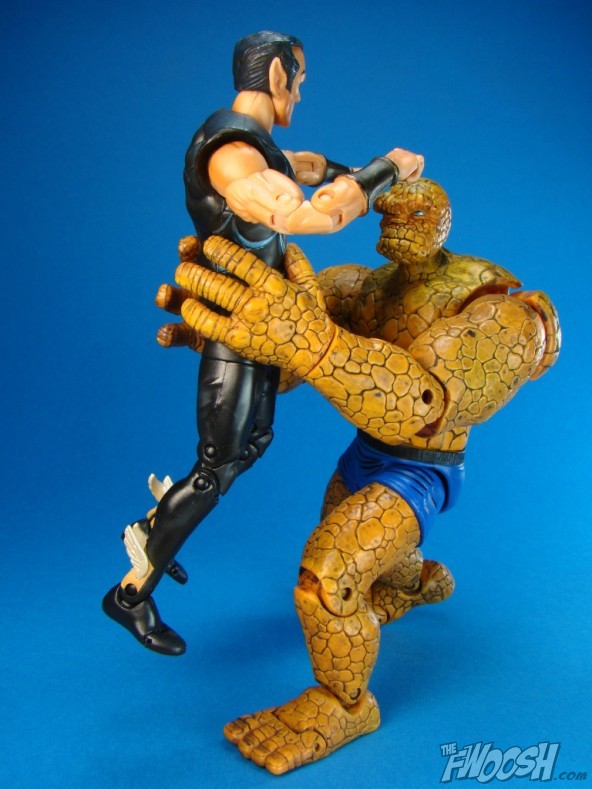 While I make note of the scale and the articulation, this is one of the best Thing figures to hit the market; it is still very posable, fun to play with, and stands perfectly in any vanilla display of classic Marvel figures.
Thing is still available today on Amazon.com and I encourage you to add this figure to your collection.
You can discuss this topic further on the Fwoosh forums.