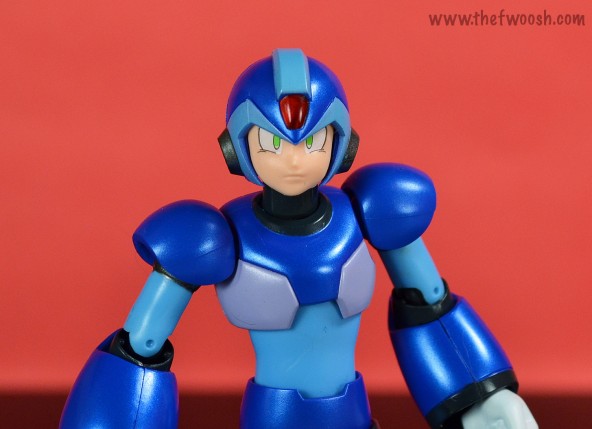 I've held a bias against MegaMan X for decades. The character and game debuted for the Super Nintendo system way back in 1993/1994, but I didn't get around to playing it until a full 20 years later, this past winter. I was a huge fan of the original MegaMan game series Capcom produced for the original Nintendo system, but for some reason my enthusiasm never carried over to this "new" interpretation of the game and characters. I guess it felt like too big a departure, even though it totally isn't, and I was reluctant to take on something that deviated from what I had grown to love in the original series.
Then, this past Xmas, my lovely wife surprised me with a hand-held system that could play vintage SNES games, so the first one I sought out was the original MegaMan X. Since this was the series Bandai was focusing its efforts in terms of figures for their D-Arts series, I figured there had to be something there to merit this attention.
And I was right.
I was hooked on MegaMan X Immediately and played it every chance I got. I was also kicking myself for waiting so long because now that I had finally decided I was ready to dive into the D-Arts line full-steam, all the figures were sold out everywhere and many were commanding top dollar on the secondary market.
Crap.
Thankfully, and so very timely, Bandai announced they were reissuing their original MegaMan X D-Arts figure, so straight to Amazon I went to put in my preorder. I'm very grateful to have been given a second chance to pick up this figure for a reasonable price and can't wait to pick up more in the series. But before we get too far ahead of ourselves, let's take a look at MegaMan X, or "X" as he is known, and see what this guy has to offer.
X is a gorgeous figure. The blues, the subtle red accents, and his green eyes all pop in a way that is almost a celebration of what he is — a classic video game character. Everything about him looks fun, and, given that he's designed sporting the classic "hero" colors, he looks like a souped-up "superhero" when displayed next to Bandai's classic MegaMan figure.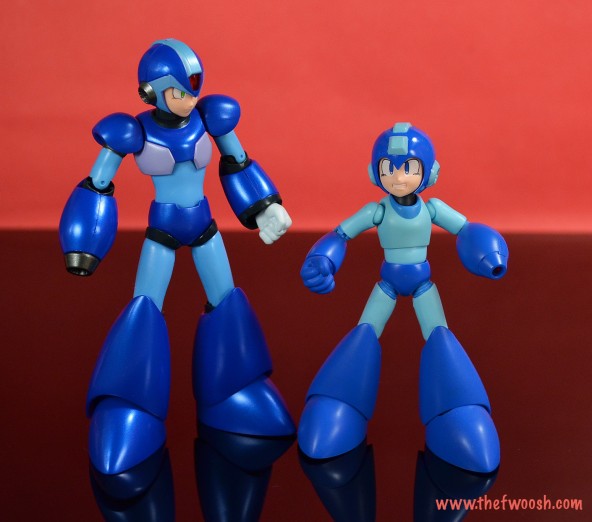 In comparison, he really looks like a "grown up" MegaMan. It's feels like we're comparing Robin to Nightwing, in a sense, but the difference here is they're not the same character and the classic MegaMan is approximately a full century older than X.
X's colors pop more in comparison to the classic figure, which adds to the "souped-up" effect, and the metallic blue of his armor just looks awesome. X's upper body armor adds a lot to the character and further makes the classic figure look like a little kid in comparison.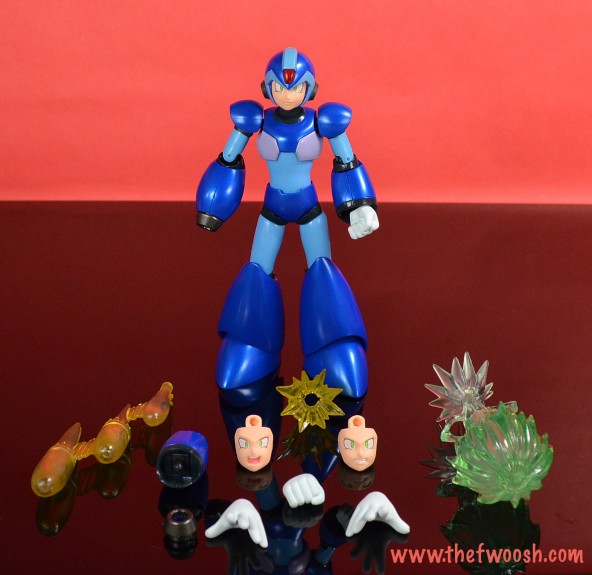 X comes with a whole mess of accessories, and it's clear Bandai cares about giving their customers their money's worth.What we get is a very generous assortment:
-Two different blaster projectile effects.
-Three swappable hands.
-Two swappable faces.
-A blaster arm for his left arm.
-A swappable barrel for his blaster so the projectiles can be attached.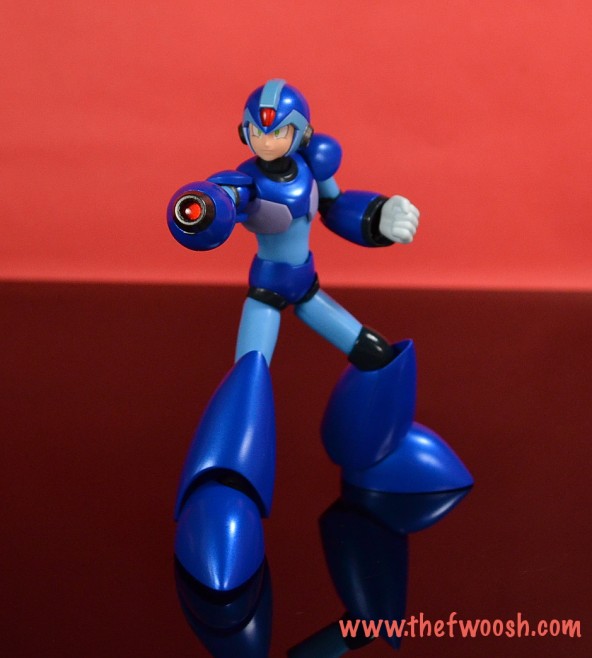 When it comes to his blaster, I can't decide what I prefer. I really like the neutral, non-firing option (above) because that little bit of red we see as we gaze into his implement of death looks really sharp. I love the glossy effect — it almost looks like a red jewel.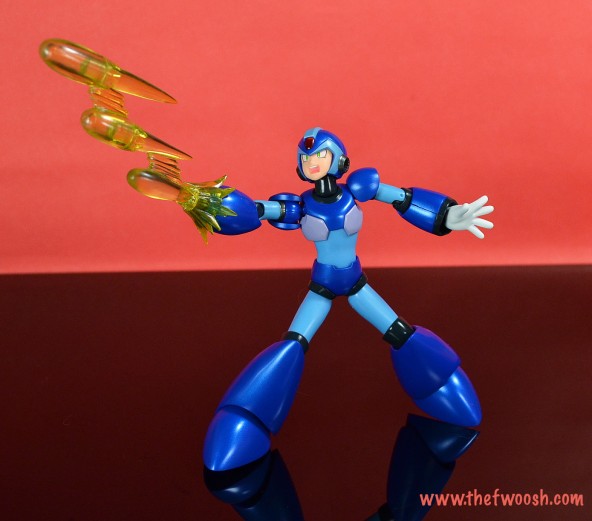 The yellow multiple-projectile effect is a nifty accessory and a clever way to recreate the rapid-fire effect of the player hitting the "fire" button as fast as they can while playing the game. It works reasonably well, but I can't say I'm a fan of just leaving it displayed in place while he's on the shelf. Unless he's in an extreme action pose, it doesn't look all that natural. It's still pretty neat, though.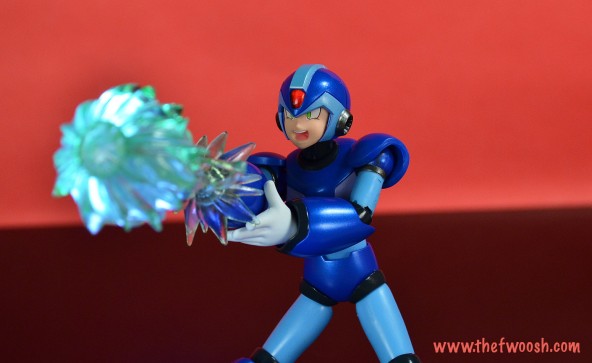 This effect, a more amped-up blast effect, the type that is usually created by holding down the "fire" button for a few seconds before letting a bad guy have it, is a little bit more up my ally because it can be displayed with X in a more natural pose without looking too goofy on the shelf. But because it's a sculpted blast effect, it sort of looks like "ice" when viewed from certain angles and in certain light. That works, though, because it's now possible to pretend he's acquired an ice blaster from a fallen foe.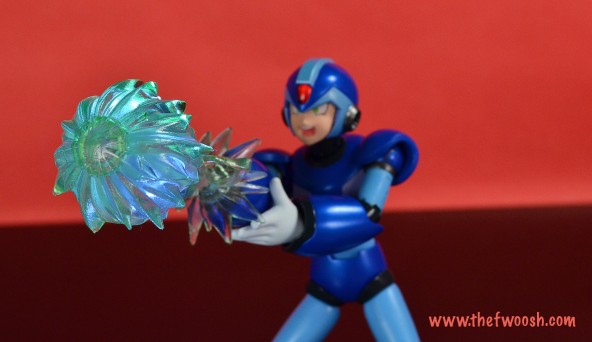 His swappable faces are all pure emotion and help the figure convey so much. The open-mouthed, "yelling" face pictured above is my favorite of the three and complements the heavy-duty blast effect beautifully.
His packaging is in the typical D-Arts style: very character-specific and very sharp. It manages to showcase almost everything that's contained within in a very limited amount of space. It's tough to toss out packaging like this, but since he comes with so many accessories that can't be displayed all at once, I just use it to store it all. Works for me.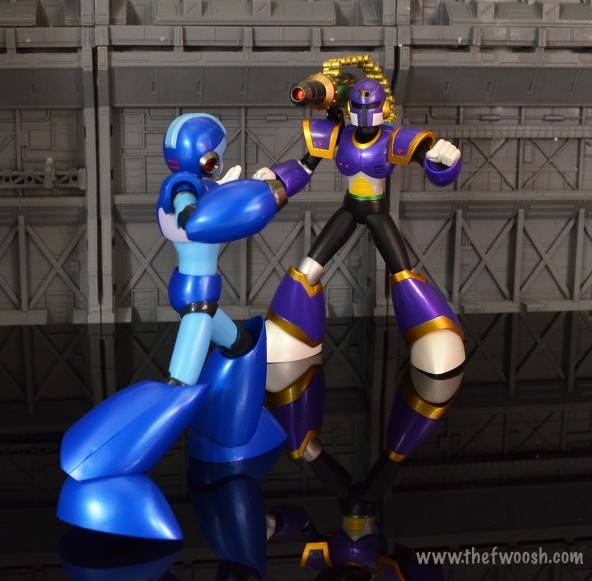 One other figure I was able to pick up was Vile, one of the main baddies from the game. These two display together very nicely since they share many design elements. Ostensibly, they're practically the same figure from the waist down and their respective articulation schemes are identical.
X's blast effect can be lit up easily to enable cool action shots like those above. The plastic used is downright luminescent. Just to be clear, though, there is no internal lighting effect — the above was achieved just by shining an LED light on the blast.
When a great amount of detail is given to the bottom of a figure's feet, it's safe to say the sculptors and production company really care about the quality of product they're sending out to market. It's almost like a litmus test. In X's case, it's almost a shame the bottoms of his feet were given such a degree of attention because I'd love to display him in a kicking pose just to showcase them, but it's an unnatural pose for the character. The red looks so sweet, though, and it matches his blaster and helmet perfectly.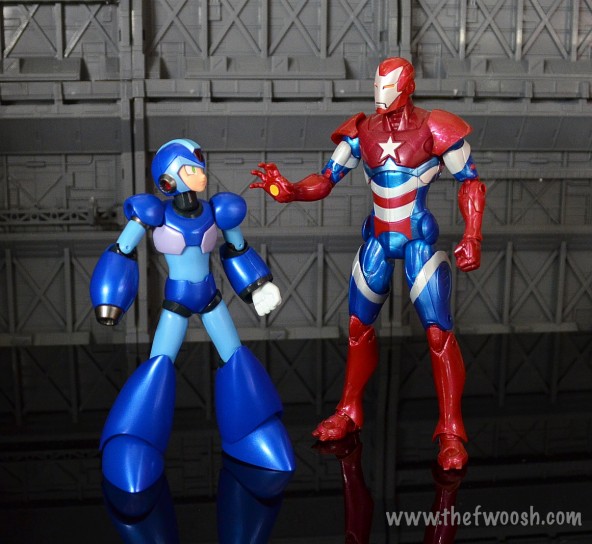 Even though he's a good deal larger than the classic MegaMan figure, X is still on the smaller side. At approximately five inches tall, he's a good deal smaller than the average Marvel Legends figure or any other six-inch figure on the market today. He makes up for his lack of size by coming packed with so many accessories and by having articulation that is actually useful.
Since this guy is a reissue, he can be picked up at the usual online locations right now. I'd recommend grabbing one sooner rather than later, though, because the popularity of this line isn't exactly decreasing and another sell-out is certainly not out of the question.