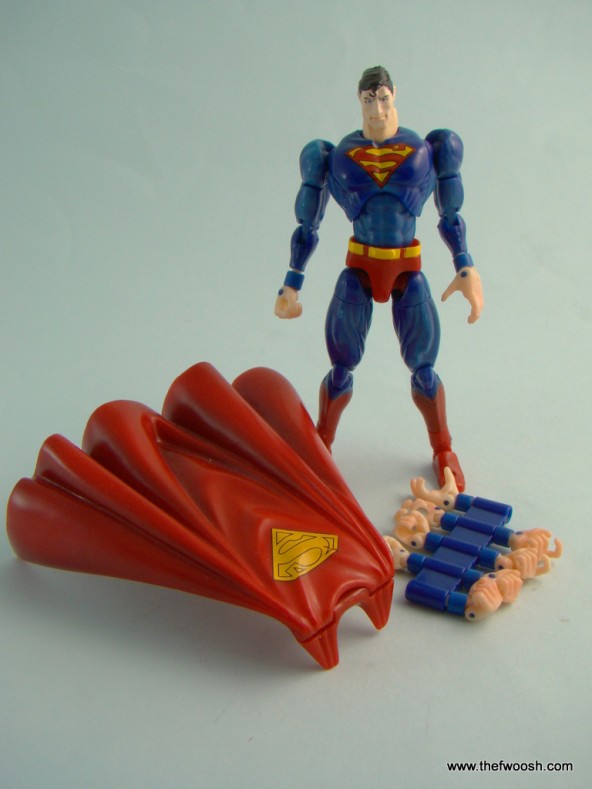 What kind of build up would it be on the Fwoosh if there was no Man of Steel hype? A horrible one. As a result, I bring you Takara's Microman Superman. Released years ago, this bad boy came at the peak — no — the end of the new Microman era. Relaunched in Japan in 1998, Microman built off the successful line launched in 1974, well, '72, but that's another topic. The relaunch featured the smaller 4″ scaled figured like those from the '70s and early '80s. They were molded in clear plastics and had silver heads just like the originals. And they even featured magnetic parts. There were vehicles and robots and Acroyears and all of the good classic stuff updated for the modern era.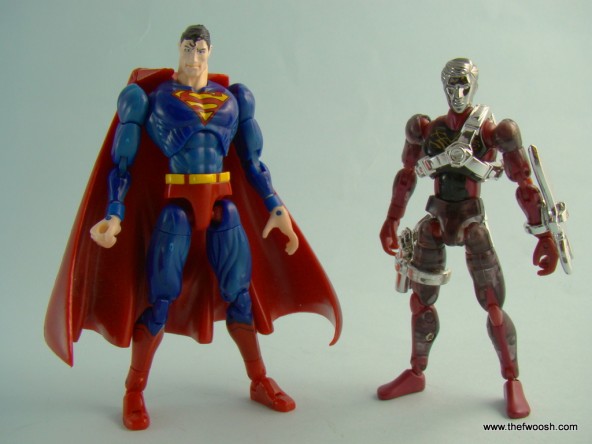 And one of those updates would change 4-inch figures forever. They were super-poseable figures that featured double ball-jointed shoulders, ball-jointed hips, ankles, double-hinged elbows and knees, thigh swivels, ball-and-socket pelvis and abs, ball-jointed heads, swivel biceps and wrists, and even toe joints. These things were loaded — 4 inches tall and looked fantastic! Incredible! During the years they introduced female figure and larger bodies. They made Aliens and Godzilla and other Kaiju. Batman and Superman were themes.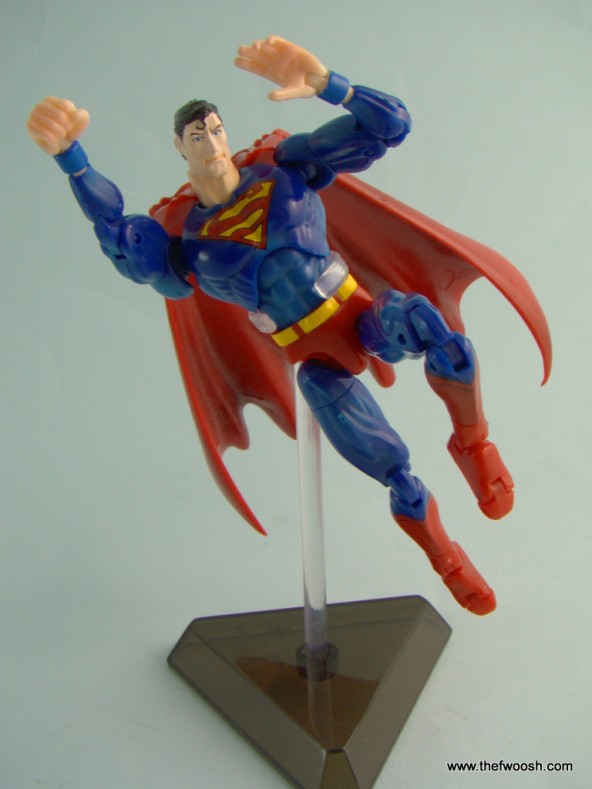 Superman here represents their comics version. There were a Superman Returns figure and a Supergirl, but the figure covered in this article sported a totally new Microman body, one that I think was only used on Superman and never saw a regular Microman release.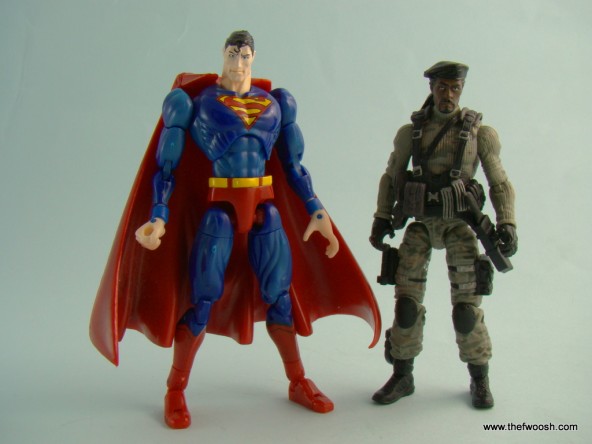 The body is HUGE! You can see it next to one of the '98-era Microman's in the picture above. And a 30th GI Joe Sgt Stalker and MU Nick Fury below. And all of the articulation — it's almost too much since every joint works perfectly! He is crack for the hand.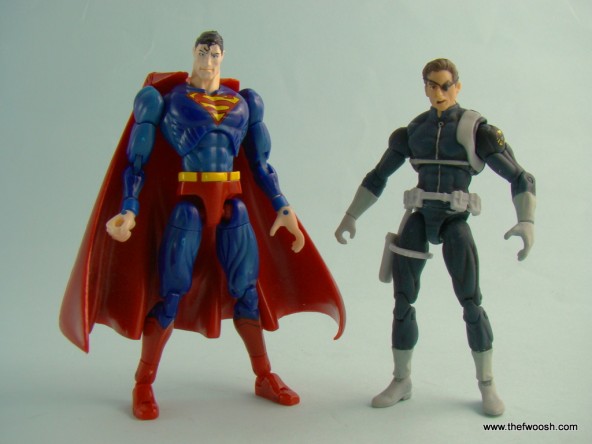 The sculpting on this figure is amazing. It's a departure from the earlier, large body Microman Supes that had Toy Biz-level sculpting. It's comparable to, if not on par or better than, Marvel Universe sculpting. The muscles are fantastic. The head sculpt… yeah. It leaves a lot to be desired. It's not quite a great sculpt; it wants to be anime and western all at once. And the paint doesn't help. I know that paint at this scale is tough but the pasty white… and Phyllis Diller eyebrows? Ugh.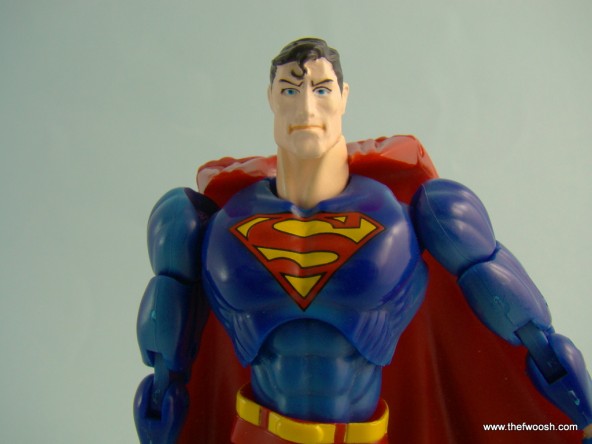 There are extras. While the cape is not really an "extra," it is removable, and there are the standard ten hands that come with Supes. All have a hinged wrist and peg fits snugly into the forearm; you don't have to worry about them falling out.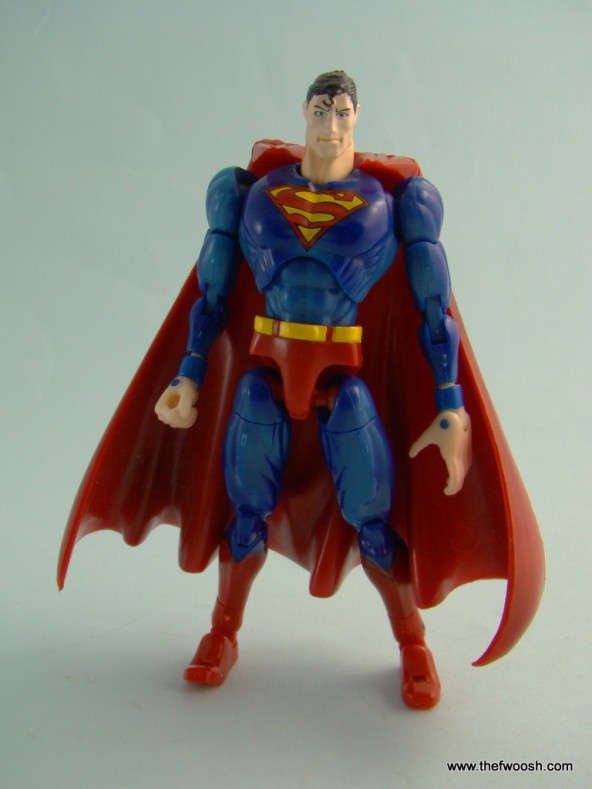 For any collector wanting THE 4-inch version of Superman for their collection, I highly recommend this version. The sculpt is spot on, the play factor is excellent, and he fits in with any modern GI Joe, Marvel Universe, or DC 4-inch line.
You can still find this Superman for sale on Amazon.com. http://www.amazon.com/s/ref=nb_sb_noss_2?url=search-alias%3Daps&field-keywords=microman#/ref=nb_sb_noss_1?url=search-alias%3Daps&field-keywords=microman+superman&rh=i%3Aaps%2Ck%3Amicroman+superman
As always you can discuss this subject further on the Fwoosh forums: http://thefwoosh.com/forum/viewforum.php?f=91