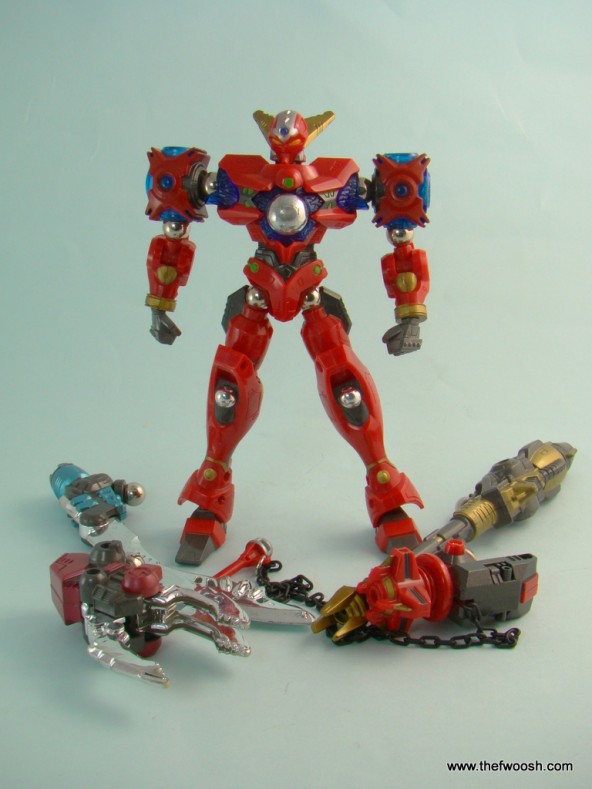 This is not your father's Robotman. Or Biotron. Closer to your Micronauts Force Commander. In the US Microman became Micronauts and had a kick-ass comic drawn by Micheal Golden attached to the launch of the toy line. But many of the names of the toys and characters were changed. Microman Robotman became Micronauts Biotron, for example. And I'm certain there is a legal reason that this happened and one that I'll research for a future article. During the Microman relaunch in 1999, we were treated to Magne Power Robotmans, actually three, that were throwbacks to Microman Titans of the '70s. This is where we need to be clear, these new Robot figures are more like Mego's Force Commander and Baron Karza from the Micronauts line. They share a history through the Microman Titans line, specifically to Jeeg who was eventually transformed into Force Commander and Karza. Confused? Good.
Micrcoman Jeeg ('70s) -> Micronauts Force Commander and Baron Karza ('80s).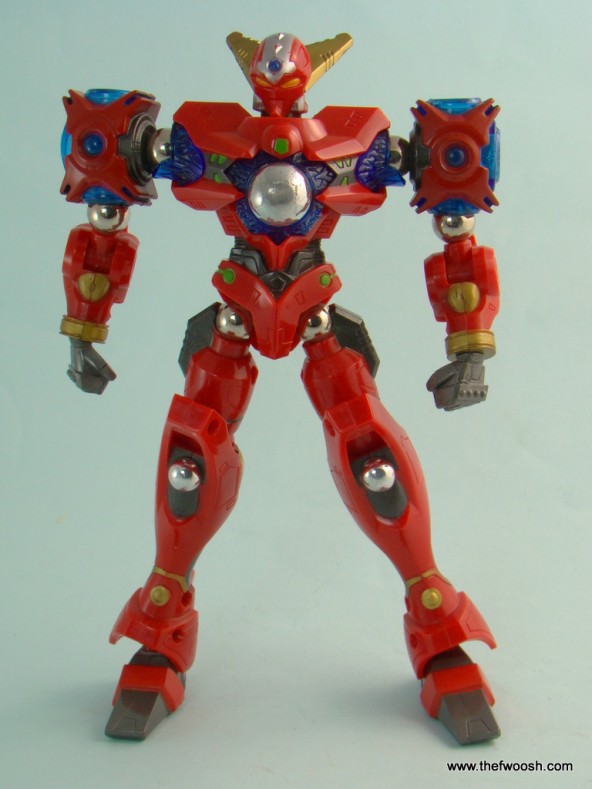 Takara 053 Magne Power Microman Robotman Dean and 054 Magne Power Microman Robotman Endeavor 054 are the modern-day equivalents of the Microman Robotman or Micronauts Biotron. Yes, I'll be honest, I have a hard time connecting the dots on the history of the figures and the designs, but I do my best. If anyone has tighter information, please let me know.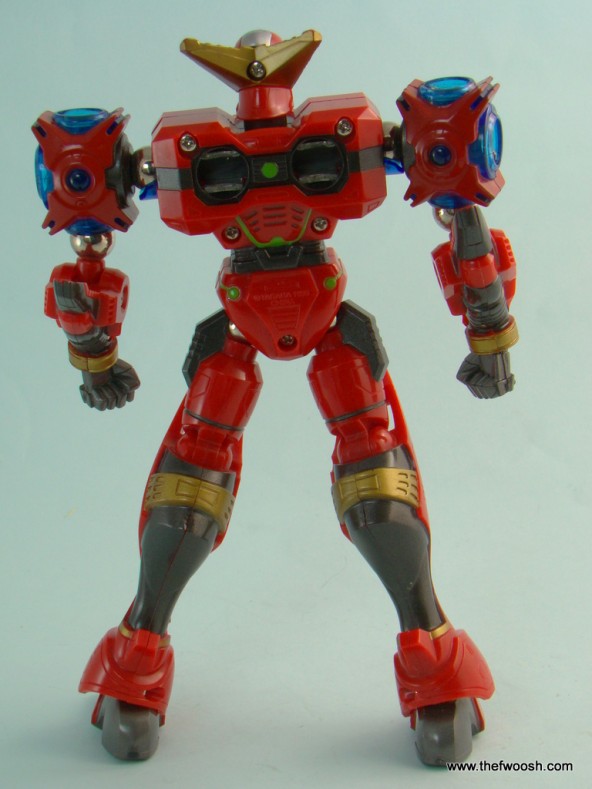 Back to our friend Ace. He is, in fact, magnetic. In the original Microman Titans line, there was a base body where limbs, legs, and arms were attached via magnets at the shoulders and hips, a genius system if you wanted to mix and match parts, which is what you could do. This concept was brought back to life in Ace and his buddies. You can pull his arms and legs off — the magnets holding them in place are pretty strong and can hold most of the poses.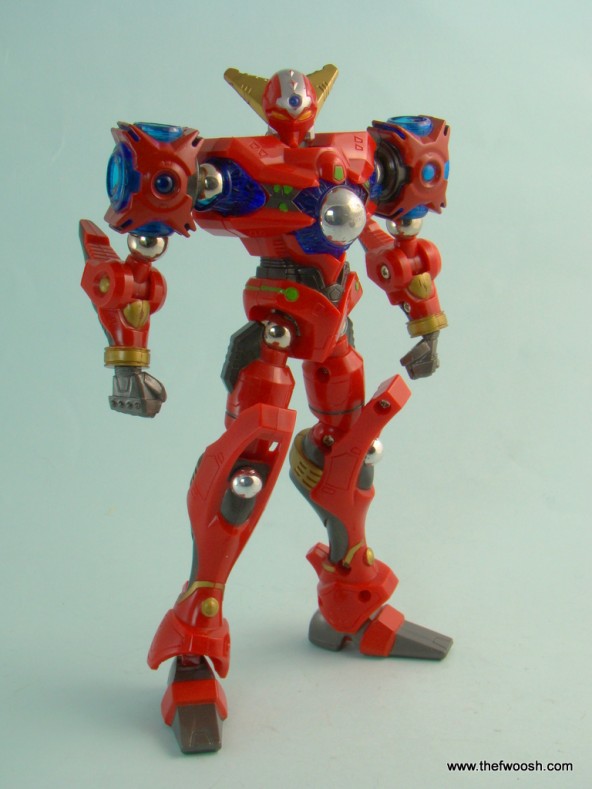 In addition to the ball-jointed hips and shoulders, he has ball and socket ankles (they can be modded for better movement), hinged knees, ball hips, ball shoulders, ball biceps, hinged elbows, swivel wrists, and a swivel head. All the joints work exceptionally well and there are hours of fun to have with these figures.
In addition, this figure comes with attachments galore! A big honkin' sword, a large cannon, a small cannon (with a chain), and a claw. All sorts of combinations can be made for beating up on Microman, GI Joe, Marvel Universe, and other scaled figures! Ace has multiple attachment points for the add-ons. You can put them all on at once or mix and match. The shoulders have a total of six magnetic attachment points, three on each shoulder. AND! Two on his back. You can mix and match like crazy. I think my son pulled off his arms and legs, gave him a claw arm, a small cannon arm, a big cannon leg, and a sword leg. All I know is that a lot of Joes and Marvel Universe figures have lost a great many battles due to this configuration.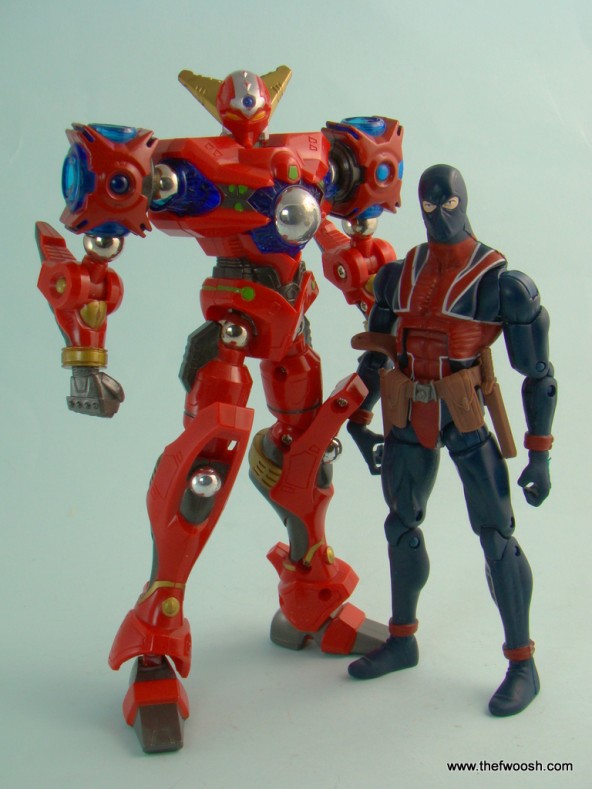 Ace here is a ton of fun and the sculpting is really sharp, definitely on par with the rest of the line, if not a cut above. You can still find him on Amazon.com
As always, you can discuss this topic further on the Fwoosh forums.