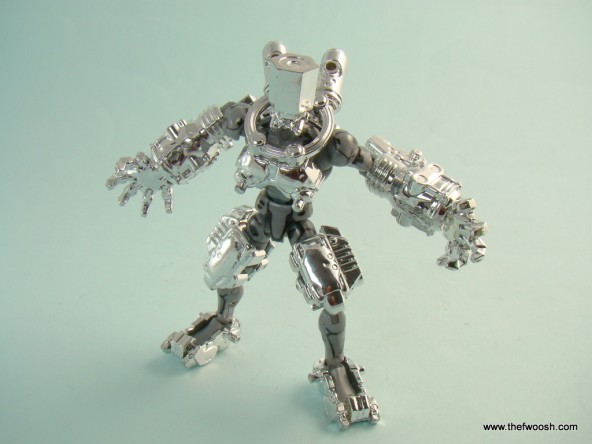 I love Microman. I loved Micronauts as a kid. I loved them for all their articulation, bases, and accesories. I loved them for being Jolly Rogers, that clear-colored plastic. So cool. And while I didn't go nuts collecting Microman during the late '90s relaunch, I still bought one or two and have some others on my wish list.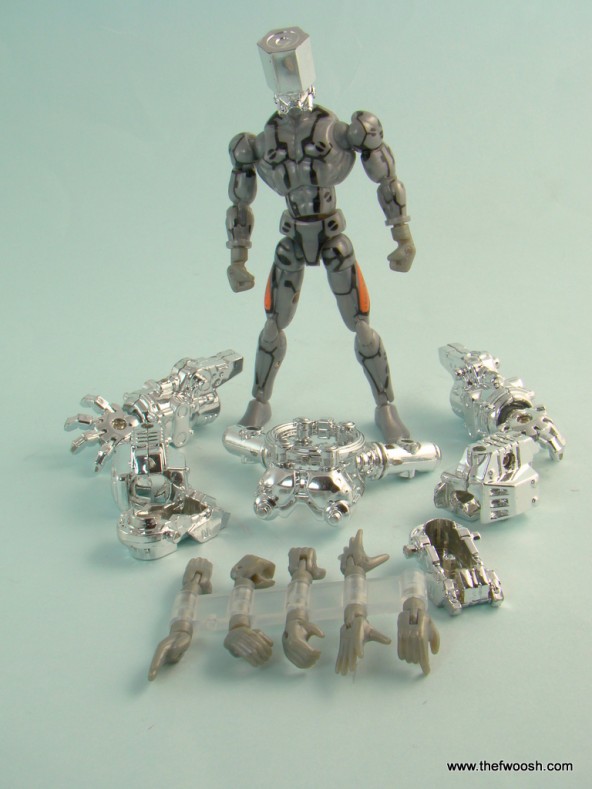 AcroMedalg was one of the ones on my list. He was a new Microman sculpt, a heavy sculpt from the line. And he has a cool head. And attachments. He was different. Takara really hit it out of the ballpark with their designs on this line, the Acroyears in particular. It is one of my ambitions to go back and buy all the Acroyears made.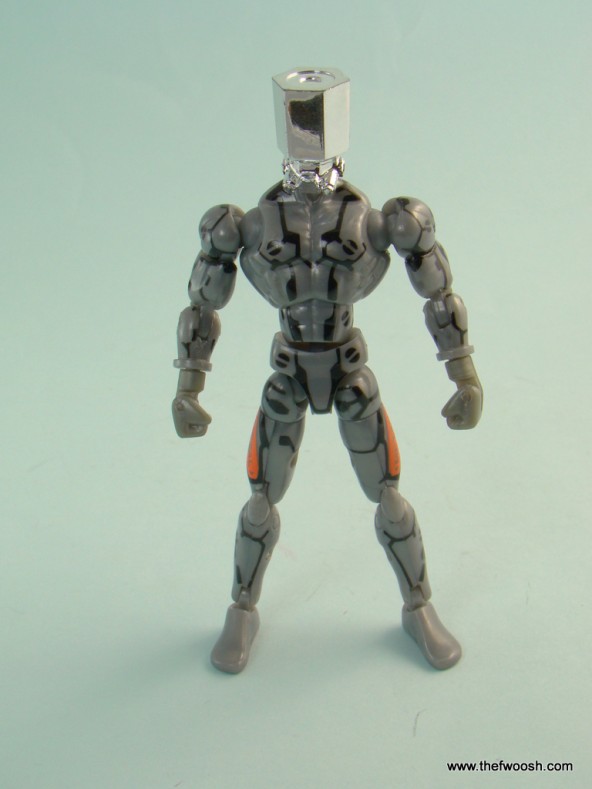 Medalg stands a little over four inches, his big hexagonal head making most of the height. As a figure, he is standard Microman with a differnce or two: The legs are standard for the Micromen that you find on the line, but the chest and arms are new, bigger. This sculpt does not use the same parts as the previously reviewed Superman figure, but a new larger sculpt. I actually prefer the Superman sculpt over Medalgs as it is more detailed and better sculpted.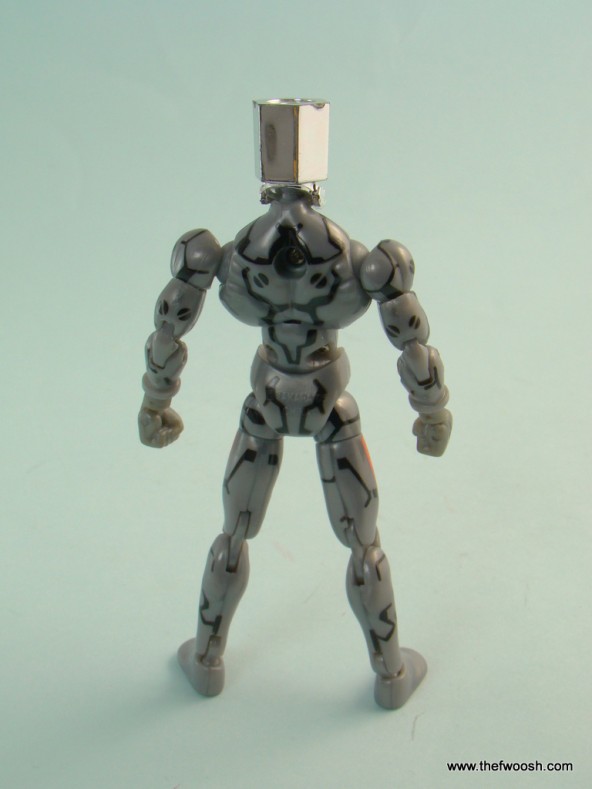 As you can see, Medalg comes with the regular slew of hands that all Microman come with along with some add-on parts. These vac-metalized parts are the ones that really make the figure: big giant forearms and hands that are articulated, a strange monsterous chest piece, thigh protectors, and shoes. I have no idea what purpose they serve, but I'm certain there is an explanation out there, and whatever it is, I'm certain it is cool — cool enough to match the way the figure looks when all the pieces are assemble on the figure.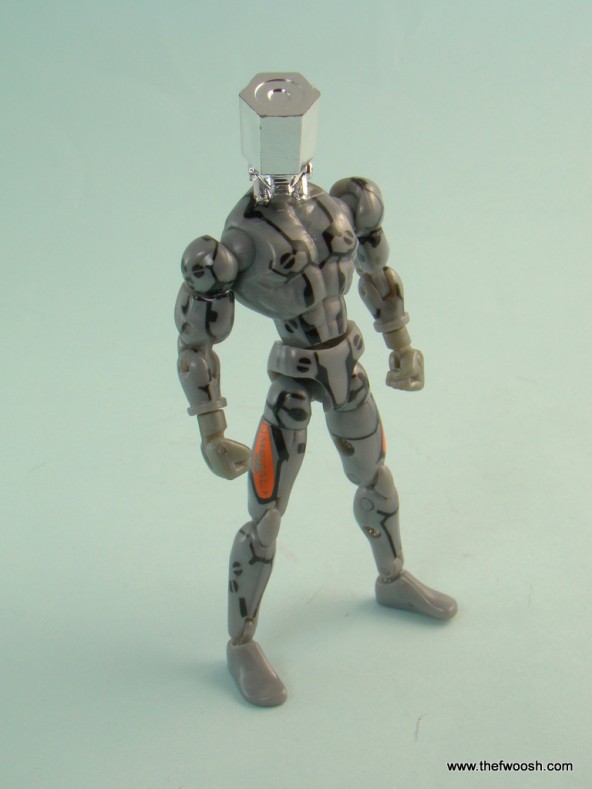 The figure itself is not molded in the traditional clear plastic that makes Microman "Microman." Instead, it is a solid grey plastic. If there is one fault that I have with this figure it is color of the plastic. As you can gather, I'm a fan of the clear plastic and Medalg's not being clear takes away some of the cool factor of this as a Microman figure. But the vac-metal parts do their part to make up for this deficiency.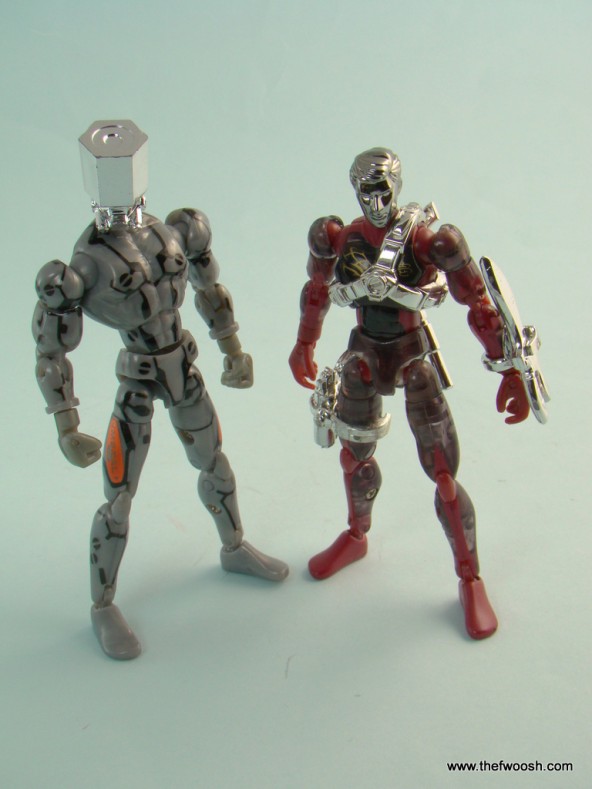 Vac-metal parts are great. First, I love the shiny metallic look and feel, it is a direct throw back to the orginal line from the '70s. The design is great as well; they really have that cosmic look that I associate with Microman. And that vac-metal head — super fantastic and super creepy. But where are the eyes? They are somewhere behind that hexagonal helmet.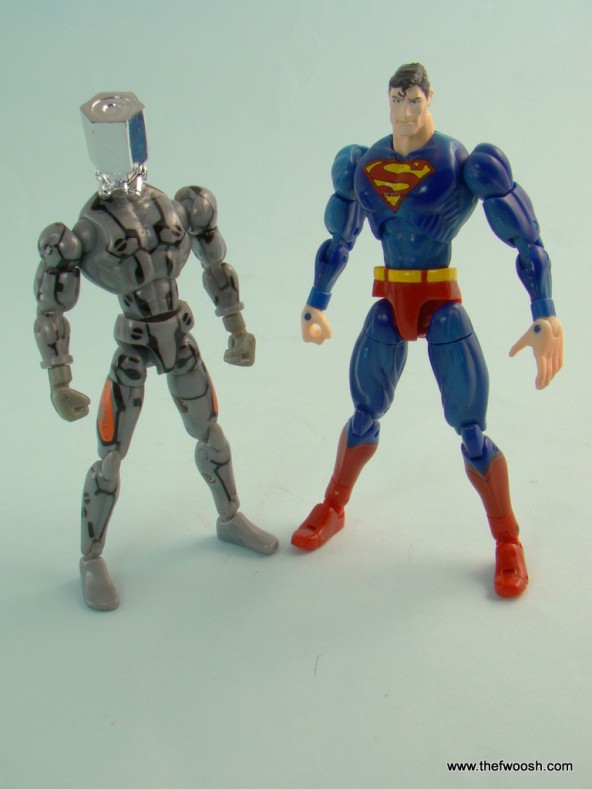 Articulation is not a problem with this figure. Ball ankles, hinged ankles, double jointed knees, thigh swivels, ball-jointed hips, ball-jointed waist, ball-jointed ab, double ball-jointed shoulders, bicep swivels, double-jointed elbows, wrist swivels, hinged wrists, ball-jointed head. Maybe too much articulation? Never, specially when every joint works, making this finger candy.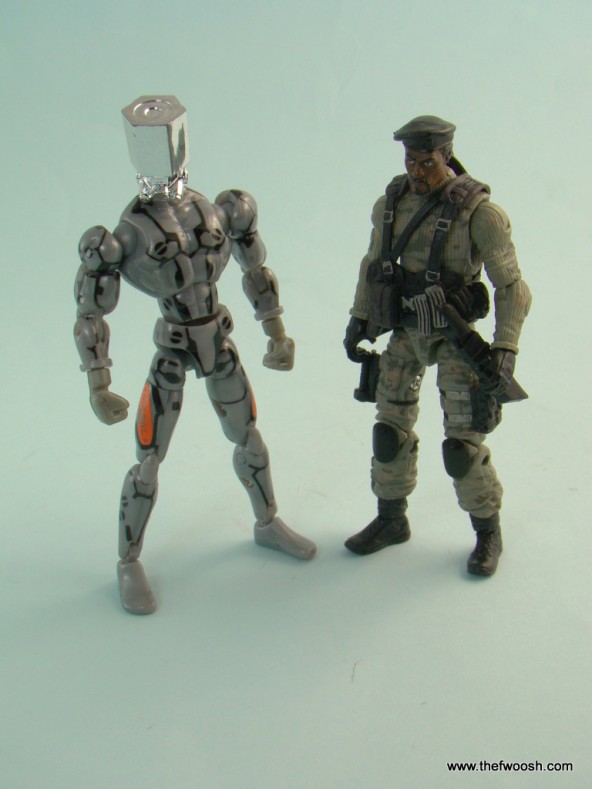 I'd recommend this figure for anyone interested in super-articulated figures, super-articulated four-inch figures, four-inch figures, or any one wanting modern updates of Microman figures.
You can find this figure on Amazon.com for a few pesos.
As always you can discuss this topic further on the Fwoosh forums!