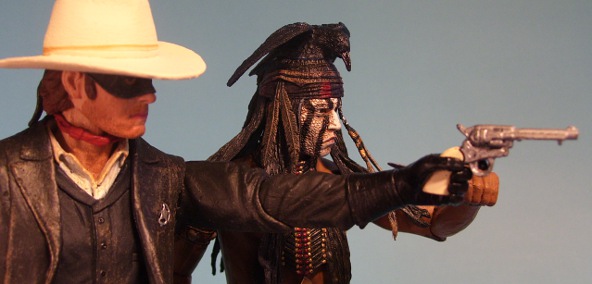 I haven't been keeping track of the new Lone Ranger movie. I watched a trailer; it looks as if Tonto is the narrator and it's told from his point of view. That's okay. I could live with that. But more than anything, it seems to be another "Hey, Depp is such a character, let's make some profit off that." Maybe I'm wrong. Either way, I'll probably see the movie as I am a HUGE Lone Ranger fan. More than that, I think there is a pitiful shortage of cowboy toys in general. Cowboy movies need to make a big comeback and toylines need to follow. In a big way.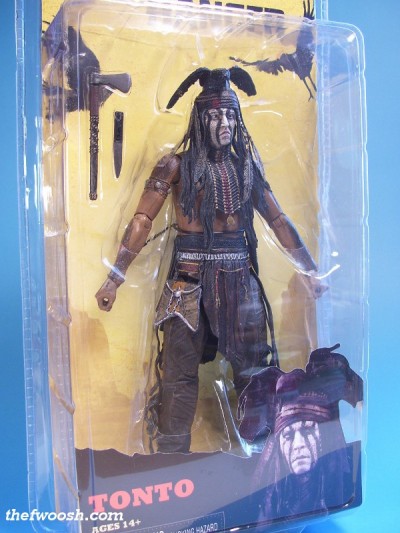 So needless to say I knew I was going to picking up these Lone Ranger toys. Not so much for the movie, but because, hell, it's the Lone Ranger and Tonto. So what if Tonto is wearing a crow on his head? Well, it does matter in the long run. I'll remedy that someday. But he'll work for now. He comes with a tomahawk, a knife, an attitude, and an aviary helmet.
First off… Tonto's sculpt is fantastic. Absolutely fantastic. There is so much going on here. Beads, tassels, cloth folds and bends, leather, and belts. The thick cracked war paint. It's hard to not keep looking for little details. And yes, even the crow hat looks great, as much as I hate it and will probably continue to harp on it where I can.
And look at those knees! YOU CAN'T!! Because they are so well hidden that when I ordered them from NECA's eBay store I half thought that he didn't even have knees. But trust me, they are there. The sculpt flows around it so well it just disappears. Even when bent it looks great. Same for the ankles. There is nice forward and back as well as side-to-side. It just feels so organic.
All in all, I love this figure. Despite that, well, you know… bird chapeau. Remove the bird and you nearly have a Captain Jack head. If I had to pick out something that isn't quite up to par, it would be the eyes. But the more NECA product I buy, the more I notice that it seems to be a trend. The eyes just aren't realistic compared to all the excellent detail sculpting and paint.
Which brings us to one of my heroes, the Lone Ranger himself…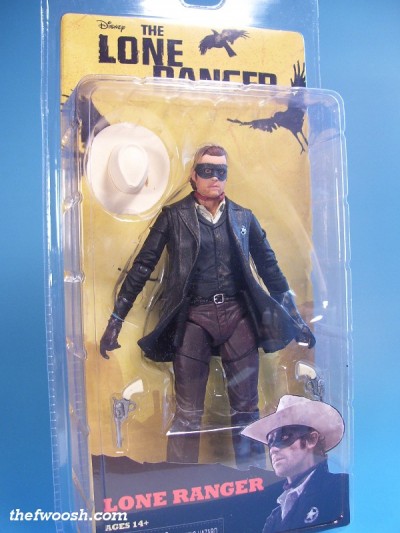 Awww yeah! He comes with his hat and two pistols. And Silver. In… my… imagination…
The Lone Ranger doesn't come packed with as much detail as Tonto, but that's not the figure or NECA's fault. They're just working with what they have. For what he is, a dude in cowboy duds and a mask, he is still a great figure. Good sculpt, nice articulation, and the right accessories. What more can you ask for? He's the LONE FREAKIN' RANGER.
At first I thought the flared-out jacket would bug me. It doesn't. Even flared-out, it nicely covers the guns when they are in the holsters. But, to get picky, I feel the hat is too big. This is always the chance taken when it comes to removable hats. The size has to be larger to fit over sculpted hair since the hair won't flatten like real hair does. But, really, the only time it is really noticeable is when he's looking straight forward. From the side it looks great. Now, if Tonto's fowl headgear could have been just as removable…
The real test is putting the two figures together, and I'm happy to say they do look awesome side by side. It's like they were made for each other. Wait, they were.
I'm happy. Ecstatic, even. Lone Ranger. Tonto. I may just buy another set to one day customize into a more classic look. Or even maybe the Dynamite comics look. Cassaday styled? Makes me misty.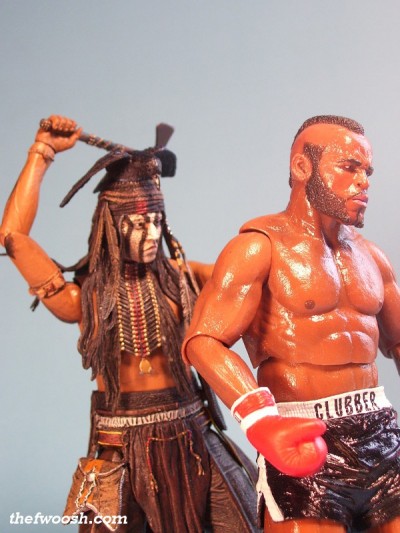 Both the Lone Ranger and Tonto are sold out on NECA's ebay store at the moment, but you can preorder them at Big Bad Toy Store.