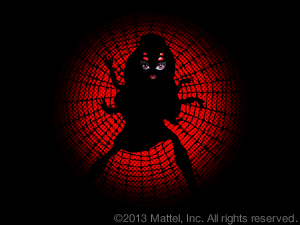 Mattel posted a teaser for the latest Monster High SDCC exclusive today.  Looks like a pretty cool spider creature.  They will post the full reveal on the 15th.  The Monster High line is one of those doll lines that actually makes me contemplate buying dolls.  Almost.  Ah, who am I kidding? Action figures are just dolls for boys, aren't they?  I buy tons of dolls already!  The line is really fun to look at in the store, and since I don't follow it closely I can be surprised by the creatures they make when I pass by that aisle.  Check out the copy from Mattel below:
Monster High™ Figure

She's been lurking in the shadows with the patience of a… creature that's very patient. Just make sure to stick around MattyCollector.com for your patience to be rewarded on 5/15.

This product will be available for pre-order at MattyCollector.com on June 4, 2013, to be picked up at San Diego Comic-Con (details to come). It will also be available for purchase at the show.