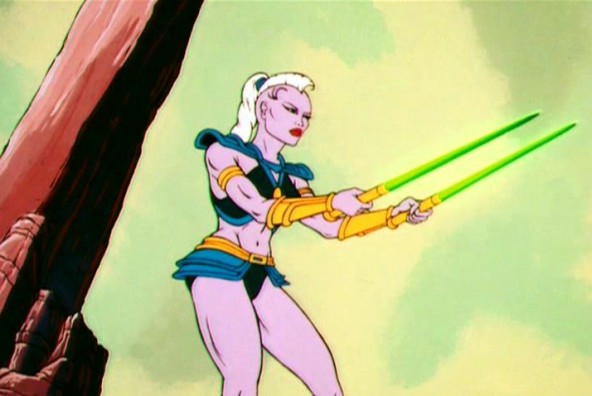 Here is where I basically beg Mattel to make an action figure I really want.  Hopefully if enough of  you guys want it too, it can happen!
Now, I don't know how effective any kind of campaigning for MOTUC figures is since a lot of who and what gets made is based on a road map, but I feel like I have to rally behind my favorites. Today I'm talking about She-Ra one-off antagonist Huntara!  I'm not sure a character like Huntara is a priority for Mattel; she does tend to show up on many most-wanted lists, but not really near the top.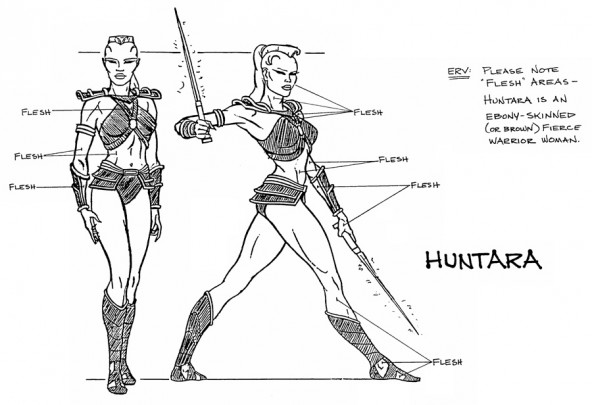 Huntara appeared in her Eponymous episode in Season 1 of She-Ra: Princess of Power.  She was a skilled heroic warrior that Hordak tricked into attacking She-Ra on his behalf.  Here are a few reasons I want a Huntara in MOTUC: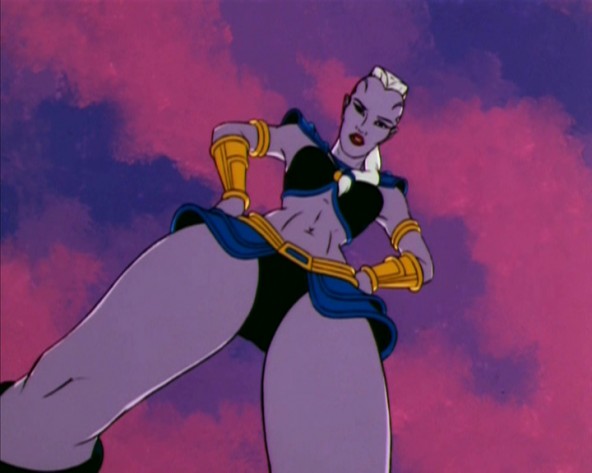 1.  Bad-ass warrior
Not many antagonists on the He-Man and She-Ra cartoons actually present She-Ra with any challenge at all, but Huntara actually had her on the ropes for a few seconds.  She used a variety of weapons (smoke bombs, stun beams, and swords) and traps to attack She-Ra.  Huntara is a warrior from the planet Silax that, as Hordak explains in the Huntara episode, is populated by the best hunters, trappers, and warriors in the galaxy.  Not faint praise, is it?  Huntara's episode is actually one of the better episodes of any of the Filmation toons (for my money) as well.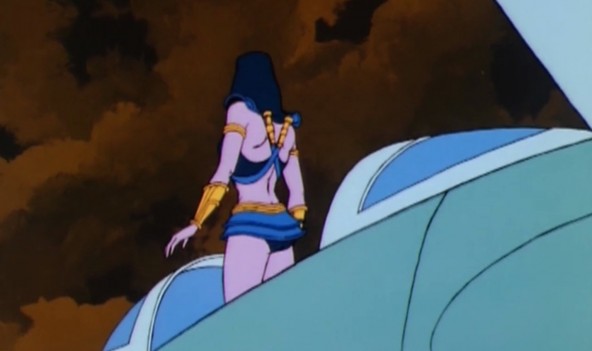 I almost forgot the mohawk and facial tatoos.  You have to love a warrior woman with a mohawk.  You have to.  It's the law.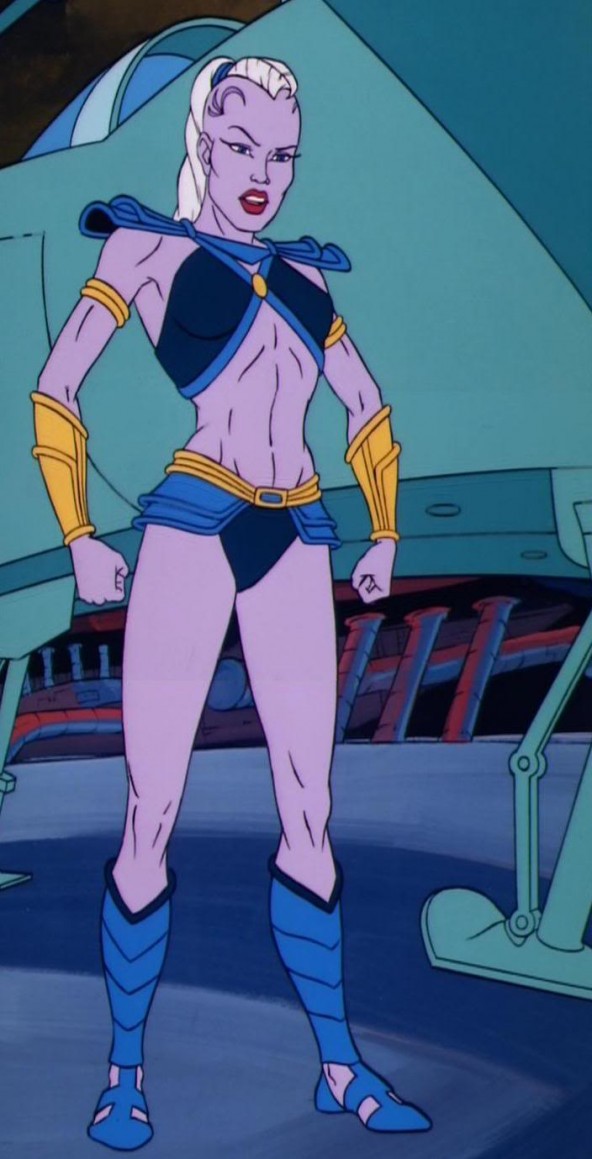 3.  Great Weapons 
Huntara basically wields dual lightsabres!  She uses smoke bombs like Batman!  I don't know what else you people want here.  This woman has it all.  Oh, and did I mention that she has her own starship?  Not something I would expect Mattel to make, but Huntara pilots a pretty cool X-Wing-style light fighter craft.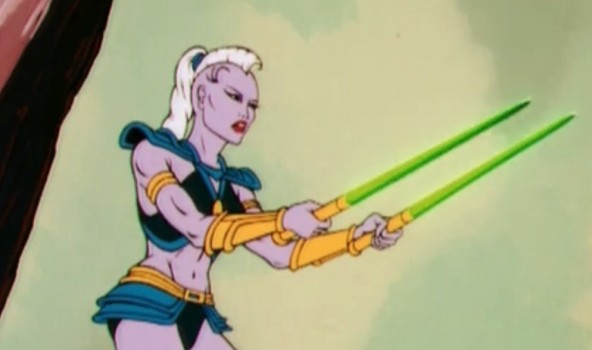 4.  Toyetic
Emiliano Santalucia did a great looking concept sketch for how Huntara would look in the MOTUC line: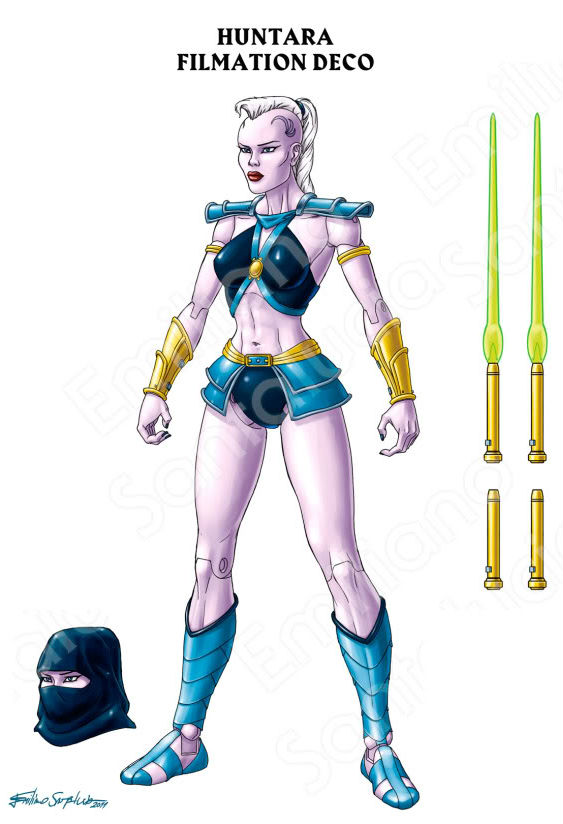 That looks totally doable.  Can't you see her posed on your shelf holding those two stun blades across her chest?  Posed kicking Horde Trooper butts across you MOTUC display?  How fun will it be to play with her battling the Evil Horde with her dual stun sabres?  The armor and weapons and costume totally look MOTU appropriate, so I think even the He-Man Wumin Haters Club can feel secure in purchasing a Huntara to display with their vintage-only He-Man display.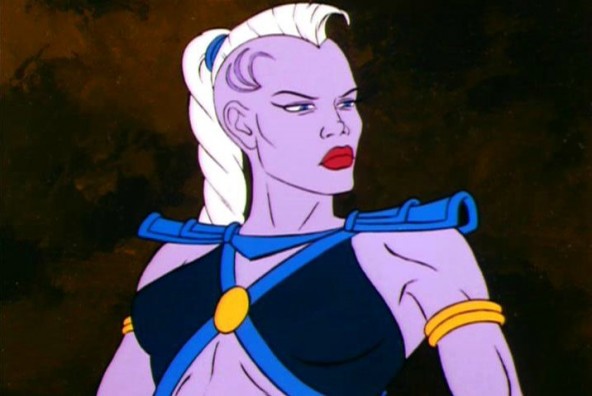 5.  Based on Grace Jones!
Yes, this is my flimsiet reason for wanting a Huntara figure, but the script actually shows that she was based on Actress Grace Jones.  I don't know if you guys remember Grace Jones, but I have fond memories of her from Bond and Conan films as a super-scary warrior woman.  I do love to see how other media influences things like the She-Ra cartoon.
So there you have it, a few of the reasons I want a Huntara figure in MOTUC.  Did I forget any great reasons to get this character in MOTUC?  Please let me know in the comments section below and please let the team at Mattel know if you want a Huntara figure!